September 13-17 – 2017 – 13-17 de Septembre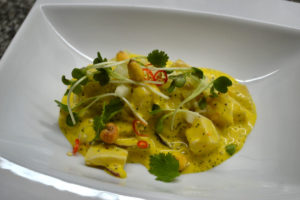 Queenfish Ceviche with Passionfruit – queenfish cured in emulsification of lemon and lime juices, olive oil, ginger, passionfruit, yellow chili, salt; red onion, radish sprouts, salted cucumber, cilantro, limo chilies.
Ceviche de Palometa con Maracuyá – palometa curado en emulsificación de jugos de limón y lima, aceite de oliva, jengibre, maracuyá, ají amarillo, sal; cebolla morada, brotes de rabanito, pepino salado, cilantro, ají limo.
Philippe Caraguel Extra Brut Rose, Tupungato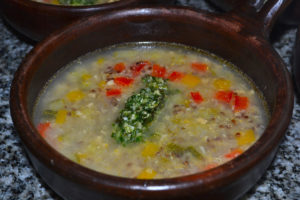 "Incan Soup" – red and white quinua, red and yellow bell peppers, zucchini, rocoto chilies, in a vegetable broth with a touch of cream, gouda cheese; mint, basil, and cilantro pesto.
"Sopa Incaica" – quinuas rojas y blancas, pimentones rojos y amarillos, zucchini, rocotos, en caldo de verduras con una toca de crema de leche, queso gouda; pesto de menta, albahaca, y cilantro.
Clara Benegas Chardonnay 2015, Luján de Cuyo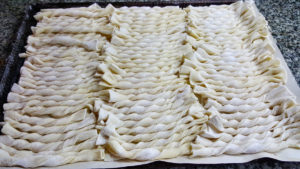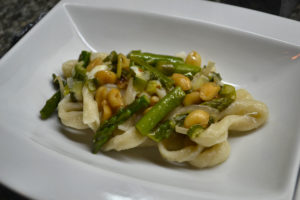 Hand-Rolled Strozzapreti with Aspargus and Goat's Milk Feta – homemade strozzapreti with a saute of asparagus, shallots, lemon zest, green onion, peanuts, and feta cheese, in homemade Chinese hot oil.
Strozzapreti Casera con Esparragós y Queso Feta de Cabra – strozzapreti casera con un saltado de esparragós, echalotes, ralladura de limón, verdeos, maní, y queso feta, en aceite picante chino casero.
Santa Julia Syrah Rosé 2016, Maipú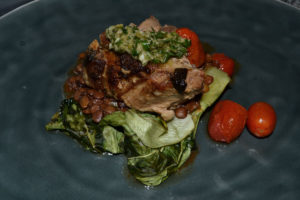 Herb-Braised Pork Shoulder with Lentils – pork shoulder braised for 5 hours in dark beer, garlic, panka chili, parsley, rosemary, thyme, oregano, chives, bay leaf, mustard, salt, pepper; salsa verde of the same herbs with garlic, green olives, capers; lentils cooked with bacon, onion, celery, limo chili, tomato, balsamic vinegar; roasted bok choy and cherry tomatoes.
Huatía de Bondiola con Lentejas – bondiola braseada durante 5 horas en cerveza negra, ajo, aji panka, perejíl, romero, tomillo, orégano, ciboulette, laurel, mostaza, sal, pimienta; salsa verde de las mismas hierbas con ajo, aceitunas verdes, alcaparras; lentejas cocido con panceta, cebolla, apio, aji limo, tomate, vinagre balsamico; bok choy y cherys asados.
Punto Final Cabernet Franc Reserva 2014, Luján de Cuyo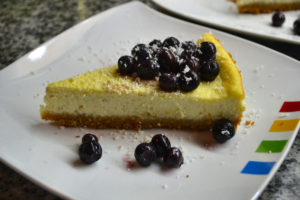 Pear & White Chocolate Cheesecake – cookie crust; white chocolate, pear, and homemade cream cheese filling; blueberries in port and Chinese five spice; grated white chocolate.
Cheesecake de Pera y Chocolate Blanco – masa de galletitas; relleno de queso crema casero, chocolate blanco, y pera; arandanos en oporto y cinco especias chinos; chocolate blanco rallado.
Amalaya Dulce de Corte Blanco (Torrontés-Riesling) 2016, Valle de Cachalquí






{ 0 comments }