Tours, Private Dinners, Wine Tastings, Massages, Tango & Folklore Dance Lessons
This is my shameless promotional page for the services we offer.
First, me. I'm available for things including, but not limited to:
Private Dinners – If you haven't clicked on the link for Casa SaltShaker above, we offer tasting menu dinner parties in our home – elegant, gourmet, all the good stuff – I call it "fancified home cooking". We can also arrange similar events for private groups on other nights or cater a similar event in your home. Details on the dinners, schedule, and a reservation link are all on that website.
Cooking Lessons – Whether it's the basics of how to boil water or something far more elaborate, I'd be delighted to teach anyone who wants to learn how to cook, or how to cook something in specific – individuals who want to join a scheduled class or small groups that want to arrange something special.
Wine Tastings – I can set something up at my home, say an introduction to wine, or Argentinian wine in specific, or something more specialized. I can also come to you if you have a spot where that would work.
Tours – I offer a variety of half-day tours that are food related – essentially they're custom designed to your personal interests (these are individual tours, not groups), the most popular tend to be tours of one of the food markets, generally with a cooking class following, or a lunch at a nearby location; and my "empanada" tour – a survey of different regional styles of these tasty treats at various locations, with a bit of a neighborhood tour in between.
Articles, Books, Etc. – As a food and wine writer, I'm always looking for new opportunities to write. If you're an editor who needs someone to write about travel, food, or wine in general or specific to Buenos Aires, Argentina, or surrounding areas, contact me.
Henry, my partner, is a professional masseur and professor of dance. For the massages, his style is "holistic". Please understand, and it's a shame it needs to be said (but based on experience it does), this is a therapeutic massage, not an escort service or massage with "happy ending" as the saying goes. We have a studio area setup here at the house, or he can come to you at your home. Most hotels in BA are not keen on outside services coming in, so that's generally a difficult option, and if you're staying at a hotel, it's probably better that you arrange to come here.
When it comes to dance, he offers lessons in tango, as well as folklore dances of both Argentina and the Andes. All classes are private and by arrangement only.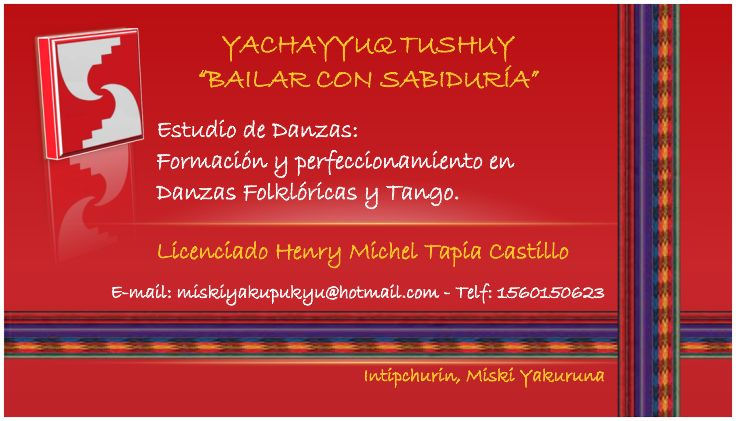 To arrange dance lessons or a massage you can contact me at dan (AT) saltshaker (DOT) net if you don't speak Spanish, or him directly if you do, at miskiyakupukyu (AT) hotmail (DOT) com or his cellphone at 15-6015-0623.