Cooking Classes Schedule
"Human beings make life so interesting. Do you know, that in a universe so full of wonders, they have managed to invent boredom?"

– Terry Pratchett, Author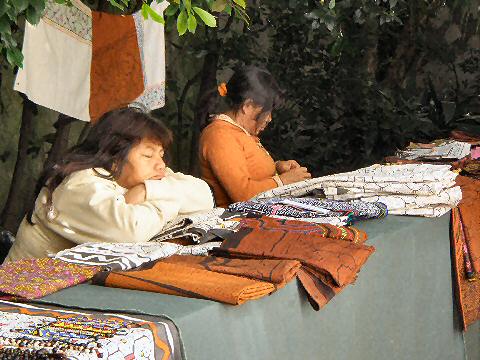 Buenos Aires – Bored? Sitting at home wishing you had something to do, something to stimulate your interest, your intellect, your skills, your tastebuds? In town for just a short time and wishing you knew more about what's going on in the kitchen behind the scenes of all the food you've been eating, or wish you were eating? Let's do something together about that…. All classes are limited in size (2-4 people, generally if we don't have at least 2 registered we won't run the class, though that's not absolute), allowing for hands-on experience along with a demonstration of new techniques, plenty of discussion, and followed by a meal where we eat what we've made in class. All public classes are us$50 per person, per session, unless otherwise noted in the description; to arrange a private class there is a minimum charge for two people, or us$100, even if only one person attends. All classes are in English unless otherwise specified (or requested for private classes). To contact me for more information or register, click on the "E-Mail" link at the top of the page.
[Por ahora, estoy solo planeando las clases publicas en inglés, pero, las clases particulares, o, si ustedes son dos o trés persones que quieren tomar una clase juntos, podemos organizar algo en castellano. Para contactarme sobre mas información o inscribirte en una clase, cliquear en el enlace "E-Mail" en el menu arriba.]
Summer 2015
[Class descriptions below the schedule.]
Tuesdays, 11am-2pm – I'm starting a new series, each class will be a stand-alone, so you don't need to sign up for the whole thing. I'll be focusing on different ways to prepare vegetables, and each week will be devoted to one particular ingredient as the star. There are numerous ways I could go about it, but I thought I'd just approach it as an A to Z of Vegetable Cookery. While each vegetable will be the center of attention, these classes are not, however, vegetarian.
March 10 – Acelga (chard)
March 17 – Berenjena (eggplant)
March 31 – Coliflór (cauliflower) – I believe this is the new "it girl" now that the kale frenzy is starting to die down. It's one of our favorite vegetables, we often use it in one form or another as a main course "other white meat" for vegetarian guests, but it's far more versatile than just that. Wanna see? You gotta be in our kitchen.
April 7 – Durazno (peach) – I hit that snag so quickly – the only vegetable I could come up with starting with "D" was diente de león, or dandelion, which we rarely can find here, but then, as I noted earlier on, eggplant is a fruit, technically, so why not an actual fruit? Besides, peaches lend themselves to some great savory, as well as sweet, preparations.
April 14 – Espinaca (spinach) – I have to admit, my first choice would have been "esparragos", but they're out of season, so let's turn to Popeye's favorite green. I believe we can do some far more interesting things than creaming it or sticking it in a can!
— — —
CLASS DESCRIPTIONS
[Note: For all classes, dishes may vary depending on the season and availability of ingredients, if there's a specific dish that you're eager to learn, make sure I know that in advance and if it's possible given ingredients, we'll include it.]
Color Palate of Italy
Our most popular series, ten sessions which we repeat on a regular basis. As well, we're happy to schedule individual sessions selected out from the series – the most popular being the pizza, pasta, and poultry classes.
Italy, Region by Region
We offer a series on Italian regional cooking, covering each of the 20 regions of Italy and preparing a traditional 3-course meal. Not intended to be comprehensive, these were created as a followup to our Color Palate of Italy series above – we go into the classes with an assumption that you have some decent cooking skills, and the intent is to deepen your familiarity with different styles of Italian cooking. Generally we offer these in blocks of five – Northwest, Northeast, Central, and Southern areas. Note: we don't necessarily prepare all of these dishes in each class – the menu varies depending on season – there will generally be either 3 or 4 preparations per class.
Ring Around the Mediterranean
A series of five classes in which we zip around the Mediterranean, sampling from key points of interest…
Four Chinese Meals
This is a four session overview of some basic concepts in Chinese cooking. It is intended to be a simple introduction to four different styles of the vast range that exists – with a look at some classic dishes from four major regions of the country. Each class introduces a couple of specific techniques that are particularly important to Chinese cuisine. Given the building of techniques, we don't recommend taking just individual sessions of this series, though it is a possibility.
Four Brazilian Meals
This four session class covers some basic and classic dishes of Brazilian cuisine. Focused by ingredient, there are two sessions on fish and seafood, one on chicken, and one on red meat and bean dishes. The dishes may vary depending on season and availability, but a few classics stand out – moqueca do peixe and acaraje com vatapá from the seafood sessions, xinxim do galinha from the chicken day, and a rich, hearty feijoada from the red meat class. Classes can also be scheduled individually.
Tentaculo Espectaculo
One of my personal favorites, a one-off class that I occasionally offer that focuses on our tentacled friends, octopi, squid, cuttlefish. Dishes vary with the season and availability of ingredients – past recipes have included a ceviche of tiny cuttlefish over a sweetpea mousseline, https://www.flickr.com/photos/25999915@N00/3269834790" target="_blank">red wine braised squid stuffed with chorizo risotto, baked squid in garlic and parsley sauce, baby octopus pizzettas, grilled octopus and fusilli, calamerette bakhlava, spicy sauteed calamari rings, braised baby octopuses with potatoes and fennel, causa de pulpito.
Write-up on one session of this class from a local student.
The Asian Vegetarian
We started a series of Asian vegetarian classes in 2009, with a focus on the cuisines of Southeast Asia. For the moment, we're continuing to offer them on an individual session basis, though we may offer the series again at some point. All these classes can be strictly vegan on request.
Armenia – Nivig (chickpeas & chard), skhtorats (zesty eggplant slices), lahamjoon (mini pizzas), tahiniyor pilav (tahini bulgur pilaf), sarma (stuffed grape leaves)
Cambodia – Banh Chiao (pancakes), To hu chien kreung (crispy caramelized tofu), Poat dot (grilled corn)
China, Szechuan – Szechuan Pickles, Eggplant Yu-Xiang, Mushroom & Tofu Kung Pao
China, Taiwan – Cold sesame noodles, tofu fu yung, eggplant braised in spicy bean paste
India, Banjara – Banjara Baingun (filled eggplant rolls), Dhakshin se Shuru (potato-nut filled crepes), Dumpakht (pot-pies) (we also usually make a raita based on yogurt which is not vegan, though the three dishes themselves are, depending on the students, it's an optional extra)
India, Gujarat – Bhakri (flatbreads), Bateta nu Shaak (potato curry), Coconut Green Bean Salad, Garlic Chutney
Indonesia – Rendang (coconut curry), Gado-Gado (vegetables in peanut sauce), Mi Goreng (fried noodles)
Japan – Gyoza (mushroom-cabbage potsticker dumplings), Kinpira (vegetable saute), Piri Kara Nasu (Spicy Miso Eggplant)
Korea – Ginger-Garlic Bok Choy, Beansprout and Sweet Potato Pancakes, Bibimbap (mixed vegetable bowl with crispy rice)
Laos – Laotian Sweet Potato Curry, Jeow Mak Keua (eggplant dip), Flatbread, Noodle Soup
Malaysia – Seitan Satay, Laksa Lemak Nyonya (coconut soup), Terong Baladao (baked eggplant)
Philippines – Sinigana (tamarind soup), Vegetable Adobo, Lumpia (springrolls), Sawsawang Kamatis (tomato salad)
Thailand – Tom Kha (peanut-tomato soup), Smoked Tofu Laap (fresh salad), Pad Thai (classic noodle dish)
Vietnam 1 – Banh Mi (classic spicy sandwich), Tau Hu Kho (tofu in pineapple caramel), Ginger Braised Seitan – we'll make our own seitan as well
Vietnam 2 – Banh Tom (heart of palm & sweet potato fritters), Pho (mushroom & fried tofu version of classic soup), Che Chuoi (bananas cooked in coconut milk)
The Wandering Vegetarian
We've offered various other individual vegetarian classes that have been hits. Some of these classes are vegan, some are not, but all can generally be made so if requested.
Autumn Veggies – Fennel with Figs, Whole Wheat Pasta with Cauliflower, Brussels Sprout Soup, Swiss Chard Pastilla
Catalán Cruising – Escalivada amb Romescu (grilled vegetables with Romesco sauce), Cigrons amb Tomàquet (chickpeas with tomato), Menjarblanc (almond cream)
Cooking Vegetarian with Chilies – Szechuan Pickles, Mushroom & Tofu Kung Pao, Tom Kha (tomato-peanut soup)
From Peru with Love – Causa (layered potato vegetable stack), Ceviche, Sopa Incaica (quinoa based soup)
Holy Mole – Chili-Chocolate Mole, Guacamole, Fresh wheat tortillas, Black beans, and Mexi-Millet
It's a Green, Green World – Gujarati Green Beans, Kuku Beggar's Purses, Eggplant Yu-Xiang
Rolling in Dough in Argentina – Swiss Chard and Eggplant Empanadas, Grilled Pizza, Faina (chickpea bread)
Who Doesn't Like a Good Burger? – Homemade buns, ketchup, Veggie Burgers, and Oven-Baked Potato Crisps
Southeast US Regional Cooking – series of five vegetarian/vegan classes covering classic dishes from Cajun, Creole, Lowcountry, Floribbean, and Kentucky cuisines
French Sauces – vegan style, series of four classes available covering the various versions of coulis, bechamel, veloute, espagnole, hollandaise, pistou, wine sauces and dishes to use them in
Mexican Regional – series of six classes, vegetarian/vegan, covering classic dishes from Yucatan, Oaxacan, Northern, Veracruz, Central, Jalisco traditions
We have also offered classes on occasion in various other vegetarian and vegan topics including composed salads, soup making, crackers/soda breads, pasta making, desserts, Argentine classic dishes, meat-protein substitutes, cheese substitutes, Moroccan, and Syrian
We have a three session gluten-free baking class introducing basic concepts of both savory and sweet baked goods for celiacs or others on a gluten or wheat free diet – the first is an introduction to three different breads, the second a trio of pastries, and the third, a three-course lunch.
Although it's not our specialty, we do get requests for classes on local cuisine – empanadas, or various regional dishes. Depending on what it is you're looking for, we may be able to arrange a class of that genre as well.
— — —
If joining us for one of our scheduled classes strikes your fancy, drop me a line. If another day or time is better for your schedule – let me know that – whether you want me to setup an individual class for you, or add a group class to the public schedule – let's get cooking! To contact me for more information or register, click on the "E-Mail" link at the top of the page.
Photos from some of our classes on Flickr