Time for more Peruvians! Let's start with a revisit…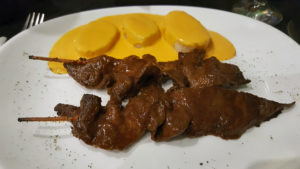 …to Larco-Mar, Pasaje Carlos Gardel 3131, to the side of the Abasto. Originally I'd given it a thumb's down, on a visit where we'd only tried the daily menú ejecutivo and found it expensive and mediocre. With prompting from friends who love the place, we'd revisited it a couple of months later and tried a couple of items off the regular a la carte menu and found them both to be good, but still expensive for what we were getting in both quantity and quality. It more or less went into the "okay but nothing more" pile. On a recent evening, we set out for Nikkei 2020, only to find them closed, so we continued over to the Abasto with the plan to go to Quechua, and found them closed as well. We decided to give this place another shot.
The plan was a light dinner, three of us started off with splitting an order of anticuchos de corazon, grilled, spiced beef heart accompanied by potatoes in a reasonably spicy chili cheese huancaina sauce. Definitely good, so that was a plus to start the evening.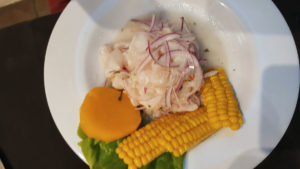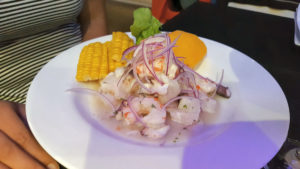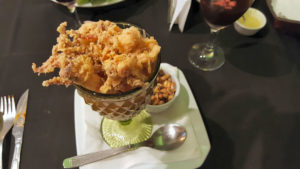 Excuse the weird photo angles on two of these, it was just one of those nights. We each ordered a different type of ceviche – from the top, a clasico, the simplest preparation, with white fish in a straightforward lemon and salt cure. Well balanced, though lacking in spice. On request they brought a dish of pureed rocoto chilies, fiery and delicious, which perked this one right up. I'm impressed with their ability to get those corn "planks" so beautifully made – they never turn out that nicely when I try to make them.
In the middle, a mixto, fish and shellfish, the same cure, and also quite good, though needing a hit of spice. And, on the bottom, one of their selection of leche de tigres, in this case their Callao, which comes with a curing liquid already packed with rocoto chili, some fish and red onion, and topped with fried chipirones, baby squid. Best of the three dishes, and the only one that came already spicy.
The anticuchos run around 200 pesos, the three ceviche dishes close to 300 each. That's not bad for good quality and quantity ceviches, but these are still, for me, just good, and the quantities are pretty small – they're definitely appetizer sized portions. They still charge a cubierto, and are pretty much the only Peruvian place around that does. They do take credit cards, but now they only take Visa. Service is friendly, but a little… pushy.
It might be that if Quechua wasn't basically next door, and there being a dozen other Peruvian restaurants within a two block radius, several of them equally as good, and less expensive, that this place would hold a higher attraction for me, but for me I'd still make it no more than just recommended and not a place I'd set out to go to. Even Nikkei 2020, one of our favorites, is only 10 blocks away.
---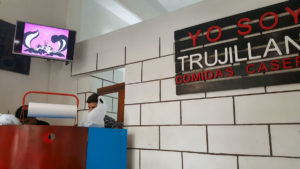 Some friends of ours mentioned a couple of weeks ago that there was a new spot in Palermo serving up the cooking of Trujillo, where Henry is from, and so we popped over for lunch one day recently to check out Yo Soy Trujillano, Guatemala 4493. This is only going to be a cursory review, as the place is sort of in the middle of construction. Right now, all there is is a little take-out counter in the corner of the room, and three tables for two set-up in the room. In fact it was so small that with us and another pair at one of the tables were already there, and another duo came in, they looked at the space and asked if maybe the third table could be moved out onto the sidewalk.
That said, after we got talking to the owner after lunch, it turns out that they're renovating the space next door into a full on restaurant, with expanded kitchen and seating for about 40 people, so right now they're mostly just doing takeout and delivery.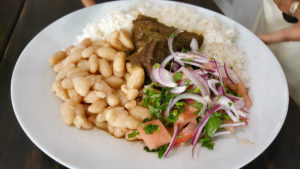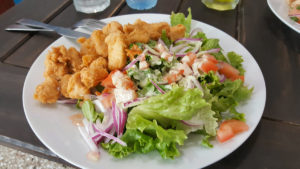 Quite good seco de cordero and a chicharrón de pollo, two of our favorites. On my side, I love that they offered to sub a salad for potatoes on the fried chicken. The portions are a bit smaller than many of the homestyle Peruvian spots around, but they're also less expensive (around 150 pesos apiece, or less than $8), and still completely filling. I give it a recommended with a plan to return once they get the whole space open and running.
---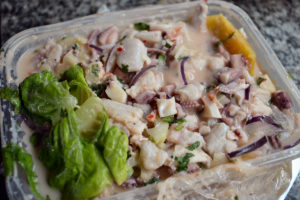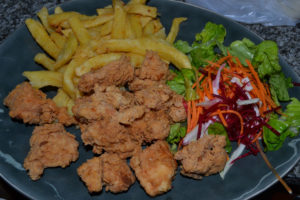 So this one started out with a delivery order from a new spot that popped onto the PedidosYa app, Puro Peru, General Urquiza 373, in Once. A leche de tigre for an appetizer turned out to not only be a huge, full sized main course portion packed with fish and calamari for 190 pesos (just under $10), but one of the better ones we've had. Weirdly, the fact that it came with lettuce and potato and sweet potato had us thinking that this might have actually been a mistake on their part and that they'd sent us a full-on ceviche mixto. The chicharrón de pollo was one of the better Peruvian fried chickens we've had as well, and a decent portion along with quite good, actually crispy fries, and a tasty salad for 210 pesos (just over $10).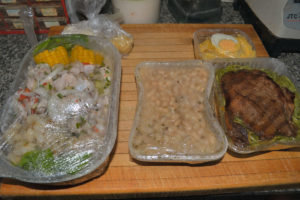 And so, a week or so later, we tried them again, this time getting a ceviche norteño, which was done just the way they do it up around Trujillo, with touches of garlic and ginger in it, and a mix of lime and lemon juices. One of the best ceviches we've had from a delivery service (350 pesos, or $18). Likewise, the tallarines verdes, the pasta with a green basil and spinach sauce, accompanied by papas a la huancaina and a steak were delicious, generous, and the steak was surprisingly excellent (230 pesos, $12). A side order of beans were flavored and cooked just the way Henry likes them from back home.
This warranted a visit….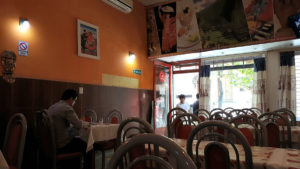 Turned out that the 41 bus, from two blocks away from the house, literally drops us in front of the door of this place, and it's really only a half dozen blocks further than many of the others we've liked in the past. It's sparsely decorated, but clean and well kept. The staff are friendly.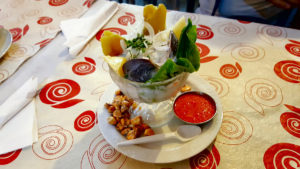 The leche de tigre had been so good that we decided to order it again. Remembering how huge it was, we decided to just share it. At the restaurant it only runs 180 pesos (that seems to be typical of many places, they charge more through the app, presumably because that's how the app company makes money, by taking a percentage). The portion is much more in line with a typical appetizer, and was much more leche de tigre-ish than what we got delivered. Here it was a mix of fish, calamari, shrimp, and a large clam, though it does still have the sweet potatoes and lettuce. So who knows, but as a guess, not much over half the size of what we got on the delivery option. And still one of the best we've had in town.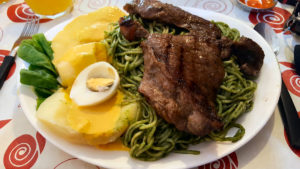 On the flipside, the tallarines verdes (I forgot that I'd tried them already on the second delivery order) was probably double the size of what we got on the delivery. I couldn't even finish half of it and brought the rest home for another meal (220 pesos in the restaurant). At the restaurant they also ask you on the temperature for the steak, and brought it out a perfect medium rare.
And, the seco de cordero was likewise one of the best ones we've had here, and again, a huge portion, especially at 210 pesos, or $11. We brought half of that one home too!
Move this place into our pantheon of top five homestyle Peruvian spots in town, no questions asked!