January 10-13 – 2018 – 10-13 de Enero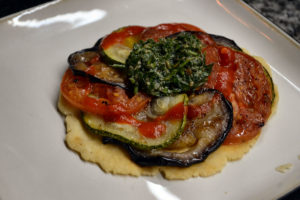 Ratatouille Gallette – disc of polenta, reggianito cheese, and butter; broiled vegetables – zucchini with coriander seed, eggplant with smoked paprika, and tomatoes with black pepper and basil; salsa verde of parsley, anchovy, capers, piri-piri chili, olive oil; roasted piquillo pepper puree.
Galette de Ratatouille – disco de polenta, queso reggianito, y manteca; verduras asadas – zapallitos largos con semilla de coriandro, berenjena con pimienta ahumada, y tomatoes con pimienta negra y albahaca; salsa verde de perejíl, anchoa, alcapparas, ajíes piri-piri, aceite de oliva; puré de pimientas piquillos asados.
Codoriniú "María" Extra Brut, Mendoza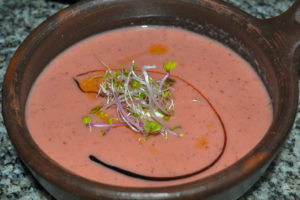 Strawberry Gazpacho – puree of strawberries, cucumbers, rocotos, red onion, garlic, balsamic vinegar, salt and pepper; bay leaf infused sour cream; olive oil; balsamic reduction; mixed sprouts.
Gazpacho de Frutillas – puré de frutillas, pepinos, rocotos, cebolla morada, ajo, vinagre balsámico, sal y pimienta; crema agria infusada con laurél; aceite de oliva, reducción de balsámico; brotes mixtos.
Lagarde Viognier 2016, Luján de Cuyo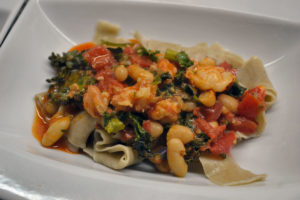 Rye Pappardelle with Prawns – homemade pappardelle of rye and wheat flours; prawns, kale, tomatoes, white beans, parsley, and cilantro, sauteed in miso, and aromatic chili oil (oil infused with gochugaru chili, sesame seed, garlic, szechuan peppercorn, bay leaf, cinnamon, star anis, cardamom, sesame oil, black vinegar, salt).
Pappardelle de Cénteno con Langostinos – pappardelle casero hecho de harinas de cénteno y trigo; langostinos, kale, tomates, alubias, perejíl, y cilantro, saltado con miso, y aceite aromatico de ají (aceite infusado con ají gochugaru, semillas de sésamo, ajo, pimienta sichuan, laurel, canela, anís estrellada, cardamomo, aceite de sésamo, vinagre negro, sal).
Lurton "Vuelà" Pinot Gris Rosado 2016, Valle de Uco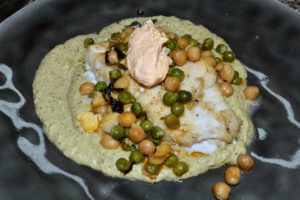 Sea Bass with Broccoli Hazelnut Puree – seared and baked sea bass crusted in flour with salt, pepper, cumin; puree of roasted broccoli, garlic, hazelnuts, and anchovy; saute of peas, chickpeas, cauliflower, radichetta, smoked paprika; whipped hollandaise with chimichurri.
Chernia con Puré de Brocoli y Avellana – chernia crostada con harina, sal, pimienta, y cómino, dorado y asado; puré de brocoli, ajo, avellanas todos asados con anchoas; saltado de arvejas, garbanzos, coliflór, radichetta con pimienta ahumada; hollandaise y chimichurri batido.
Trapiche "Costa & Pampa" Pinot Noir 2015, Buenos Aires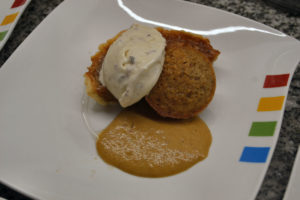 Honey Tartlet, Butter Pecan Gelato – half a tartlet filled with honey, butter, egg, and baharat; pecan flour and brown butter financier; grilled peach butter; butter pecan gelato, bourbon syrup.
Tartita de Miél, Helado de Pecana-Manteca – media tartita rellena con miél, manteca, heuvo, y baharat; financier de harina de pecana y manteca quemada; manteca de duraznos a la plancha; helado de pecanas y manteca; jarabe de bourbón.
Putruele "Tardío de Abríl" Chardonnay 2016, Valle de Tulum