January 2-6 – 2018 – 2-6 de Enero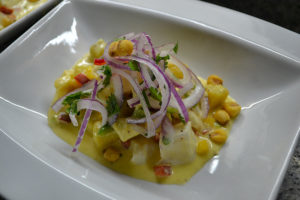 Sandperch Ceviche with Passionfruit – sandperch cured in lemon, lime, and passionfruit juices with rocoto chili, olive oil, ginger, salt, black pepper; fine dice of mixed color bell peppers; sweet potato cubes caramelized in sweet wine and smoked mustard; toasted corn, red onion, cilantro, limo chilies.
Ceviche de Salmón Blanco con Maracuyá – salmón blanco curado en jugos de limón, lima, y maracuyá con rocoto, aceite de oliva, jengibre, sal, y pimienta negra; picada de morrones de varios colores; dados de batata caramelizada en vino dulce y mostaza ahumada; maíz frito, cebolla morada, cilantro, ají limo.
Bodega El Esteco "Don David" Extra Brut, Cafayate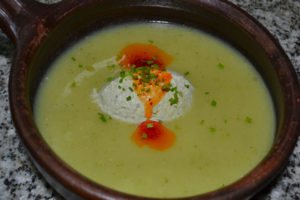 Chilled Potato and Summer Squash Soup – puree of onion, potato, summer squash, thyme, chicken stock; gelato of sauteed leeks with radichetta and chipotle chili; chives; gochugaru oil.
Sopa Fría de Papa y Zapallitos – puré de cebolla, papa, zapallito, tomillo, caldo de pollo; helado de puerros saltados con radichetta y ají chipotle; ciboulette; aceite de gochugaru.
Clara Benegas Chardonnay 2015, Luján de Cuyo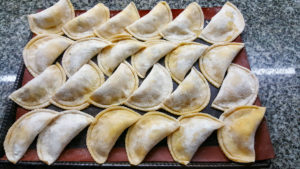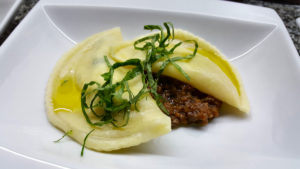 Cheese Ravioli with Peach & Pecan Sofrito – semolina ravioli filled with ricotta, gran pampeano cheese, basil; sofrito of slow cooked (3 hours) peaches, pecans, garlic, onion, limo chili, parsley; olive oil; julienne of shiso leaves.
Raviolones de Queso con Sofrito de Duraznos y Pecanas – raviolones de semolín relleno con quesos ricotta y gran pampeano, albahaca; sofrito cocido lentamente (3 horas) de duraznos, pecanas, ajo, cebolla, ají limo, perejíl; aceite de oliva, julienne de hojas de perilla.
Finca Sophenia "Altosur" Malbec Rosé 2017, Tupungato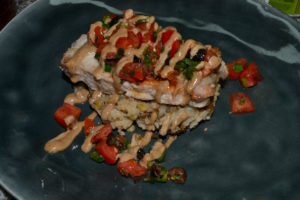 Pork Loin, Mujedra, Tomato & Long Chili Salsa – medallions of pork loin seared and finished in the oven; lentils, rice, and onions caramelized in butter; hot salad of tomatoes, chinese long chilies, black olives, cilantro, parsley, olive oil; sauce of tahini, peanut butter, lemon juice, smoked chili powder, cumin, bacon stock.
Carre de Cerdo, Mugedra, Saplicón de Tomates y Ajies Largos – medallones de carre de cerdo dorado y cocido en el horno; lentejas, arroz, y cebollas caramelizadas en manteca; ensalada caliente de tomates, ajies largos chinos, aceitunas negras, cilantro, perejíl, aceite de oliva; salsa de tahini, pasta de maní, jugo de limón, merquén, cómino, caldo de panceta.
Finca Las Moras "Black Cabernet" 2016, San Juan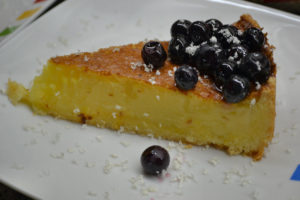 Lemon Kiss Tart – pâte sucre crust; filling of eggs, butter, lemon juice and rind; blueberries simmered in honey; grated white chocolate.
Tarta Beso de Limón – masa de pasta de azucar; relleno de huevos, manteca, jugo y ralladura de limón; arandanos hervidos de fuego lento en miél; ralladura de chocolate blanco.
Nieto-Senetiner "Emilia" Moscatel de Alejandria 2016, Luján de Cuyo