Lots of little bites, nibbles, crumbs, and tidbits, plus a tipple or two. I almost feel like I should split this into two posts, but hey, let's just go for it….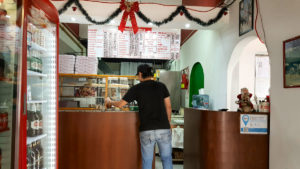 Los Muchachos de Punto y Banca, Mansilla 3494, Palermo – A spin-off (the kids of?) the original Punto y Banca pizzeria (I believe the one on Honduras), that's no longer around, but was a classic for many years. This one's basically take out only, though there are a couple of bar stools at a counter along the window. "Punto y Banca" is the Spanish name for baccarat, the casino card game.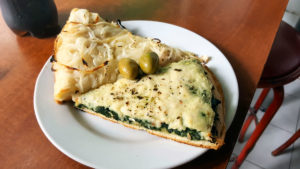 Quite good fugazzeta and a spinach slice with white sauce. Just wasn't in the mood for tomato sauce. Those days happen.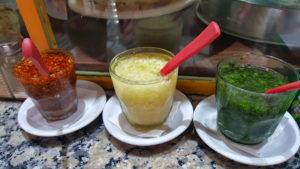 But this was love at first sight. Those of us here in BA know that you're lucky if you can find a pizzeria that offers any kind of additional condiments you can add other than salt, and if they do have dried oregano and/or chili flakes, common in other parts of the world, they're likely to have been sitting around so long they have no flavor. I just wanted to sit there and eat these by the spoonful.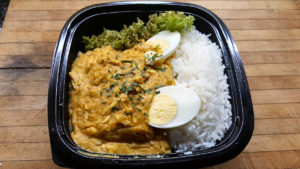 Mi Huarique, Montevideo 370, San Nicolas – A new spot on the delivery service, and one to check out, as a recently placed order yielded up a quite good appetizer sized ceviche and ají de gallina, at 145 and 170 pesos, respectively. A huarique, is a "hole in the wall" type restaurant, usually specializing in one particular dish. You might remember my trek to try the supposed best concentrado de congrejo one trip to Lima.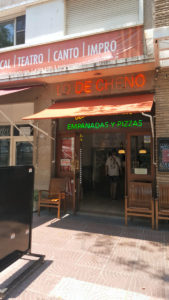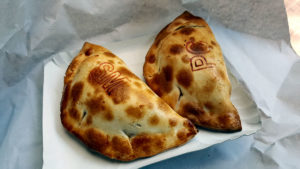 Lo de Cheno, Asunción 4166, Villa Devoto – I didn't mention in my last post, reviewing Casa Lucca, that I'd gotten out to the neighborhood very early – I wanted to walk around and see what was what, get some ideas for some future reviews, etc. Walking makes me hungry, and I had plenty of time, so I grabbed a couple of unusual empanadas at this place – a plum, bacon, and cheese one; and a sausage, cheese, and mustard one. Both pretty good too. None of the pizzas is available by the slice, so I didn't try their pizza.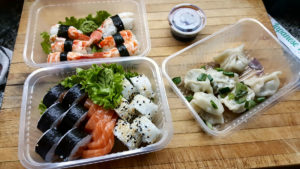 Sushi Hoy – Another one off of the delivery service, and I'm not sure where they're located, it seems to be for delivery only. Moderately successful. The gyoza were flavorful, if a bit small. The prawn nigiri were nice and fresh, as was the salmon sashimi. The two rolls were just okay, and a bit disappointing in that either I got the rolls destined for someone else's order, or the descriptions were simply wrong on the ordering service, because neither was what I ordered nor expected them to be. And, with the app's discounts it was reasonably priced, but their regular prices are ridiculous (like the gyoza, or actually, they say, wontons, are 180 pesos for six of them – on the app they were down to 108, a hefty drop).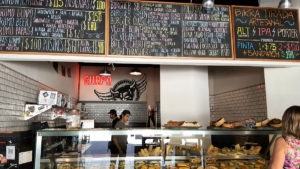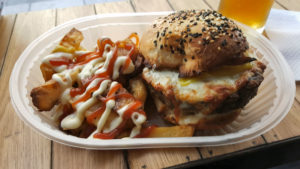 Guapo, Marcelo T. Alvear 1621, Recoleta – Mostly a takeout sandwich and burger shop with a heavy skateboarding theme, but one nice plus about dropping in, is that they offer a trio of their own rather good craft beers on tap. Unfortunately, they precook all the burgers so that all they have to do is stick them under a broiler to heat, and brown the cheese a little, when ordered. And, all the burgers are well done. A real shame because the seasoning is great, sturdy and tasty bun, the cheese is good quality, as are the other toppings, and even pretty good fries. Cooked to order, and less well done, these could be a great burger option in our neighborhood, but as is, not so much. 180 pesos for a combo of burger, fries, and a pint.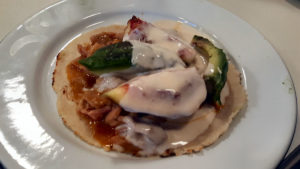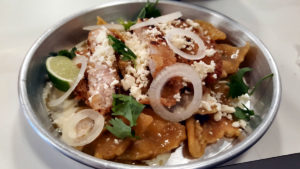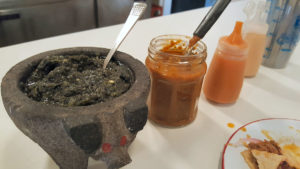 MASA – Kevin Vaughan has dropped doing his weekly in-home taco nights in favor of weekly pop-ups at a rotating group of restaurants around the Palermo area. This week he was at the new home of Sheikob's Bagels, Uriarte 1386, which I have to get over to and review. And, he's offering up some new and different things – I imagine that each week it's new stuff? Out of the half a dozen or so items on the menu, I ordered up the chinchulines (small intestine) tacos with figs and avocado, and the crispy molleja (sweetbreads) chilaquiles. Some tasty sauces available on the side to spike things up. Prices range from 75-150 pesos per item. Watch his page for where the next pop-up will be.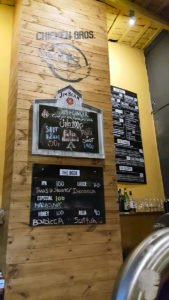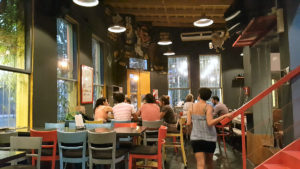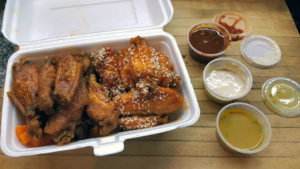 Chicken Bros, Thames 1795, Palermo – The wings guys, who used to do a weekly pop-up at this address when it was Magdalena's Party, took the space over last year and are experimenting with new and different flavors to keep wing addicts happy. Add in some craft beers and you've got a winning combo, especially because their wings have just gotten better and better with time. Henry hadn't come with me to the taco night above, but I picked up a 20-pack of wings (two sauces, in our case, extra spicy, and lime-sweet chili) to bring home for him to snack on.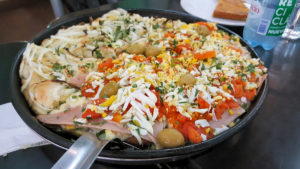 El Imperio de la Pizza, Corrientes 5206, Chacarita – Over a decade ago I tried this place as one of the recommended "bests" of Argentine style pizzas. It's worth going back and reading my old review, as the whole style of pizza was new to me at the time, and my thoughts and feelings about it have changed. Stopped in with a couple of friends in the midst of visiting a couple of craft breweries in the area just to recharge. We ordered a large pie to share, along with some fainá, and a fugazzeta rellena. Both of those were good, though I'd give more props to the regular fugazzeta, which was half of the pie we ordered, just because the filled one had too much cheese. The primavera half was less interesting, with lunchmeat ham, and some canned bell peppers, and chopped hard boiled egg. It's still, to my mind, just okay, though the fugazzeta raises that game a bit. I also like that for a half and half pizza, they really do just charge half the price of each type.
Let's finish this off with some craft beer moments….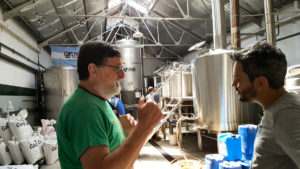 A visit to Grunge Cervezas in Chacarita, with Pete and Amy Slosberg, friends for many years (Pete was the founder of Pete's Wicked Ale, back in the day one of the earliest of the craft beer movement in the U.S.). A fun tasting. It's not open to the public, but you should really try their beers.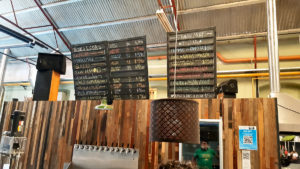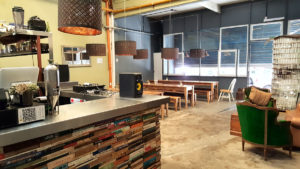 On the other hand, Strange Brewery has just opened a lounge at the front of the brewery that is open to the public. We visited earlier in the day, so it's empty, but looks like a kind of cool place to grab one of Strange's excellent brews, or the others they offer on tap. Delgado 658, Chacarita.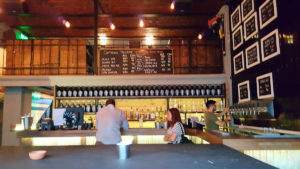 A long time reader invited me to come check out a relatively new favorite brewpub of his, Ciento65, Baéz 165, Las Cañitas. Nice selection of beers from Tacuara, up in the northern suburbs in San Fernando. They have a short food menu at the moment, which let's say, is a work in progress.