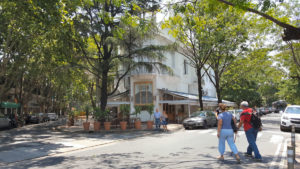 It was time for the 16th outing of the Roving Ravenous Horde, and the first outing of 2018. I picked a place I've been hearing snippets about, way out in Villa Devoto, Casa Lucca, Asunción 4167. "Cocina de inmigrantes", is their claim, with an emphasis on Italian dishes, some Spanish, and a selection of Argentine parrilla, grill, items. The owner, Alicia Luca (interesting, only one "c") has been a fixture in the Villa Devoto restaurant world, and brought in a new chef, Abdala Ghisays, a Colombian chef of Lebanese descent, to run the kitchen. Though I wasn't familiar with his work, apparently he spent a bit of time in the kitchen of HG, the former restaurant in the Fierro Hotel, working with Hernán Gipponi.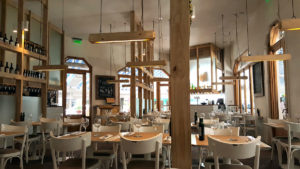 Pretty space. Fairly minimalist but really nicely done with light wood colors. We particularly liked the way they hide away the fluorescent tubes inside suspended long wooden boxes. There's also an outdoor seating area, but it was hot, steamy, and the place is located right across the street from the Devoto train station, with a ton of both car and bus traffic passing by.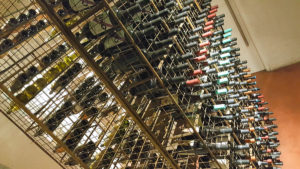 Odd placement for the wine cellar – a big locked cage downstairs in front of the bathrooms. I imagine the idea was that being the basement it would be a cooler and dryer spot to store the wines. Or maybe it was just to get it all out of the way. It's not cooler and dryer down there.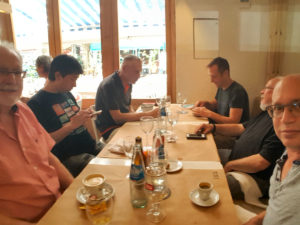 Six of us gathered this last week for lunch….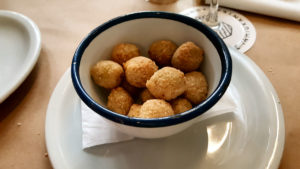 I seem to have garnered a group of folk who don't generally go for appetizers – straight for the mains, and/or the daily prix fixe menus. So, I ordered a couple of appetizers to try. Some cheese stuffed, fried olives to share for the table. Delicious, addictive, a little pricey at 105 pesos. Then again, stuffing olives is a pain.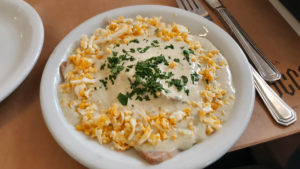 And, a small plate of vitello tonnato, the classic poached veal dish with tuna sauce. Pretty presentation, and reasonably tasty, but I thought the tuna sauce lacked some punch – usually there's a dash of something spicy, and some capers to give it some zing – this was pretty much tuna, mayo, and salt. 110 pesos.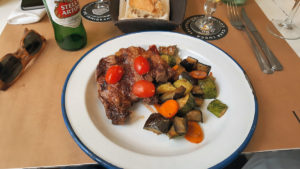 The prix fixe menu of the day – a grilled ribeye, that arrived rare to medium rare, as requested, with some sauteed vegetables. Perfectly fine, if not exciting. The "menú" came with a beverage and a fruit salad for dessert. No options for anything else, either on the dish or the dessert, which is a little odd for the prix fixe system here in BA. 210 pesos.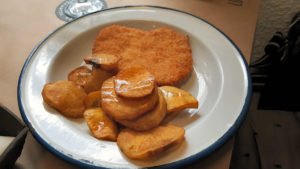 A nicely fried pork milanesa with thick sweet potato "chips". A bit plain, but again, cooked well, and seasoned nicely. 240 pesos a bit steep for the size.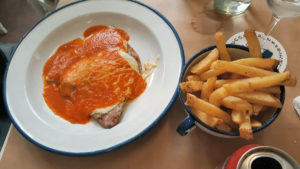 Likewise the matambre a la pizza – basically a slab of skirt steak with cheese and tomato sauce, fries on the side. Good tomato sauce. 250 pesos is up there.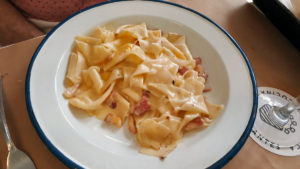 All those were basically from the Argentine side of the menu. From the Italian side, we had some rather good pappardelle with a choice of sauces (I think there were eight options), in this case, carbonara, and a properly made, real Italian one, that wasn't made with cream. I think for me, this was the hit of the day, just because it was nice to see someone preparing the sauce correctly. 190 pesos.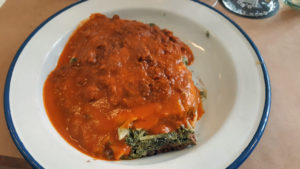 A weird lasagna, albeit decent. First, you're asked what sauce you want with it, like the other pastas, because "there's no sauce in or on our lasagna". Something's not right about that. The lasagna itself turned out to be two sheets of pasta dough, sandwiching two fillings – along one side, spinach and ricotta more or less pureed together, and the other side, lightly seasoned ground beef. That's it. That's odd. The bolognesa sauce is a little sweet, a bit too heavy on tomato and carrot for my tastes. It's a huge portion. It's just not quite what I think of as lasagna. 245 pesos.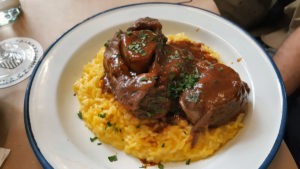 Ossobuco with saffron risotto. The meat, excellent. Perfectly cooked, beautifully seasoned, and, wonder of wonders, a proper marrow bone in the middle with the marrow still in it and ready to eat! The rice, on the other hand, was dry and chalky – at least a good 6-7 minutes under-cooked, even for an al dente risotto. 235 pesos.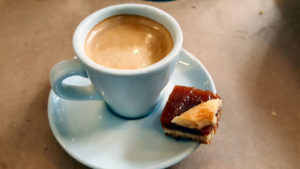 Good coffee. Very good little bit of pasta frola on the side, one of the better ones I've tried (for those not familiar, it's a local pastry made with sweet quince paste). 60 pesos.
Overall, the kind of place that were it here in Recoleta, I'd probably go to on a reasonably regular basis. Being a good hour and a quarter or so away in Villa Devoto, I doubt I'd make the trip again. But if you're out that way…. Besides, I noticed several other new restaurants out in that area since I last spent anytime looking around there. I might just have to make a couple more trips.