December 28-30 – 2017 – 28-30 de Diciembre
Last menu of the year! / Último menú del año!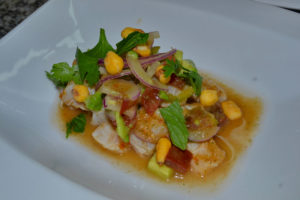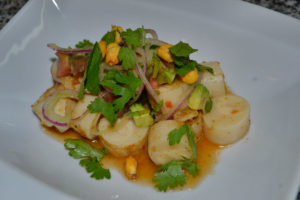 Sole & Black Tomato Ceviche – sole cured in a puree of lemon and lime juice, rocoto chili, ginger, garlic, black tomato, cilantro, mint, and salt; salad of rocoto chili, avocado, red onion, black tomato; toasted corn, cilantro and mint leaves. Vegetarian version with palm hearts.
Ceviche de Lenguado y Tomate Negro – lenguado curado en un leche de jugos de limón y lima, rocoto, jengibre, ajo, tomate negro, cilantro, menta, y sal; ensaladita de recoto, palta, cebolla morada, tomate negro; maíz tostada, hojas de cilantro y menta. Versión vegetariana con palmitos.
Bodega El Esteco "Don David" Extra Brut, Cafayate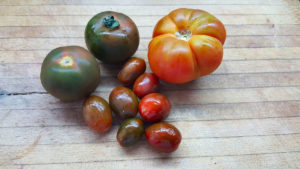 The tomatoes on the left are the black tomatoes, a heirloom variety, along with two others found in the market last week.
Los tomates a la izquierda son los tomates negros, una variedad de herencía, juntos con dos otros que encontré en el mercado la semana pasada.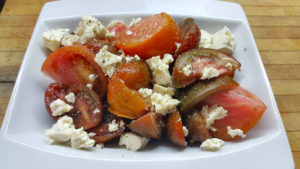 Not from the dinners, but my lunch with a mix of the three tomato varieties and fresh cheese.
No de las cenas, pero mi almuerzo con una mezcla de las trés variedades de tomates y queso fresco.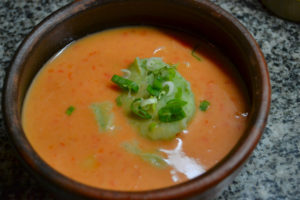 Watermelon Gazpacho, Chinese Long Chili Gelato – Pureed soup of watermelon, garlic, olive oil, red wine vinegar, salt and pepper; dice of red bell pepper and white onion; gelato of cucumber, Chinese long chilies, honey, salt, milk, egg; chopped green onions.
Gazpacho de Sandía, Helado de Ajies Chinos Largos – Sopa en puré de sandía, ajo, aceite de oliva, vinagre de vino tinto, sal y pimienta; daditos de morrones y cebolla blanca; helado de pepeino, ajies chinos largos, miél, sal, leche, heuvo; verdeos picadas.
Bodega Tacuil "RD" Sauvignon Blanc 2015, Valle Calchaquí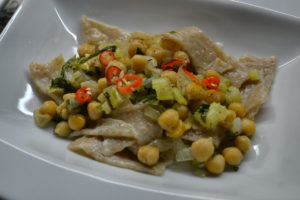 Whole Wheat Pappardelle with Chickpeas – homemade whole wheat papardelle; saute of onions, celery, chickpeas, celery leaves, and limo chilies in olive oil.
Pappardelle Integrál con Garbanzos – pappardelle integrál casero; saltado de cebolla, apio, garbanzos, hojas de apio, y ajies limos en aceite de oliva.
Bodega Monteviejo "Festivo" Rosé 2016, Valle de Uco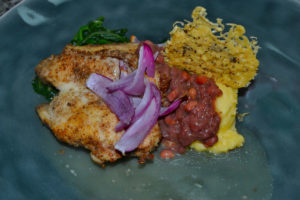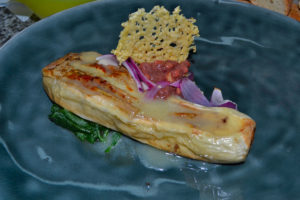 Spiced Chicken Breast, Strawberry & Pinenut Sofrito – chicken breast rubbed with salt, pepper, ginger, and coriander, browned and then finished in the oven; sofrito of 3 hour slow cooked strawberries, pinenuts, onions and olive oil; sauteed spinach; creamy polenta; lightly charred red onion petals; black pepper and reggianito tuile. Vegetarian version with white eggplant.
Pechuga de Pollo Especiado, Sofrito de Frutillas y Piñones – pechuga de pollo rociado con sal, pimienta, jengibre, y coriandro, dorado y cocido en el horno; sofrito de frutillas, piñones, cebollas y aceite de oliva, cocida lento durante 3 horas; espinaca saltada; polenta cremosa; petalos de cebolla morada dorado; tuile de reggianito y pimienta negra. Versión vegetariana con berenjena blanca.
Dominio del Plata "Crios" Syrah-Bonarda 2013, Mendoza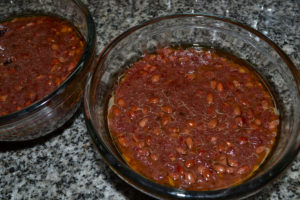 Strawberry and pinenut sofrito – inspired by chef Jeremy Fox.
Sofrito de frutillas y piñones – inspirado por chef Jeremy Fox.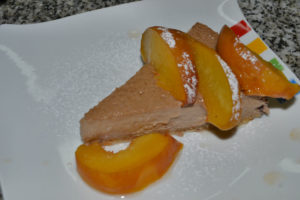 Pecan Cheesecake, Honeyed Peaches – crust of flour, pecans, powdered sugar, gochugaru, butter, vanilla, egg yolk; filling of homemade cream cheese, pecans, eggs, brown sugar, lemon and vanilla; peaches baked with honey; powdered sugar.
Cheesecake de Pecanas, Duraznos en Miél – masa de harina, pecanas, azucar impalpable, gochugaru, manteca, vainilla, yema; relleno con queso crema casero, pecanas, huevos, azucar negro, limón, y vainilla; duraznos asados con miél; azucar impalpable.
Amalaya Blanco Dulce de Corte 2017, Valle Cachalquí