These don't even qualify as Bite Marks, a mere grazing at a few new places of note. Notes good and bad.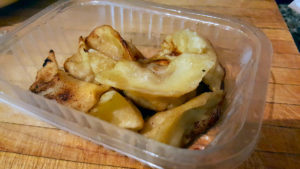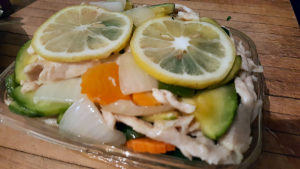 Mi Fan, Sarmiento 3714, Almagro – This one popped up recently on PedidosYa and I thought I'd give it a try one evening for a delivery order. Potstickers so oily you can almost see through that dumpling skin, and the filling, the less said, the better. The lemon chicken fared far better – a generous portion of chicken and vegetables, with the chicken thankfully not breaded and fried like a milanesa, a slightly sharp lemon sauce as opposed to the too sweet type that so often arrives. I'd happily eat that again. 90 and 170 pesos, respectively.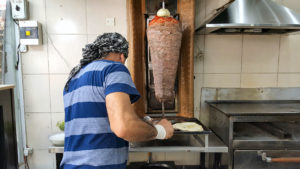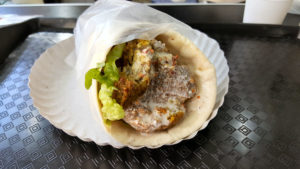 Baghdad Las Mil y una Noche, Av. Corrientes 883, Centro – New little Middle Eastern spot right by the obelisco. Not to be confused with the nearby La Mil y un Noches (now there's an interesting grammatical question for those of you more fluent than I in Spanish, which of those is the correct way to say "The Thousand and One Nights"?), the gentleman at the shawarma spit was quick to assure me. You might remember the "hair incident". Despite how good the shawarmas he was preparing looked, I was in the mood for a falafel, and this was a pretty darned good one. The only negative, the "hot sauce" ain't hot. I'd go back and try the shawarma next time I'm over there and hungry, these are generous portions, and cheap, at 80 pesos.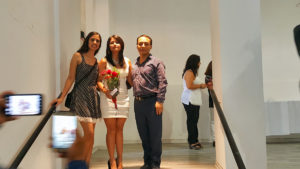 Those of you who've been with me since the early days may remember our niece, Viviana. Probably the earliest big introduction was her Quinceañera, back in March 2006. Our little girl's all grown up – just this last weekend graduating from University of La Plata's graduate psychology program and receiving her profeserado diploma. I think Henry's beaming happier than she is!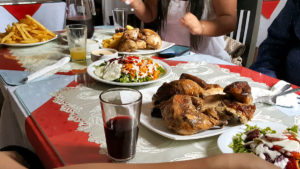 Due to the impending national strike last Friday (that got postponed until this Monday at last minute), the diploma ceremony got moved from Friday evening to early Saturday morning – had there been a 24 hour strike, I'm not sure how that would have been any better, but still… it meant we were out of here by 7 in the morning to make it there on time (and of course it started an hour late and dragged on interminably). All that meant that we'd already had plans that really couldn't be changed on Saturday afternoon and evening, so we had to make due with a rushed lunch. Henry insisted it be at a Peruvian spot, though the one he wanted turned out to be gone, so we settled for another one in the area. Sabor Peruano, Calle 58 #621, La Plata, a supposed specialist in pollo a la brasa, something that's usually quick and easy because everything's ready and just needs to be dished up. Slow, relatively rude service was followed by a mediocre 1½ chickens that we ordered for the six of us. Well below "yawn", and running 320 pesos for the whole chicken plus 240 for the additional half. Not worth it.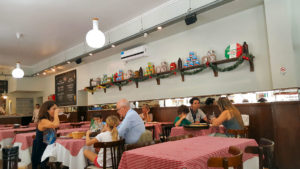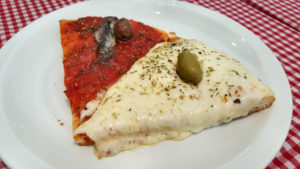 One of my relatively new readers, a self-described "disgruntled Italian in BsAs", has been corresponding with me (well, half a dozen messages back and forth at the most) about the pizza scene here. She mentioned one I've walked by but not tried, as "good", though not worth the price. However, being right here in the 'hood, and somehow I never tried it, one afternoon I thought I'd grab a couple of slices as a snack. La Palita, Riobamba 1019, Recoleta goes for the whole red and white checked tablecloth faux Italian look. One of the things I do when I walk into a place that has the walls lined with products is see just what it is the products are – and this one is festooned with bottom of the barrel brand canned products – right down to slimy canned mushrooms. That didn't bode well – there's no excuse for using canned mushrooms, in anything. The pizza slices, yes, expensive, at 55-65 pesos apiece, for a plain mozzarella and a cheese-less anchovy slice. The crust, an airy, almost styrofoam texture, with little to no flavor. The cheese, an oily, overloaded mess, the anchovy, mushy and broken up. The only saving grace, a relatively decent tomato sauce, though it could have used more seasoning. I'd have to go with average at best, good would be too far of a stretch.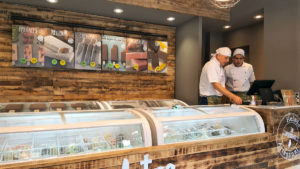 But let's finish on an upbeat note. I've mentioned, many a time, my friend Frank, the man behind the Sugar & Spice cookie empire (he's stepped out of that), and the host, tour guide, and raconteur running Asado Adventure. Apparently feeling like he didn't have enough to occupy his time, he's just become one of the newest franchisees of Guapaletas, the Popsicle-Fudgsicle (not really, because, did you know that both of those are trademarked names of the Popsicle company, they're not legally generic terms? Here they're usually called something like "ice pops" or "paletas") chain that's taking over the city by storm. His shop, several months in the offing, is at Costa Rica 4675, Palermo – just a few steps away from Plaza Costa Rica. First time I've tried these little ice cream and sorbet gems, and I'm impressed! Having just tried two flavors, I could happily eat the "orange, passionfruit, campari" ones any day. All natural ingredients, real fruit, no "flavorings". Stop in for a summer treat, the weather's just getting hotter.