December 12-16 – 2017 – 12-16 de Diciembre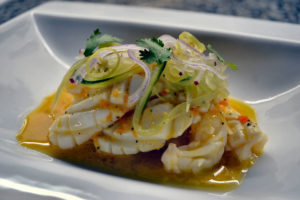 Mixed Ceviche with Yellow Chili & Passionfruit – raw sea bass, poached prawns and calamari, cured in a mix of grapefruit and lime juices, ginger, yellow chili, passionfruit, salt, pepper; cucumber strips, radish threads, and red onions; limo chilies, cilantro.
Ceviche Mixto con Ají Amarillo y Maracuyá – corvina cruda, langostinos y calamares pochados, curado en un leche de pomelo, lima, jengibre, ají amarillo, maracuyá, sal, y pimienta; tiras de pepino, hebras de rabanito, y cebolla morada; ají limos, cilantro.
Bodega Chandon Chardonnay Cuvée Reserve, Mendoza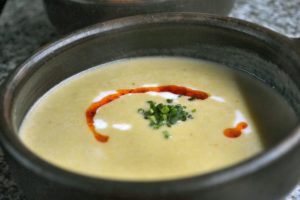 Cream of Green Bean Soup – pureed soup of green beans, onion, garlic, gochugaru (Korean chili), potato, vegetable broth, cream, salt, white pepper; gochugaru oil, yogurt, chives.
Sopa Crema de Chauchas Rollizas – sopa en puré de chauchas rollizas, cebolla, ajo, gochugaru (ají coreano), papa, caldo de verduras, crema de leche, sal, pimienta blanca; aceite de gochugaru, yogúr, ciboulette.
Doña Paula Estate Sauvignon Blanc 2017, Valle de Uco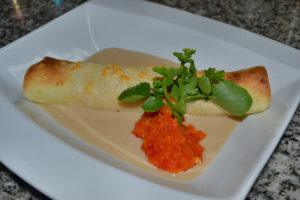 Portobello & Mascarpone Crepe, Garlic Sauce – semolina crepe lined with cooked ham, and a mix of portobello duxelles and homemade mascarpone; gratineed with gouda cheese; garlic and mushroom veloute; matbucha (roasted pepper, tomato, garlic, and chili relish); watercress.
Panqueque de Portobelo y Mascarpone, al Ajillo – panqueque de semolín revestido con jamón cocido, y un relleno de duxeles de portobelo y mascarpone casero; gratinado con queso gouda; veloute de ajo y champiñones; matbucha (salsa de morrón asado, tomate, ajo, y ají); berro.
Bodega Monteviejo "Festivo" Rosé 2016, Valle de Uco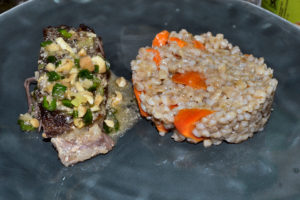 Milk-Braised Flank Steak, Barley & Carrots – flank steak marinated in miso, espresso, cumin, merquén (smoked chili), black pepper, salt, then braised in milk for five hours at 120°C; pearl barley cooked in beef stock, carrots roasted with cumin, mixed together with yogurt; braising juices emulsified with butter, green onions, and cashews.
Vacio Braseado en Leche, Cebada y Zanahorias – vacío marinado en miso, espreso, comino, merquén (ají ahumado), pimienta negra, sal, luego braseado en leche durante cinco horas al 120°C; cebada perlada cocido en caldo de rés, zanahorias asadas con comino, mezclado juntos con yogúr; jugos del braseado emulsificado con manteca, verdeos, y cajues.
Finca Las Moras "Black Cabernet" 2016, San Juan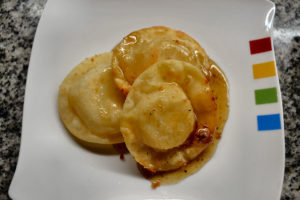 Seadas – traditional fried ravioli of Sardinia, filled with Sardo cheese, lime and grapefruit zests, pisco; warm honey flavored with baharat.
Seadas – ravioli frito tradicional de Cerdeña, relleno con queso Sardo, ralladura de lima y pomelo, pisco; miél tibia saborizado con baharat.
Crotta "Mistela d'Oro" 5 Años Roble Anejo, San Martín