Not exactly a traditional recipe, but an amalgam of a couple of different ones, until I came up with a version that I really like. As always, let's start with the money shot….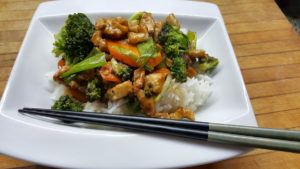 And then let's go back to the start….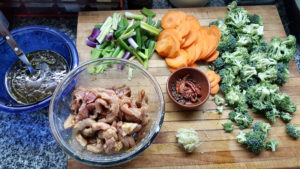 From the right – the florets off of a decent sized broccoli; a peeled and thinly sliced large carrot; green onions cut into 2-3 cm lengths, and somewhere in the heap, two hot chilies, sliced thin (I used ají limos); a few dried chinese chilies and a spoonful of szechuan peppercorns; a teaspoon or so each of grated garlic and ginger; about half a kilo of thinly sliced pork loin (or leg meat) – you can also do this same dish with chicken or beef – coated with a heaping tablespoon of cornstarch, the grated zest of two oranges, and a tablespoon of soy sauce; and in the last bowl, the juice from those two oranges, an equal amount of stock, 2 teaspoons of honey, 1 teaspoon of sesame oil, and 1 tablespoon of soy sauce.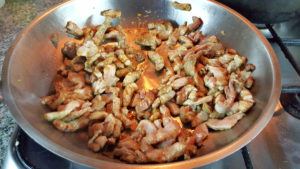 In a couple of tablespoons of oil, brown the pork over high heat and cook it through, then remove it from the pan and set it aside.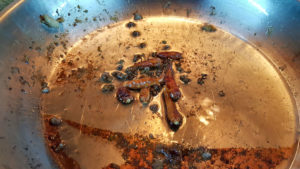 Add a splash more oil and let the dried chilies and szechuan peppercorns get lightly browned, and flavor the oil. If I was making this just for me, I'd have left them in and just gone on to the next step, but Henry has a thing about dried whole spices in food, so I scooped them out.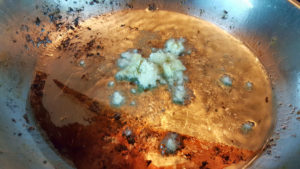 Add the ginger and garlic and cook for just about 15 seconds, to get it nice and aromatic.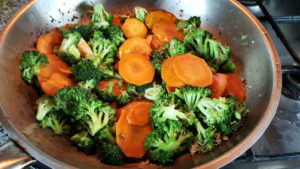 Add the broccoli and carrots and cook for about 6-7 minutes, tossing regularly, to get them just slightly golden and starting to soften.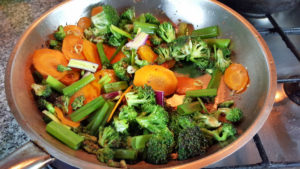 Add the green onions and fresh chilies and continue cooking about another 4-5 minutes. At this point the broccoli and carrots should be pretty much cooked through.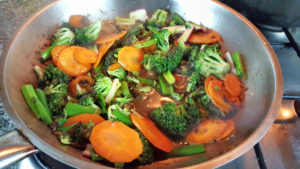 Add the sauce mixture and toss well to coat. Cook for about a minute so the flavor permeates everything, and the liquid reduces slightly.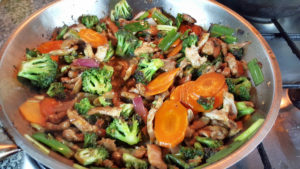 Add the pork back in and cook another minute just to make sure it picks up the flavor of the sauce, thickens the sauce slightly (from the cornstarch), and reheats through.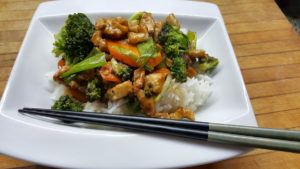 Serve over white rice (we cook ours more Peruvian style, with a bit of olive oil, salt, and grated garlic), but plain Chinese white rice is just fine! Enjoy!