Honduras 5237, Palermo. It's the only enduring thing about this place. Early on in my time in BA it was Eliot, a place with a sub-moniker of "restaurant and other passions", the latter of which we never did discover, nor did anyone seem quite sure who Eliot was. Then it became Bardot Loisir, under chef Marco Espinoza, previously the chef at the Peruvian embassy, then chef of Moche restaurant, and then the first chef at the original location of Ceviche restaurant. Then he left for Brasilia, Brazil, opening a restaurant called Taypá, and chef Julio Almeida took over for a short while. I suppose tacking on the French infinitive for "leisure" to Brigitte Bardot's surname was to indicate the lounge style of the place, but then they dropped that, and for a while it was simply Bardot, under Dennys Yupanqui (who I last saw in Lima at his new restaurant Cuchara, which he's now closed, and he's working on some gastronomy projects up in the Amazon basin). And then there was briefly someone, I don't even remember who, and then the name was changed again, now to emphasize the cuisine, to Bardot Nueva Cocina Peruana, under chef Luis Oxa, who had come to the place from Astrid & Gascón. He moved on and is now running the restaurants in the Bab al Qasr hotel in Dubai. Through all this, I never discovered what the connection between Brigitte and Peru was. I mean, she visited the country in 1965 with her Brazilian boyfriend, but beyond that…?
So now, it's Cocos Resto-Bar Peruano, which is indirectly named after the town of Tarapoto (which, come to think of it, is where Dennys Yupanqui, above, is now working – oh, the intricate web) in the Amazon as a tribute to where the food comes from, is also known as the City of Palms. Coconut palms, that is. A lovely bunch of coconuts indeed. The new chef, Iván Enríquez, worked with Luis Oxa on developing the Amazon influenced menu in the last iteration, and has taken it even further.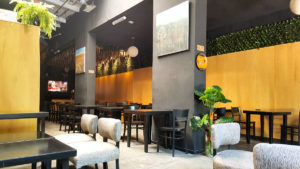 The room is far less "slinky" as I first described it, though that's been a steady change over the years. There are still some lounge tables, but they're all at the front, in the windows, rather than the back, and when we arrived for lunch one day recently, a good hour after opening time, there was absolutely nothing setup for anyone to eat, at any table. In fact, the person who greeted us had to go back to the kitchen and ask if they were ready to serve food. Hey, your doors are open, it's during the hours you post there, and on your facebook page and website, you should be ready to serve food. The menu continues, and even expands on, the Amazon ingredient theme. It's not cheap, but then, which place serving modern Peruvian fusion food is these days?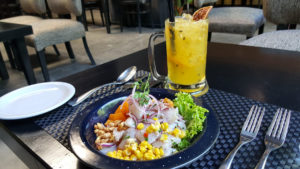 Henry ordered up a classic ceviche, along with something passionfruity to drink. Excellent ceviche with rocoto chilies in it, and when asked for an ajicito, a hot sauce to accompany it, instead of the usual local puree of aji limo chilies, we got a mash of charapita chilies direct from the Amazon, in a little vinegar. Yum! 240 pesos.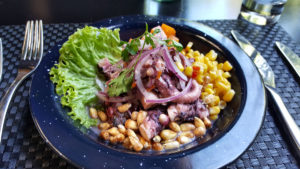 I wanted to try one of the more unusual ceviches, the trout and cecina, or air-dried pork of that region, but, it wasn't available, so I went for the octopus ceviche with smoked ají amarillo, another excellent choice, and packed with perfectly cooked tentacles. 350 pesos.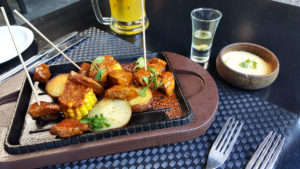 On to the main courses, Henry's lomo anticuchero, brochettes of sirloin in a classic anticucho sauce, accompanied by rounds of corn, andean potatoes, and inchicucho, a classic side dish of the Amazon usually reserved for special festivals and weddings, a sort of soft cornflour pudding of peanuts, cumin, charapita chilies, onion, garlic, and cilantro. This version was more of a soft, almost creamed corn version with the same flavors. 290 pesos.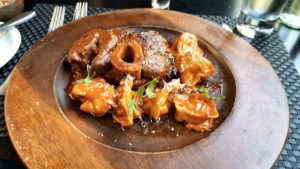 I went with an ossobuco, cooked norteño style – fairly similar in flavor to something like a pachamanca, one of my favorite dishes from Peru, accompanied by corn-filled agnolotti. 250 pesos.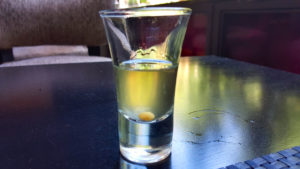 Our waiter offered us a couple of shots of infused pisco, of our choice from a large selection on display. We both went for the charapita chili infused version, of course.
All told, with the above, a bottle of water, and tip, we rang in at 1450 pesos, or about $83, for lunch. A more expensive outing than our recent disappointing visit to La Canoa, but we ate more, and ate far, far, far better, for the two spots in town that offer up Amazon influenced Peruvian food. This is a far, far, far better option.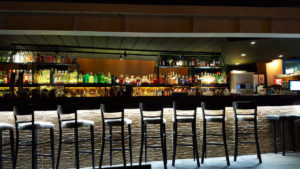 We returned on an evening a couple of weeks later to check out the dinner scene. The biggest changes, the tables setup for service, dim lighting (so dim I had to use a flash to get the photos to turn out, something I hate to do), and it turned out our lunchtime waiter is the bartender at night.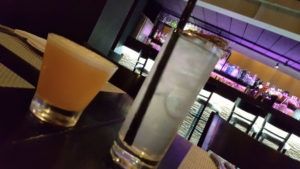 We ordered a couple of cocktails and perused the menu, which is the same as at lunch.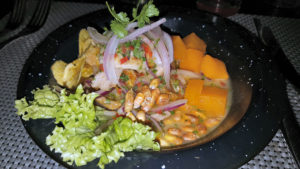 Henry liked what he'd had so much that he simply ordered the same two things again. This time, the cecina and trout ceviche was available, so I tried that. (290 pesos) Not quite what I expected. First off, the focus was on the cecina, and I was envisioning a somewhat chewy, air-dried pork, that's heavily spiced (what I envisioned was more or less a trout ceviche with, maybe, crispy bits of grilled or fried cecina)…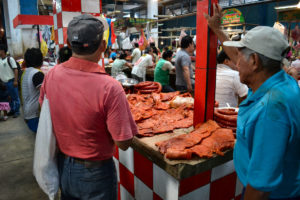 …this is the stuff, at the Mercado Belén in Iquitos from our trip there four years ago.
While a tasty ceviche, the cecina seemed a bit like simply lightly salted, pounded thin bits of pork that had turned grey from being marinated in the citrus, and, there was very little trout mixed in. Now, as to the seasoning, I guess that's pretty much decision of anyone who makes it, but this didn't have the texture of air-dried, cured pork, even reconstituted. I'd say that while interesting, I liked the other two ceviches much more.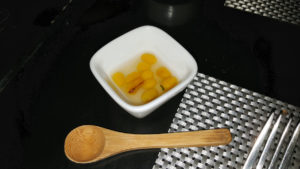 Oh, here are those charapita chilies in a little vinegar that I mentioned above. They do pack a punch!
Now, you may remember a month ago, two disappointing Peruvian spots, one of which, La Canoa also purports to serve Amazon influenced fare, and served me up a patarashka that looked like this: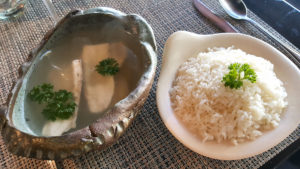 … a couple of pieces of overcooked white fish floating in lightly ginger infused broth and some rice, and I went on a bit about what the dish should be. Which is more or less this: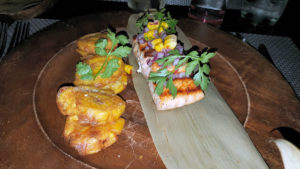 The patarashka at Cocos. It's still a modern interpretation. The fish isn't wrapped in a leaf with all its accompaniments and grilled in a packet, even if it's served on a leaf. It's a piece of grilled fish (the choice was between grouper and salmon, I asked for grouper, the waiter confirmed it, twice, and brought me salmon), topped with red onions, herbs, corn, and more. Other than the disappointment about it being salmon (I know, I know, everyone wants salmon, why would you want white fish?) it was excellent. (270 pesos) The patacones, or fried plantains on the side, I wish we'd known about, or the waiter had said something, because…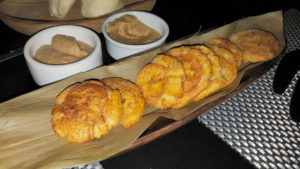 …we ordered a side order of them (70 pesos), which turned out to be unnecessary, and we basically didn't eat them.
So… like the room, like the new lighter feel to it. The food was, overall, excellent. It's expensive, on the same order as places like La Mar. If you reserve through Restorando, they do have a 30% off the bill deal if you pay in cash, which is a big plus – dropped our bill from over 1600 pesos to just under 1200 for the evening ($65 instead of $94), before tip.
Service could use a little work. At lunchtime, it would be nice if we hadn't felt as if we were somehow intruding into the lives of the people working there – at least setup some of the tables, and they shouldn't have to check if the kitchen is willing to cook for diners – the doors are open, it's posted hours, etc., they should have known before they ever turned the key in the lock to open. At dinner, our waiter (not the one who became the bartender at night) seemed very nervous around us (I know that they knew who I was, as the manager came over and introduced herself), he reconfirmed our drink order twice after we ordered it, and then the bartender came over and checked it too; he reconfirmed our food order twice, and still got the fish wrong; I'd have liked to have been advised when we said, oh hey, we want to try the patacones that we were getting them already as the side to the patarashka.