28 Noviembre-2 Diciembre – 2017 – November 28-December 2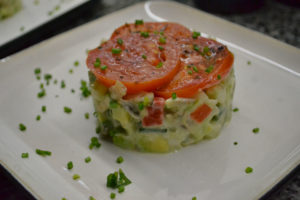 Seasonal Vegetable Salpicon – Salad of cucumbers, green onions, avocados, mushrooms, green beans, palm hearts, and roasted red pepper, in a dressing of coconut milk, lime juice, olive oil, roasted garlic; herb-roasted tomato slices; chives.
Salpicón de Verduras de la Estación – Ensalada de pepinos, verdeos, paltas, champiñones, chauchas, palmitos, y morrones asados, en un aderezo de leche de coco, jugo de lima, aceite de oliva, ajo asadao; rodajas de tomates asadas, ciboulette.
Philippe Caraguel Extra Brut, Mendoza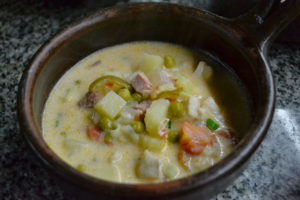 Chilean Cod Chowder – Cod, bacon, potatoes, tomatoes, peas, pickled serrano chilies, green onions, garlic, fish stock, cream.
Caldillo de Brótola – Brótola, panceta, papas, tomates, arvejas, ajies serranos en escabeche, verdeos, ajo, caldo de pescado, crema de leche.
Alma Gemela Nº 1 Pedro Ximenez 2016, Mendoza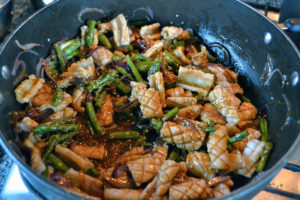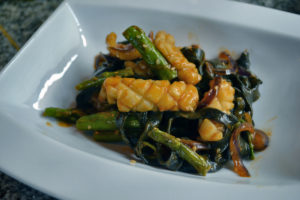 Black Fettucine with Calamari & Asparagus Ssamjang – Homemade semolina squid ink fettucine; saute of calamari, roasted asparagus, red onions, in Fujian wine, gochujang, honey, sesame oil and seeds, cumin, miso, soy sauce, rice vinegar.
Tallarines Negros con Calamares y Esparragós Ssamyang – Tallarines caseros de semolín y tinta de calamár; salteado de calamares, esparragós asados, cebollas moradas, en vino Fujian, gochuyang, miél, aceite y semillas de sésamo, comino, miso, salsa de soja, vinagre de arroz.
Bodega del Desierto "Pampa Mia" Cabernet Franc Rosé 2016, Patagonia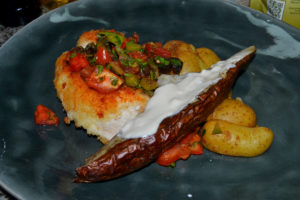 Fried Chicken, Warm Tomato-Chili Salad, Roasted Eggplant – Chicken breast coated in panko and gran pampeano cheese, fried; warm salad of chopped tomatoes, rocotos, black olives, cilantro, parsley, olive oil; roasted violet eggplant topped with salsa taratur; lemon-olive oil roasted small potatoes.
Pollo Frito, Ensalada Tibia de Tomate-Ají, Berenjena Asada – Pechuga de pollo empanada en panko y queso gran pampeano, frito; ensalada tibia de tomatoes, rocotos, aceitunas negras, cilantro, perejíl, aceite de oliva, picada; berenjena violeta asada con salsa taratúr; papines asados con limón y aceite de oliva.
Aristedes Bonarda Reservado de Familia 2014, Maipú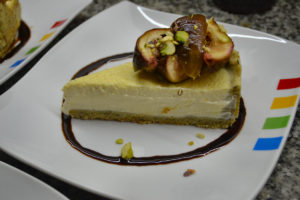 Fig & Pistachio Cheesecake – Black pepper and pistachio crust; filling of homemade mascarpone with candied figs; fresh figs roasted with honey; chopped pistachios; sweet balsamic reduction.
Cheesecake de Higos y Pistachos – Masa de pistachos y pimienta negra; relleno con mascarpone casero con higos glaceados; higos frescos asados con miél; pistachos picados; reducción dulce de balsámico.
La Rural "San Felipe" Tardío Dulce Roble 2016, Mendoza