Perhaps, just for kicks and grins, as the saying goes, we'll go from the worst to the best….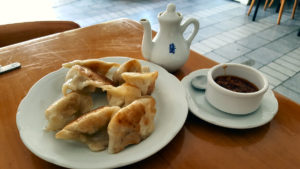 Pequeña Casita China, Hipólito Yrigoyen 185, Martínez – My intention was a Chinese food crawl with a friend or two, with the idea to hit a trio (or possibly more) of places that readers have recommended in and around Martínez for dumplings and a pick of a house specialty to share. First off, I ended up solo – so I thought, okay, just a dumpling sampler from each place. Second off, the first place I got to turned out to be closed at lunchtime on Mondays and Tuesdays, and the second place has been converted to one of those steam-table pay-by-weight spots. It happens. So, I figured I'd just go with the plan for the third place, which thankfully was open. It's a hole in the wall, more of a takeout and delivery spot than anything. It's not particularly clean – the tabletops were tacky – and I don't mean that from a design standpoint, but from just slightly sticking to them when touched. This didn't bode well.
The kuo-tie potstickers were doughy, gummy, bland, and oily. The only remotely saving grace for these was the hot sauce, which was pretty much a thick, coarse puree of searing hot fresh chilies. I made it through half the order and gave up, and was considering canceling the main course when it arrived.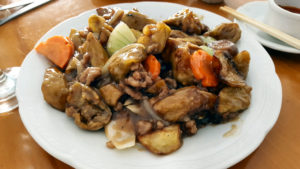 Their version of eggplant yu xiang, typically a spicy and slightly sweet dish of braised eggplant and pork. This was lots and lots of peeled eggplants, cooked to death, with only a few bits of extremely salty pork scattered, and a sauce that had about as much flavor as water thickened with cornstarch and set next to a bottle of soy sauce to absorb the aroma by osmosis. The onions and carrots weren't even cooked in the dish, just tossed in cold and raw. The accompanying rice was dried out – probably reheated from the previous day. Pretty much a complete fail and a waste of 280 pesos (including a bottle of water). I do hope there's better Chinese food in Martínez!
---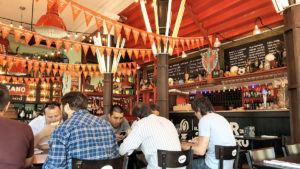 La Popular de San Telmo, Av. Caseros 500, San Telmo – Henry was handling some administrative stuff for his university professor training program, and we needed to kill an hour or so, and this place was just a couple of minute walk away. I have to admit, I'm surprised that it gets as busy as it does, because for the strip of restaurants along that stretch of Caseros, it's expensive. Their menú ejecutivo at lunch runs either 290 or 370 pesos, depending on which main course you pick, and all it includes with it is a two-bite empanada, a small soft drink, and either coffee or a flan at the end.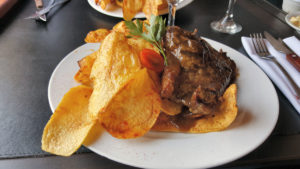 The "cheaper" menu options weren't all that appealing – a caesar salad, some cheese ravioli with tomato sauce, or a milanesa; so we both went with the more expensive option. Given what was on offer, we both picked the rib-eye steak. Both a bit over-cooked, even for Henry, who doesn't like any red showing, and the meat was laden with fat and gristle. The "papas españolas" were oily potato chips sprinkled with paprika – those ain't no papas españolas…. And there's no way the swill they served for coffee was from the claimed Lavazza. Meh, at best.
---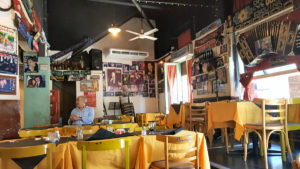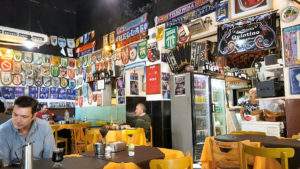 Quintino, Av. Carlos Calvo 4002, Boedo – I'm back to futzing around with my idea of Steaks with Bald Charlie – an exploration of at least some of the parrillas along this avenue. I haven't really gotten it started, so this is, when it comes down to it, the first entry. We'll see where it goes. This place is also one of the famed bares notables, the notable bars of Buenos Aires, as declared by the government a few years back. It's named after Quintino Bocayuva (the name of the cross street at this corner), who was a politician and writer in Brazil in the late 1800s and early 1900s. He was the first governor of the state of Río de Janeiro, from 1901-1903.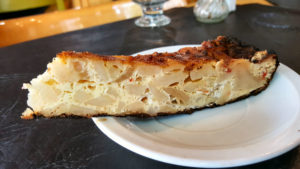 A little slice of potato tortilla to nibble on while I perused the menu – well seasoned, tasty, I wish it had been warm rather than cold, but, hey, it was free.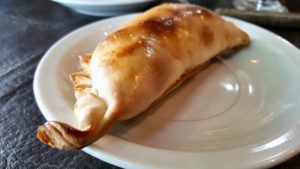 A lovely empanada with ground beef, green onions, spices, and maybe just a touch too much hard boiled egg, but I'd happily eat one again. (20 pesos)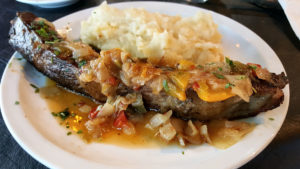 It's not always about the top cuts of meat in a steakhouse, sometimes a place has a particular specialty, and here, it's apparently the vacio, or flank steak – pretty much, a slab of brisket. The place is clearly old school, where the steaks are cooked low and slow for the day, as it came off the grill before I'd finished my empanada. As such, it was well done, but still tender and juicy, and really smoky and flavorful. I also really liked the red and yellow bell pepper and onion gravy ladled over it. And, the mashed potatoes were smooth and creamy, and needed little more than a touch more salt than they already had, but that's more personal preference. (160 pesos)
A bottle of water, a glass of house red, and tip, and the total came in at 290 pesos – and far, far better than what we had at La Popular above. Practically a steal!
---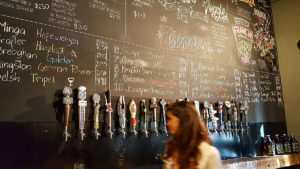 The ever-expanding craft beer juggernaut that is On Tap, has now opened a Recoleta branch at Azcuénaga 1781, taking over the space of the short lived Frais bar, and right next to my least favorite neighborhood beer and burger bar, Ruano. It won't bother me if On Tap puts them out to pasture. On Tap Recoleta offers up 20 beers, on a regularly changing basis, and a selection of bar food. We stopped in just for a beer when they opened one evening (they open early, another plus, at 5pm). We might have tried something to nibble on, but for some reason, the kitchen doesn't open until an hour later, at 6pm. Our bartender admitted that she regularly hears from early customers that they wish they could at least get some of the simpler nibbles to go with their beers, like some fries, or a picada of cheese and cold cuts. Hopefully they'll do something about that.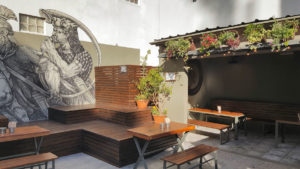 One of the nicest things about this spot, is the second floor rooftop terrace, which also features a second bar, though with a more limited selection of a dozen of the same beers from downstairs.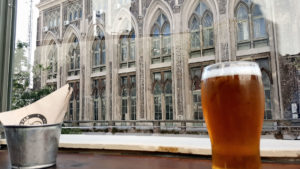 I mean, the UBA School of Engineering isn't the best view that one might have from a terrace, but it's still a pretty building.
Happy hour every day from 5-8pm, 120 pesos for two pints – that ain't bad.
---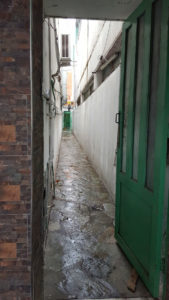 Somehow, we'd never noticed the restaurant sign way down this narrow passageway, nestled between Midam and Una Canción Coreana. The sign is in Chinese rather than Korean, and we wandered our way down to check it out.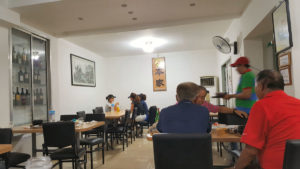 Casa Bonga, Av. Carabobo 1557, Flores – It's a small space, in a small building behind the one that houses Midam, presumably it was something like a carriage house, or a workshop of some sort. The menu is short and sweet, with maybe seven or eight different Korean soups available, plus cold glass noodles, and a pork cutlet, for those who want something else. The place is pretty popular, which surprised us simply because… how could we have never noticed people coming and going pretty much constantly? The business card has the Chinese characters in the Korean version, and a rough translation would be "House on the Lake".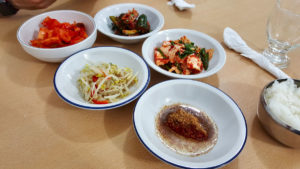 A small selection of ban chan – with cabbage and daikon kimchi, some beansprouts, and pickled cucumber. The scoop of paste upfront is gochujang, hot paste, for adding to the soups.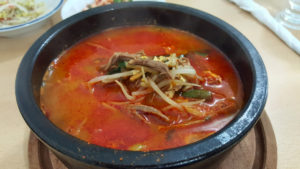 The spicy beef soup was good, but not overly spicy. You could taste that it had some chili in it, but not a lot. And there was a layer of glass noodles at the bottom, plus sprouts, a bit of beef, and some egg. Good, and we'd happily eat it again, but not exciting. 200 pesos.
This, however, was an absolute winner. Quite probably the best Korean soup I've ever had, and one of the best lamb soups I've ever had, from any cuisine. Steven suggested it might be the best Korean dish of any sort he's ever had. Spicy, complex, packed with lamb and green onions. A bit of research suggests that this is a lamb version of Bosintang, a controversial (these days anyway) spicy dog soup from North Korea – at least the flavor profile and the look fit, and a bit of online sleuthing suggests that lamb or goat are common substitutions these days. The Korean characters on the menu (no Spanish or English translations available – the waiter just sort of points and says what the main ingredient of each is) basically translate to "Hotpot Pleasure Soup". Indeed. 230 pesos that I'd pay to eat this any day of the week.