The flotsam, jetsam, lagan, and derelict of last month… let's start with the simple stuff we made for lunch or dinner for ourselves: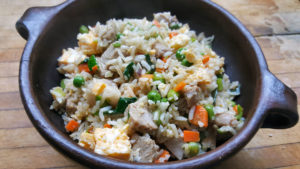 Pork fried rice…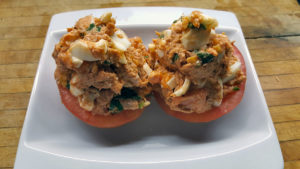 Tomatoes stuff with "Korean" tuna salad – tuna, green onion, hard-boiled egg, tomato in sauce of gochujang, sesame oil, honey, miso, sesame seeds, chilies, chopped peanuts.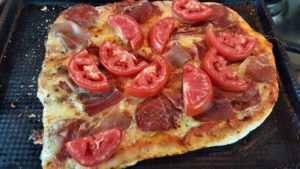 Thin crust pizza topped with longaniza sausage, prosciutto, and tomatoes.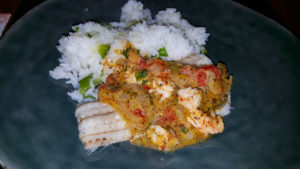 My aunt was in visiting and I whipped up something experimental with an eye towards a Casa S dinner (which then happened a week later) – ling cod and rice with a passionfruit and prawn sauce.
In the baking world…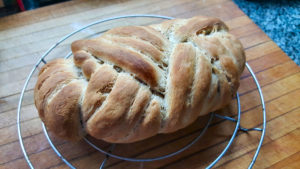 My friend Frances gave me some of her long established sourdough starter, and I've been experimenting with different breads for Casa S dinners….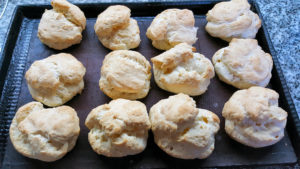 Bizarrely, however, at the same time, Henry and I tried a month-long experiment of no gluten, no dairy (almost – a little yogurt and a little butter crept in here and there), and some gluten-free drop biscuits. Upshot of the experiment – we both lost a little weight, and have more energy, though it's hard to tell how much of that was due to the specifics of the diet and how much was simply paying attention to what we were eating, and exercise. Still, we're going to continue it but a bit less strictly and see how things go!
A couple of cooking classes….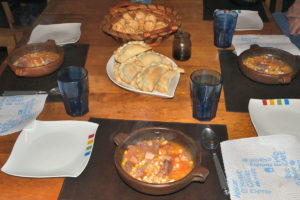 Locro, empanadas, and chipas (yuca-flour cheese bread)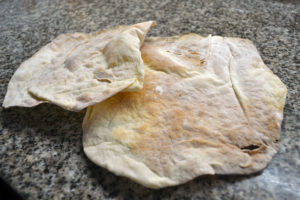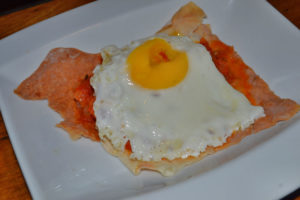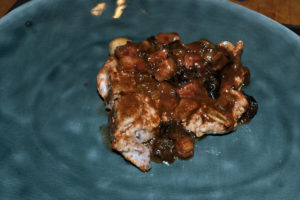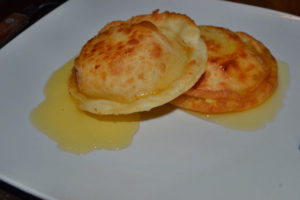 A Sardinian cooking class, taught all in Spanish, the first time I've done that with this class. Carta di musica flatbread which was then used as a sort of pasta base for Pane Frattau, topped with tomato sauce and fried eggs; a holiday treat of Bistecchine de Cinghiale – boar shoulder steaks in a bitter chocolate and dried fruit sauce; and, Seadas, slightly salty and sweet cheese, lemon, and grappa filled fried ravioli in honey.
A little celebration….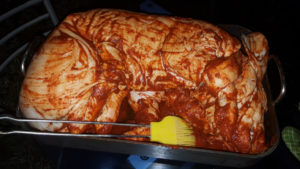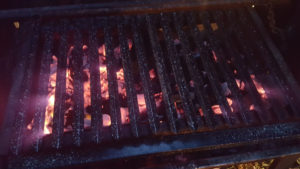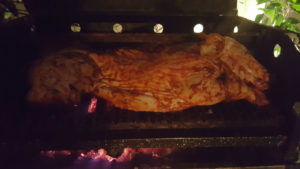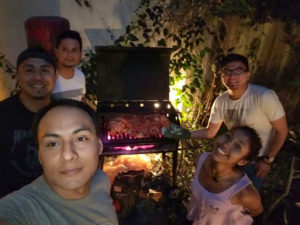 A few members of Henry's dance company celebrating something or other, nearing on to their one year anniversary, but it wasn't quite that, and the first time I've cooked a whole suckling pig – on the grill no less!
A barbecue cookoff between two local chefs, one of whom, Max, is a longtime friend here…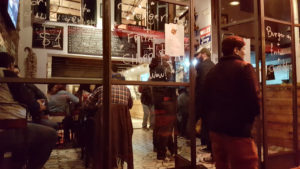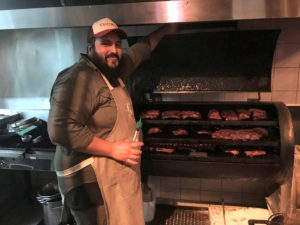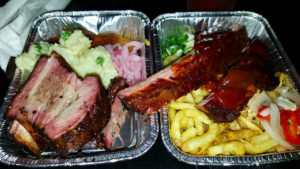 I'm just going to say that both samples were delicious – and having to choose between smoked beef shortribs and sauce slathered pork spareribs isn't going to happen. The accompanying sides were, let's say, Argentine interpretations of what we might do at a norteamericano barbecue, and leave it at that.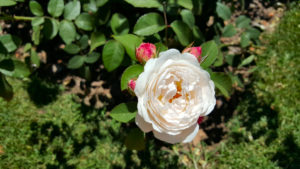 And, finishing off with the annual spring visit to the Rosedal, this time with my aunt while she was here. The roses are in bloom!
There were also numerous museum visits, a trio of them for the annual La Noche de los Museos, and some indigenous art at the Hernandez museum of popular art, but, enough photos for the moment. On to December!