November 24-25 – 2017 – 24-25 de Noviembre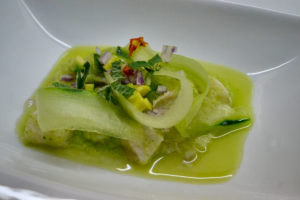 Grouper in "Chili Water" – Grouper cured in puree of lime juice, onion, cucumber, serrano chilies, cilantro, mint, salt; ribbons of cucumber, dice of avocado, red onion, limo chilies, mint and cilantro leaves.
Aguachile de Mero – Mero curado en puré de jugo de lima, cebolla, pepino, ajíes serrano, cilantro, menta, sal; cintas de pepino, daditos de palta, cebolla morada, aji limo, menta, y cilantro.
Doña Paula Sauvignon Blanc Espumante, Luján de Cuyo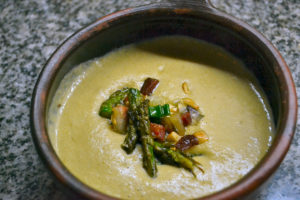 Roasted Asparagus, Cashew, and Bacon Soup – Pureed soup of roasted asparagus, cashews, onions, garlic, and lemon in bacon broth; saute of asparagus tips, bacon lardons, chopped cashews and green onions.
Sopa de Esparragós Asados, Castañas de Cajú, y Panceta – Sopa en puré de esparragós, cebollas, y ajo asados, cajues, y jugo de limón en caldo de panceta; saltado de puntos de esparragós, crocantes de panceta, picada de cajues y verdeos.
Catena Zapata "Nicasia Vineyard" Blanc de Blancs 2016, Mendoza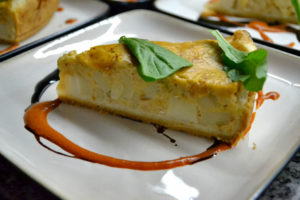 Palm Heart Tart – Quiche style tart filled with palm hearts, Leicester cheese, and smoked chili. Roasted onion sauce, balsamic glaze, radichetta.
Tarta de Palmitos – Tarta estilo quiche relleno con palmitos, queso Leicester, y merquén. Salsa de cebolla horneada, glacé de balsámico, y radichetta.
Bodega del Desierto "Pampa Mia" Cabernet Franc Rosé 2016, Patagonia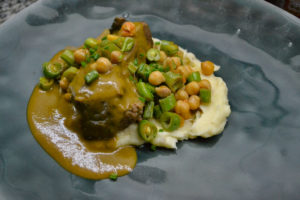 Herb-Braised Beef Rump – Beef rump braised in dark beer, beef stock, mixed herbs (watercress, rosemary, mint, cilantro, basil, parsley, oregano, thyme), fennel, rocoto and panka chilies, onion, garlic; potato mash flavored with star anise and anchovy; sauteed green beans and chickpeas; reduction of braising liquid.
Huatía de Cuadríl – Cuadríl braseado en cerveza negra, caldo de rés, mezcla de hierbas (berro, romero, menta, cilantro, albahaca, perejíl, oregano, tomillo), hinojo, ajies rocoto y panka, cebolla, ajo; papas aplastados y saborizados con anís estrellada y anchoa; saltado de chauchas y garbanzos; reducción del liquido del braseado.
Finca Las Moras "Black Cabernet" 2016, Valle Pedernal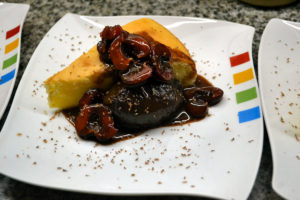 Lemon-Olive Oil Cake, Cherries, Cocoa Mousse – lemon and olive oil cake; cherries in chocolate liqueur; mousse of cocoa, honey, vanilla, and avocado; grated dark chocolate.
Torta de Limón y Aceite de Oliva, Cerezas, Mousse de Cacao – torta de limón y aceite de oliva; cerezas en licór de chocolate; mousse de cacao, miél, vainilla, y palta; chocolate negro rallado.
Latitud 33 Tardío 2015, Mendoza