November 21-23 – 2017 – 21-23 de Noviembre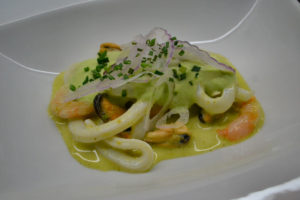 Shellfish Ceviche, Pea & Mint Mousse – Calamari, shrimp, mussels, and cockles, quickly simmered in salted water, then cured in lime and orange juices, pickled serrano chilies, cilantro, olive oil, salt, white pepper; topped with a mousse of peas, mint, cream, salt, white pepper; red onion slivers, chopped chives.
Ceviche de Mariscos, Mousse de Arvejas y Menta – Calamares, camarones, mejillones, y berberechos, hervido en agua salada, luego curado en jugos de lima y naranja, ajies serranos en escabeche, cilantro, aceite de oliva, sal, pimienta blanca; con mousse de arvejas, menta, crema de leche, sal, pimienta blanca; rajas de cebolla morada, ciboulette picada.
Cruzat Premier Rosé, Luján de Cuyo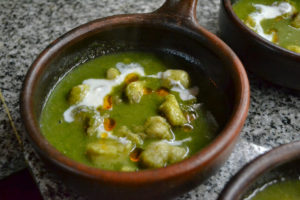 Timbuche (Amazonian Fish Soup) – Pureed soup of onions, garlic, smoked chili, potato, cilantro, parsley, fish stock; albacore tuna; salted yogurt, smoked chili oil.
Timbuche (Sopa de Pescado Amazónica) – Sopa puré de cebollas, ajo, ají ahumado, papa, cilantro, perejíl, caldo de pescado; albacora; yogúr salado, aceite de aji ahumado.
Catena Zapata "Nicasia Vineyard" Blanc de Blancs 2016, Mendoza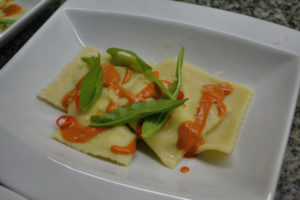 Corn Ravioli, Spicy Caramelized Onion Sauce – Semolina ravioli filled with a puree of corn, green onion, and Camembert cheese; onions caramelized in butter, then pureed with panka chilies, olive oil, mirin, vegetable stock, cumin, coriander, salt, white pepper; grated gran pampeano cheese, limo chilies, radichetta.
Raviolis de Choclo, Salsa PIcante de Cebolla Acaramelada – raviolis de semolín relleno con puré de choclo, verdeos, y queso Camembert; cebollas acarameladas en manteca, luego puré con ají panka, aceite de oliva, mirin, caldo de verduras, cómino, coriandro, sal, pimienta blanca; queso gran pampeano rallado, ají limo, radichetta.
Susana Balbo "Crios" Rosé of Malbec 2017, Mendoza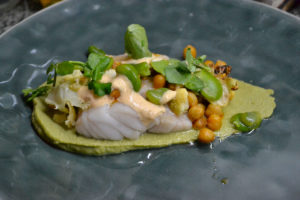 Cod with Chimichurri Hollandaise, Broccoli Hazelnut Puree – Broiled cod; puree of roasted broccoli, hazelnuts, garlic, anchovies, olive oil; hollandaise sauce flavored with chimichurri spices, piquillo pepper, tomato; roasted cauliflower slices, broad beans, fried chickpeas, watercress.
Brótola con Holandés de Chimichurri, Puré de Brócoli y Avellanas – Brótola asada; puré de brócoli asado, avellanas, ajo, anchoas, aceite de oliva; salsa holandés saborizado con especias de chimichurri, pimienta piquillo, tomate; laminas de coliflór asadas, habas, garbanzos fritos, berro.
Tajungapul de Montaña 2013, Mendoza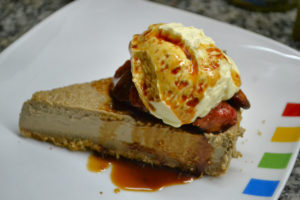 Pineapple Cheesecake, Roasted Strawberries, Whipped White Chocolate – Coconut cookie crust; pineapple, brown sugar, and baharat cream cheese filling; strawberries roasted with vanilla and molasses; whipped white chocolate, olive oil, and cream.
Cheesecake de Anana, Frutillas Asadas, Chocolate Blanco Batido – Masa de galletitas de coco; relleno de queso crema con anana, azucar negro, y baharat; frutillas asadas con vainilla y melaza; batido de chocolate blanco, aceite de oliva, y crema d leche.
Latitud 33 Tardío 2015, Mendoza