November 15-18 – 2017 – 15-18 de Noviembre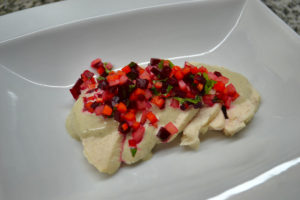 Chicken "Ceviche" – chicken breast poached in fennel and star anise stock, chilled, sliced; emulsion of lime juice, salt, szechuan peppercorn, olive oil; "Peruvian salad" of finely diced beets, potatoes, carrots in lemon juice, salt, pepper; chopped cilantro and limo chilies.
"Ceviche" de Pollo – pechuga de pollo pochada en caldo de hinojo y anís estrellada, enfriada, rebanada; emulsión de jugo de lima, sal, pimienta sichuan, aceite de oliva; "ensaladita peruana" de dadidtos de remolachas, papas, y zanahorias en jugo de limón, sal, pimienta; picada de cilantro y ají limos.
Codorníu "María" Extra Brut, Maipú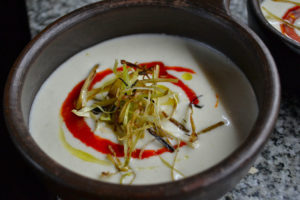 Ajoblanco – Chilled puree of toasted almonds, bread, garlic, cucumber, raspberry vinegar, olive oil, salt, white pepper; piquillo pepper puree; olive oil; toasted almond slivers; fried leeks.
Ajoblanco – Puré frío de almendras tostadas, pan, ajo, pepino, vinagre de frambuesa, aceite de oliva, sal, pimienta blanca; puré de pimentón piquillo; aceite de oliva; almendras fileteadas tostadas; puerros fritos.
Alma Gemela Nº 1 Pedro Ximenez 2016, Mendoza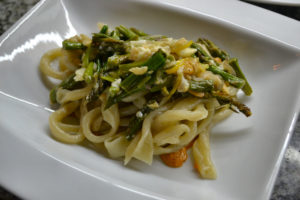 Asparagus & Feta Cheese Strozzapreti – hand-rolled strozzapreti; puré of sun-dried tomatoes, cashews, guajillo chilies underneath; saute of roasted asparagus and shallots, green onions, cashews, lemon zest, feta cheese.
Strozzapreti con Esparragós y Queso Feta – strozzapreti hecho a mano; puré de tomates secos, cajues, ajies guajillos abajo; saltado de esparragós y echalotes asados, verdeos, cajues, ralladura de limón, queso feta.
Susana Balbo "Crios" Rosé of Malbec, 2017, Mendoza
Pollack in Passionfruit & Prawn Sauce – rice; roasted bok choy; broiled pollack; sauce of pureed passionfruit, mirasol and panko chilies; onion, tomato, prawns, chives, parsley, cilantro, shrimp stock, salt, white pepper.
Abadejo en Salsa de Maracuyá y Langostinos – arroz; bok choy asado; abadejo asado; salsa de puré de maracuyá, ajies mirasól y panko; cebolla, tomate, langostinos, ciboulette, perejíl, cilantro, caldo de camarones, sal, pimienta blanca.
Trapiche "Costa & Pampa" Pinot Noir 2015, Buenos Aires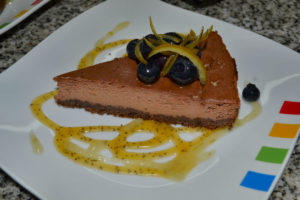 Chocolate Cheesecake – chocolate cookie crust; filling of homemade cream cheese, dark chocolate, licorice root, eggs, sugar, salt; poppyseed caramel sauce; lime and green apple puree; candied lime peel; blueberries macerated in anisette.
Cheesecake de Chocolate – masa de galletitas de chocolate; relleno de queso crema casero, chocolate amargo, raíz de regalíz, huevos, azucar, sal; salsa caramelo con semillas de amapola; puré de lima y manzana verde; cascara de lima acaramelada; arandanos macerados en anisette.
Crotta Mistela d'Oro 5 años Roble Anejo, San Martín