This time around – a new wine shop/bar, a little Mexican to the south of the city, a steakhouse in Palermo, and some Chinese to the northwest. Something for everyone!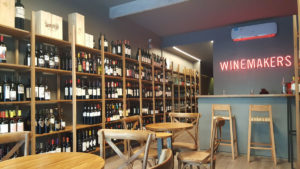 Winemakers, Montevideo 1444, Recoleta – A brand spanking new spot for wine tasting here in Recoleta. While primarily a well curated wine shop, they have a few tables where you can sit and enjoy a glass of wine from a rotating selection opened up each day. With time, there's a promise of a bigger selection available to try by the glass (right now it's 4-6 different wines each day), and the possibility to order a picada, a plate of cheeses and charcuterie, to nibble on while drinking. Open Monday through Saturday from late morning until mid-evening. A couple of the wines tried over the couple of weeks since they opened: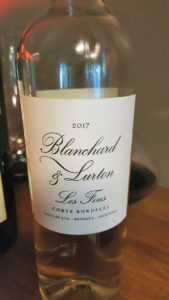 Blanchard & Lurton "Les Fous" 2017 – a classic white Bordeaux blend of Sauvignon Blanc and Semillon from the Valle de Uco in Mendoza. Bright, citrusy fruit with a touch of grassiness, plenty of acidity, and absolutely delicious. At 315 pesos a bottle, or a little under $18, it's a winner for the quality. By the glass at 80 pesos.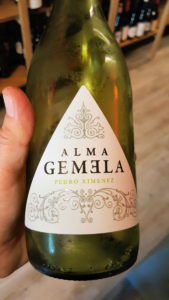 Onofri "Alma Gemela" Pedro Ximenez 2016 – I don't know that I've ever encountered a dry "PX" – the grape most commonly seen as the sole or primary grape in many sweet style sherries. Under-ripe green fig and clay, moderately high acidity, full, round mouthfeel, great balance, and a long finish. A complete steal at 275 pesos a bottle (65/glass). This one was so good I bought a case of it for the following week's Casa SaltShaker menu.
---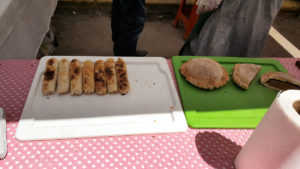 A trip out to Lomas de Zamora, south of the city, for the First Medieval Festival… which didn't turn out to be quite what we were expecting, but simply a one block long street fair with lots of booths selling t-shirts and trinkets emblazoned with images from Tolkein, Game of Thrones, and more. Some of the vendors were in "period" costume, most were not. The food available tended to burgers, sandwiches, and some roast pork, with one vendor offering slender log shaped greasy, tasteless empanadas labeled as "Orc Fingers", which he asserted contained 50% pork and 50% orc…. There was a bit of a show going on at the midpoint of the fair with some not well choreographed knight to knight battling. All in all, we lasted about 15 minutes and moved on…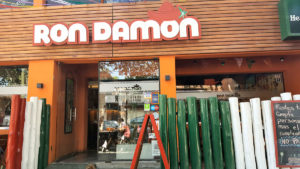 …to Ron Damón (presumably a play on "Don Ramón"), Italia 471, which we spotted as we wandered – Mexican food sounded good to both of us, and we kept our fingers crossed it would be worthwhile. Because, you know, Mexican food in Argentina has not exactly been all huevos unicornos.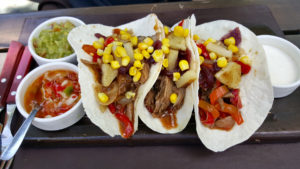 Lamb tacos – I mean, lamb tacos, how could we not? Now, they weren't exactly what was promised. First off, the promise was that all tacos would be served in crispy corn tortillas. These are soft wheat tortillas. And the grilled pineapple wasn't grilled, but it was hot, and fresh, not canned. And the onions and peppers, and the lamb itself, were really quite good. We did ask about the tortillas, and first our waitress tried to insist that the tacos had, indeed, been served in crispy corn tortillas (we'd already finished them so couldn't demonstrate otherwise) because all the tacos are. But then after checking with the kitchen, came back to inform us that it's "except the lamb ones, because the chef thinks the soft wheat ones work better". All well and good if you're not aiming for gluten-free or something. 220 pesos.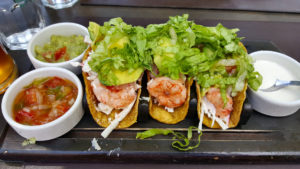 Shrimp and "Crab" tacos – And prawn tacos with surimi salad – you know, the fake crab. At least the menu said that upfront. A touch of cream cheese, avocado, lettuce, tomato – these were excellent – I might leave off the cream cheese on a re-order, but I'd happily eat them again. 205 pesos.
Oh, a little note – the menu states that when you order your tacos you get a choice of accompanying sauce – a basic tomato and onion salsa criolla, guacamole, sour cream, or salsa brava, a jalapeño based sauce. So, one of us asked for guacamole, the other for the salsa brava. And they brought the tacos, each, with salsa criolla, guacamole, and sour cream. And separately, two larger bowls of guacamole and salsa brava. And then charged us for those two as add-ons. When we asked about it, she said that all the tacos just come with the three sauces, except the salsa brava, and that we'd clearly ordered extras. Not from our point of view, but since it only cost us an extra 75 pesos we decided not to make a big thing about it being on the bill. But, be forewarned.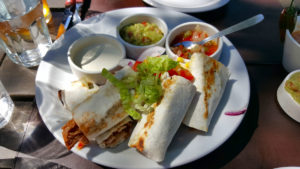 Pork burritos – The disappointment. Not burritos as we typically think of them – I mean, we're used to burritos being stuffed with all sorts of things – rice, beans, veggies, etc. – but that's Tex- or Cali-Mex. These had nothing in them but some shredded pork. And, that's actually what a traditional Mexican burrito is, upon investigation (I guess I've never ordered a burrito in Mexico, learn something new every day) – a simple wheat tortilla filled with either meat and/or refried beans and nothing else. So, points for authenticity, disappointment for expectations. 198 pesos.
Overall, like the place, it was casual and relaxed. The food was good quality and flavorful. The salsa brava, setting aside the "extra" thing, wasn't particularly spicy, more like a cocktail sauce level, but it did come garnished with a whole jalapeño, which we sliced up and put on our tacos ourselves. Two beers on tap, Isenbeck, or Inmigrante APA, the latter was pretty good! 25 peso/person cubierto (didn't know about that in advance either) – with tip brought the whole lunch to 1060 pesos, or about $60.
---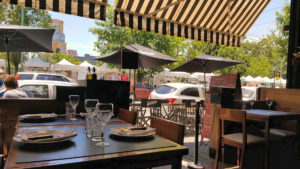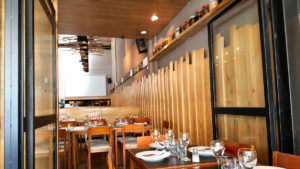 Minga, Costa Rica 4528, Palermo – My aunt (my sole aunt at this point), was in town for a quick visit after a cruise along the Pacific from Santiago down to Ushuaia and points in between and around. We put in a fair amount of wandering time, and after a lovely walk through the Rosedal to check out the latest blooming roses, we headed to the heart of Palermo SoHo and figured we'd grab lunch around the plaza. She wanted to do something a bit more traditional Argentine than we'd been doing so far (mediocre Peruvian, and a bit of cooking at home), and this place has high marks on various social media sites, so we gave it a shot.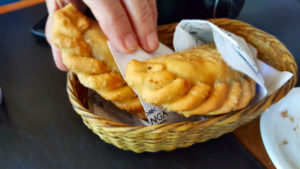 Empanadas – Fried, well-seasoned, tasty, beef empanadas. Other than a little taste for us, she happily ate them both!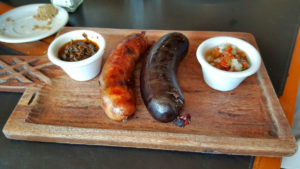 Chorizo and Morcilla – Henry got the first, me the second, both excellent. Actually, some of the better ones we've had.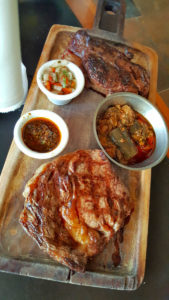 Bife de Chorizo and Ojo de Bife – They did reverse the cooking on these two, bringing his sirloin (bife de chorizo) on the rare side, easily remedied with a few more minutes on the grill, and her ribeye (ojo de bife) more in the medium to medium well range, not so much, but she happily ate it rather than ordering a new one. Both really good. Great quality meat, nicely seasoned, good condiments.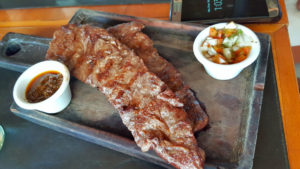 Entraña – My hanger steak came out perfectly medium rare, which is hard to do with a cut that thin. And likewise, absolutely delicious.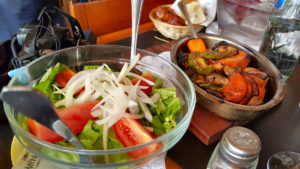 Mixed salad and roasted vegetables – A couple of side dishes. to compliment the meat, and we were happy campers.
Like the space, great, friendly service. Excellent food. A bit pricey, but that's to be expected given the location – all three steaks were ordered in half portions (priced at about 2/3 of the full portion price, but plenty of food for one), and came in at respectively 330, 320, and 430 pesos (basically $18-25), with appetizers running 100 apiece, and a whopping 45 peso/person cubierto. All told, lunch for three, with all the above, bottled water, and a bottle of good wine, and tip, came in at 2515 pesos, or $144. Not cheap, but given the quality, not bad at all.
---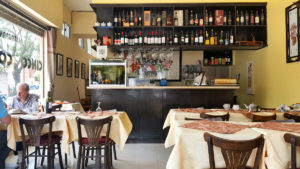 Cinco Corderos, Quesada 4999, Villa Urquiza – Those of you who've been with me since the early days of my time here in BA may remember that there used to be a Chinese place of this name along Av. Las Heras that offered up a selection of dim sum, one of the only spots around that did. And a far bigger offering than either Hong Kong Style or Canton did or do. I never liked the physical space, but the food was excellent, and as a delivery option, it was a weekly call.
When they closed up in 2012, I was not pleased. What I didn't know, is that they'd simply been priced out of the neighborhood, and decided to try for fame and fortune in the more relaxed and residential area in the northwest of the city. But here, they've been apparently happily plugging away for the last five years. They still have the same old multipage menus packed with Cantonese and Szechuan dishes, though a large percentage of them are now not available, without an advance phone call. As the owner, who still cheerfully attends every table says, most of her customers don't order anything but stir-fried noodles or fried rice, so stocking all the ingredients for the rest of it isn't tenable. But anything on the menu is available with a day or two's notice – or at least that was the offer. I've been twice now, once solo, once with a friend.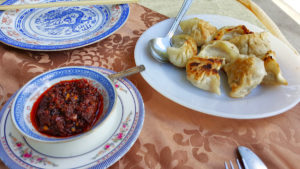 Potstickers – Some of the best of these around – well seasoned, packed with pork, green onions, and more, and just look at the hot sauce, which is, as it used to be, a blend of fresh chilies, garlic, and szechuan peppercorn. 60 pesos.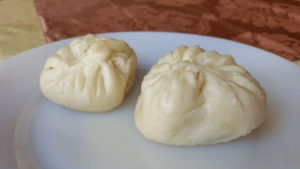 Steamed BBQ Pork Buns – Again, excellent, and with the classic slightly sweet barbecued pork instead of the more common simple stewed pork that so many places here offer. 50 pesos.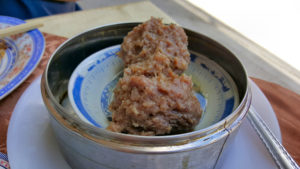 Shumai – I don't know that I've ever seen shumai without any kind of wrapper, but honestly, after trying these, who cares about the wrapper. Huge, delicious pork meatballs infused with flavors of orange and tangerine peel and white pepper. 50 pesos.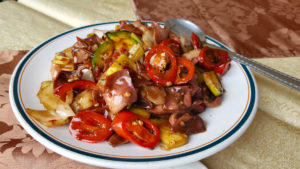 Kung Pao Calamari – On the plus side, laden with calamari, a mix of vegetables, and when informed "bien picante", happily made so, with a good amount of fresh chilies sliced and stir-fried into the dish. I also like that it was fresh chilies, not dried. Toasted whole almonds were served on the side rather than tossed in with the dish – I do still prefer peanuts with my kung pao, and the menu does specify peanuts, but nothing to complain about, unless you have an allergy to almonds. Though again, on the side, so you could just not add them to the dish. 158 pesos.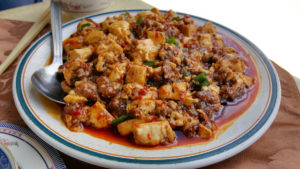 Ma-Po Tofu – Easily the best version of this spicy tofu and pork dish that I've had in Buenos Aires, and among the best I've had anywhere. We slurped this down so fast that I'm not sure she'd made it back to the kitchen by the time we were done. 158 pesos.
Cute little place, about a quarter the size of the old one. Great service. Excellent food. Really reasonably priced. It's a bit of a pain to get to from Recoleta, but this one's going to be a fairly regular trip for me – it's worth the effort. Easily moves to the top of my "Casual Chinese" list.
Wow, 50 "Bite Marks". That calls for a celebration. I should go out to eat!