November 1-8 – 2017 – 1-8 de Noviembre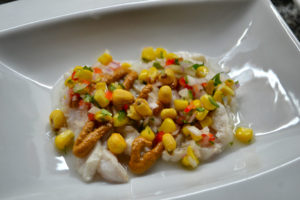 Grouper Ceviche – Grouper cured in lemon and lime juices, salt, pepper, ginger, garlic; puree of sun-dried tomato, cashews, guajillo chilies; salad of fresh corn, rocoto, red onion, cilantro; fried corn. [Vegetarian version with thin sliced mushrooms]
Ceviche de Mero – Mero curado en jugos de limón y lima, sal, pimienta, jengibre, ajo; puré de tomate seco, castañas de cajú, ají guajillo; ensaladita de maíz, rocoto, cebolla morada, cilantro; maíz frito. [Version vegetariana con champiñones en laminas]
Bodega El Esteco "Don David" Extra Brut, Cafayate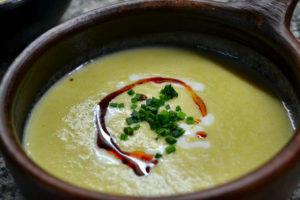 Creamy Broad Bean Soup – Pureed soup of onion, garlic, smoked chili, potato, broad beans, vegetable stock, cream, salt, white pepper; salted yogurt, smoked chili oil, chives.
Sopa Crema de Habas – Sopa en puré de cebolla, ajo, merquén, papa, habas, caldo de verduras, crema de leche, sal, pimienta blanca; yogúr salado, aceite de merquén, ciboulette.
Catena Zapata "Nicasia Vineyard" Blanc de Blancs 2016, Mendoza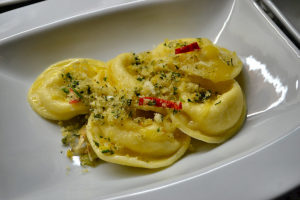 Cauliflower & Three Cheese Pansôti – semolina pansôti filled with steamed cauliflower, garlic, mascarpone, ricotta, and gran pampeano cheeses; leeks cooked in butter with baharat; puree of green apple, lemon juice, and rocoto; panko crumbs with lemon zest, parsley, garlic, black pepper, and limo chilies; olive oil.
Pansôti de Coliflór y Trés Quesos – pansôti de semolín relleno con coliflór al vapór, ajo, quesos mascarpone, ricota, y gran pamepano; puerros cocido en manteca con baharat; puré de manzana verde, jugo de limón, y rocoto; panko rallado con ralladura de limón, perejíl, ajo, pimienta negra, y ají limo; aceite de oliva.
Santa Julia Syra Rosé 2016, Maipú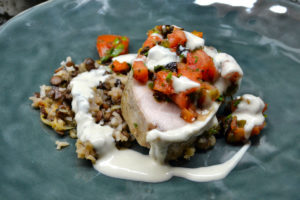 60° Pork Loin, Tomato Salad, Taratur Sauce – Pork loin cooked sous vide for 2½ hours at 60°C, then seared; rice and lentils with caramelized onions; salad of tomato, pickled jalapeño, black olives, cilantro, parsley, olive oil, salt, pepper; creamy tahini sauce with lemon and garlic. [Vegetarian version with pan-roasted eggplant]
Carré de Cerdo de 60°, Ensalada de Tomate, Salsa Taratúr – Carré de cerdo cocido al vacio al 60°C durante 2½ horas, luego dorado; arroz y lentejas con cebollas acaramelizadas; ensalada de tomato, jalapeño en escabeche, aceitunas negras, cilantro, perejíl, aceite de oliva, sal, pimienta; salsa cremosa de tahini, limón, y ajo. [Version vegetarian con berenjena dorada y asada]
Bodega Luigi Bosca "La Linda" Bonarda 2015, Luján de Cuyo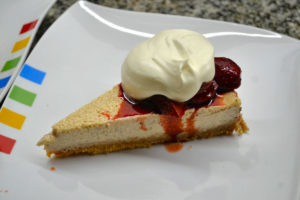 Pecan Cheesecake, Roasted Strawberries – Coconut cookie crust; homemade cream cheese filling with ground pecans; strawberries roasted with molasses and vanilla; whipped cream.
Cheesecake de Pecana, Frutillas Asadas – Masa de galletitas de coco; relleno de queso crema casero con pecanas molidas; frutillas asadas con melaza y vainilla; crema batida.
Ruca Malen "Aimé" Moscatel de Alejandria 2016, Mendoza