Another Korean spot – I'm down to the last few between the two Koreatowns! I may need to publish a guide to Asian dining in BA….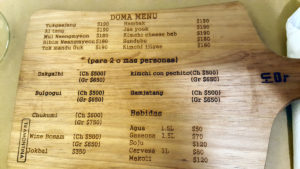 It was the 11th outing of the Roving Ravenous Horde weekly lunch group (I'm actually impressed with both myself and the other folk who come, that we've managed a lunch every week but one since starting this off). This week it was out to Floresta, and Doma, Morón 3574, for a bit of homestyle Korean food. Now, from the outside you'd barely know the place was there – it looks like just another house on the block, and, from what I've seen in passing by, the little teeny paper sign in a windowpane of the door is only stuck up there when they're actually open.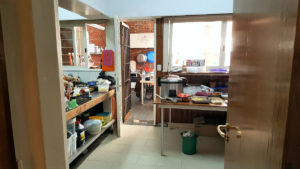 The place is a house, that's been converted to two dining rooms – one small, one a bit larger, and almost everything behind it has been turned into kitchen and storage. It's attended to by the couple who own it – and in fact, I'd tried to go solo a week or two ago and the gentleman had answered the door, but told me that there wasn't any food because his wife had gone out to do some shopping and she's the cook! That was also the second time I'd tried to go and found them not open – so, it's worth checking in advance, either by message on their Facebook page or a phone call.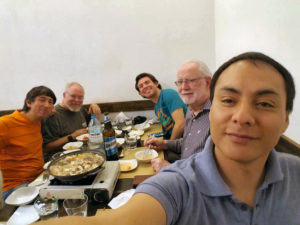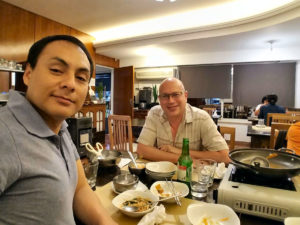 Six of us hit the table and other than one person's request for a particular dish, the choice was left in my hands. The owner and I talked back and forth and picked out four additional dishes to share around the table. The specialty here, like at Silvy, just a few blocks away on the same street, are classic Korean soups.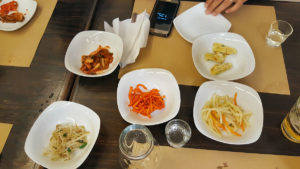 First up, a small selection of ban chan – probably the smallest selection I've seen to date (a bit later one additional one was added in to a second round). All really quite good.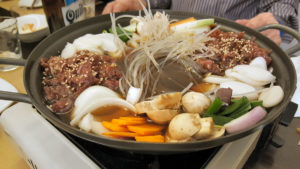 Arriving first on the table, the bulgogi, which I'd actually not realized was a soup – thinking it was the grilled beef on a platter with some vegetables for us to all share. But, as it turned out, pretty much everything really is a soup on the menu. The pot arrived with the ingredients uncooked, over a gas burner, which we fired up and let it come to a boil and cook for about 10-12 minutes. Stocked with beef, vegetables, rice cakes, and soy flour noodles, a really tasty rendition of this dish, and more than enough to share around. It's officially a portion for "2" at 500 pesos, but easily feeding more than that, especially if you're eating anything else.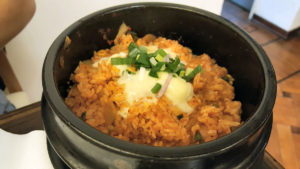 Next up, the dish requested by one of my lunch companions, the kimchi cheese bab – basically a mildly spiced kimchi fried rice with a bit of scrambled egg and some cheese atop. Our least favorite dish, and while this is what this dish is traditionally, it's not what our friend thought it was. 190 pesos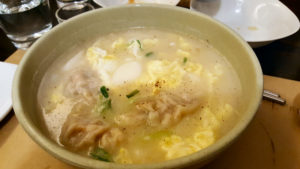 The tok mandu guk – a very mild, clear soup with scrambled egg, rice cakes, and a trio of pork mandu, or dumplings. Despite being lightest dish, I think this was my personal favorite – it was just so well balanced and tasty. Plus, dumplings – which admittedly we each only got a half of, but I'd go back just for a bowl of that on my own.190 pesos.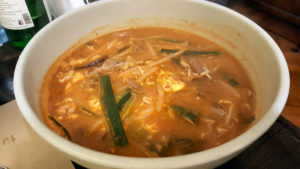 A piping hot, and piping picante bowl of yukgaejang, spicy beef soup – another delicious bowl of broth. A little light on the stuff in it, I think there were just three small pieces of beef, and a bit of egg, and maybe just a few too many beansprouts. 190 pesos.
And, we finished off with a bowl of cold buckwheat noodle soup, mul naengmyeon, with zucchini, egg, beef, and daikon. Completely refreshing and a great way to finish off the meal. 180 pesos.
Overall, comfortable spot to have lunch or dinner, there's definitely a "home" feel to it. Really good, solid cooking. Pricing is fair – each of the individual plates running the equivalent of around $11. With water, a large bottle of beer and a small bottle of soju to split, plus tip, we left happily for 275 pesos apiece, about $15.50, and we all had more than enough to eat and drink. On a comparison basis, I prefer the food at both Silvy and Singul Bongul in Floresta, and KU:L in Flores (though it's only open for lunch on weekends), but for atmosphere and service, this place wins.