Once again, we wind up the month looking back at what we had for dinner here at home, either just us, or with various friends over (more common)! Not as many things this month as both Casa SaltShaker is getting busier for the season, and we made a lot of stuff we've made many times before and shared on these pages.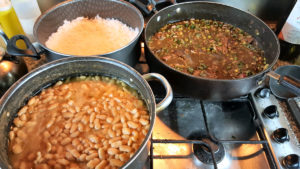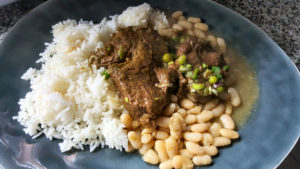 Seco de Carne – Henry wanted this classic Peruvian dish for a group of colleagues coming over, so I cooked up a big pot of white beans with garlic, onion, and a bit of beef fat (classically it would be pork fat/skin, but strangely, there was none in the market), some rice, and slow cooked beef with white wine, yellow chili, red onion, garlic, oregano, cumin, carrots and peas, and finished off with pureed cilantro. Should have done this one as a step-by-step… next time!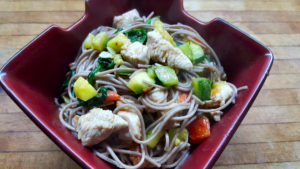 Soba Noodles with Chicken, Squash, and Shaanxi Hot Oil – a simple, light dinner of sauteed chicken and globe zucchini, tossed with an aromatic hot oil.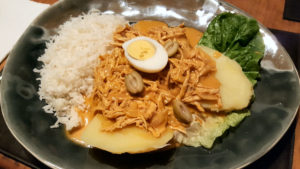 Aji de Gallina – although I do most of the cooking around here, sometimes either I'm not in the mood, or Henry is – in this case, he had some friends he wanted to invite over and wanted to cook for them.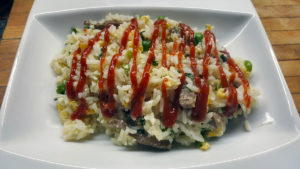 Korean style Beef-Egg Fried Rice – The Koreans have all these fascinating TV series that involve food, romance, and comedy, all wrapped up in one (you can find some of them on Netflix, though the real spot for watching them is DramaFever). I just binge watched through Let's Eat and Let's Eat 2, which, if you like watching people eat amazing meals, you've got to see it. One night I got hungry watching them make fried rice – really simple with just eggs and scallions. I also threw in some peas and beef that were leftover in the fridge, and, classic style, topped my portion with a righteous squiggle of ketchup. Yum.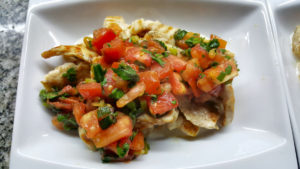 Grilled Chicken – This one was inspired watching a web-episode of a show/conversation between famed Israeli chef Eyal Shani and actor/host Shahar Segal. It's a series where Shani tries to explain his spiritual connection to ingredients. He is, for my tastes, a bit off the rails, but there's no denying his reputation for producing amazing food out of simple ingredients. In the show, he grilled very thin slices of steak, placed them over tahini, and added a chopped tomato and chili salad on top. We'd just had a couple of days of red meat in a row, so I decided to grill thinly sliced chicken breast. Instead of pure tahini, which for me is a bit stodgy (at least the stuff we have here), I made a sauce taratur, which is tahini, lemon juice, grated garlic, salt, and water to thin it out, and added a mix of chopped parsley and cilantro to the salad, plus, of course, a bit more chili than he did.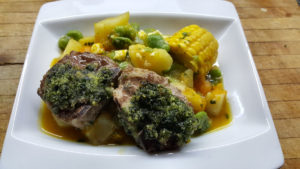 Locro de Cordero – for those who missed it, this month I only did one step-by-step recipe (I'm slacking off, I know… that's why I should have done the Seco de Carne as one), continuing in my sporadic look at different versions of locro from around South America.