Time for another round-up of a quartet of shawarma and a trio of burgers… a very mixed bag in terms of quality this time around.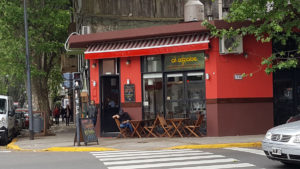 Al Árabe, El Salvador 4999, Palermo – This one's getting a lot of raves, and I wandered in to give the much touted shawarma a try….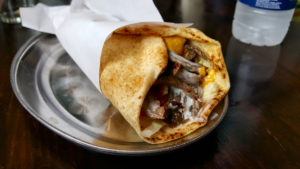 Very, very good. Deserving of the kudos it gets. Not quite into my pantheon of top five, but one I'd happily eat any time. Well seasoned, tender meat, a great pita wrap, good yogurt sauce are the highlights. Lacking a bit in the vegetable end of things, just a little lettuce and tomato, I'd have loved some onion in there too, and the hot sauce barely had any heat, although it's tasty. 100 pesos with a bottle of water in combo with a beverage, I was happy.
---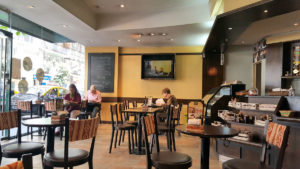 Divina Porción, Anchorena 1372, Recoleta – A relatively new café that in addition to the usual pastries and salads and such, offers up two short menus of middle eastern and Brazilian specialties. Our first entry in a day of trouping out to a trio of spots, all new openings.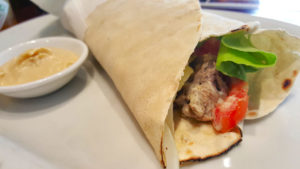 The shawarma isn't exactly traditional, though that doesn't stop it from being quite good. There's a chicken version, that at least based on the photos in the window, looks like it's stocked with fried chicken! The beef version, instead of the usual rotisserie, caramelized and seasoned beef, is a slow-braised cut of beef that's then shredded, kind of like a pulled pork, but with beef, and then seasoned lightly. It makes for a very different texture, and the flavor is more garlicky than spiced. There's also a very generous amount of lettuce, tomato and onion inside the quite good flatbread, a yogurt sauce, and a side of hummus to add if you want. Hot sauce, unfortunately, is limited to a crusty bottle of tabasco behind the counter. At 125 pesos it's a bit pricey, but it's also bigger than most, and delicious.
---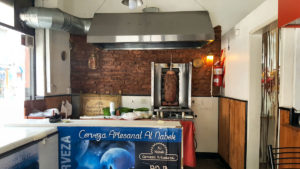 Al Nabek, Venezuela 1702, Monserrat – A second relatively new spot, taking over what used to be a cafe and ice cream shop. Limited menu of the usual suspects of middle eastern street food. They purport to have craft beer, as you can see on the sign there, but no taps in evidence, and all of their combos were offered up with either soft drinks or a can of Schneider lager.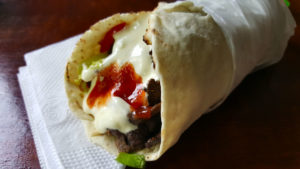 While well seasoned and well caramelized, the beef in this shawarma was really, really chewy. Just not very high quality meat unfortunately. What made it really disappointing was that it was so well seasoned and cooked, and had a great yogurt and hot sauce (which could have been better distributed inside, they were put on at the end so they kind of drip down through the shawarma, so there's less and less as you work your way down. A bit disappointing, even at the relatively easy going price of 65 pesos.
---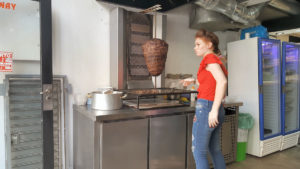 And, we continued our trek at Al Wasim, Bolivár 865, San Telmo. Another spot with a very limited menu. They do offer a couple of craft beers on tap.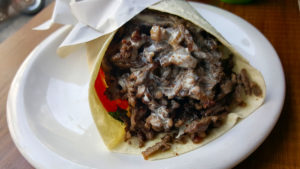 Unfortunately, I can't say we were impressed with the shawarma, which in an ultra-thin, falling apart wrap, had little other than very finely chopped meat, heavily salted, a bit of yogurt, and maybe two small pieces of tomato and onion. No lettuce. No seasoning other than salt. A request for hot sauce yielded a condiment bottle that appeared to be nothing more than vegetable oil – maybe it had supposedly been infused with chili or something, but it wasn't in evidence in the flavor. Not a winner at 70 pesos, or even far less.
---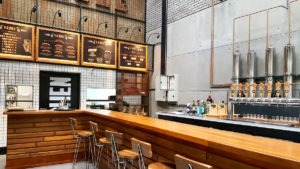 Padre Coffee Roasters & Beer, J.L. Borges 2008, Palermo – Met up with Frank, who I'm working with on our little craft beer etc. bar map – a chance to check the place out and sample the beer and food.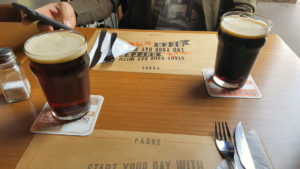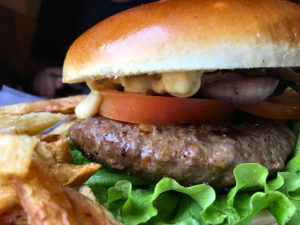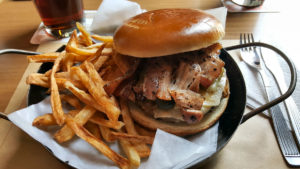 While primarily a coffee shop that roasts their coffees daily, on premise, there's also a beer bar taking up one wall, offering eight selections that are apparently made for Padre. We tried the Old Ale and the Porter, both of which are excellent. 100 pesos/pint.
A couple of good though not wow burgers to accompany kept us happy. The clasico comes simply with lettuce, tomato onion, and mayo (also a melted american cheese sandwich slice, but Frank opted to have that left off). The bull night (who knows?) is packed with sliced cornichons, bacon, and gruyere cheese. Cooked to about a medium, nicely seasoned. The buns tend to fall apart, and towards the end knife and fork became necessary. Crispy fries, which is a big plus. A little pricey with burger and fries coming in at 220-240 depending on the choice.
---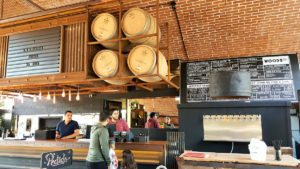 Woods Sta., Av. del Libertador 3883, Arco 5, Palermo – part of the strip of eateries now lining what was called Paseo de la Infanta and was recently renamed Paseo Marcela Iglesias, located under the railway trestle in the northern part of Palermo. This one just opened, offering up "craft beer and street food". They've got a small, but interesting selection of craft beers – ten taps, five of them dedicated to Lather, a brewery up in Pilar, a bit northwest of BA, and five that will be rotated regularly.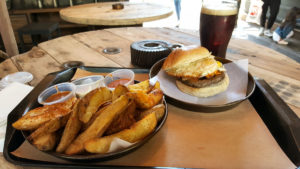 The "street food" is basically three types of burgers – beef, chicken, veggie; hot dogs, and chicken fingers. I'm not sure when any of those but the hot dogs were really ever "street food", but okay. Ordered the beef burger (150 pesos) and a side of fries, that they call patatas bravas, a classic Spanish potato dish, which these are not (100 pesos). I asked for the burger rare to medium rare….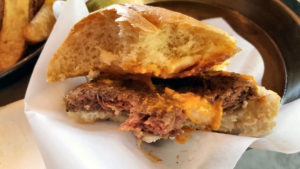 …and my order was called out as ready in roughly five minutes from when I ordered it. Here's the thing. "Street food" doesn't mean "low quality crap". At least it shouldn't. But then, there really is no street food culture here in BA, so maybe these guys think otherwise. This was clearly one of those frozen patties you get in the supermarket, or that are used at cheap fast food spots. Their way of giving me my rare to medium rare was apparently to simply almost brown it on both surfaces and throw it on a bun. Basically, a grey-brownish surface, and the inside was still raw and semi-frozen. The local "tybo" cheese, apparently they were out of, and felt that a couple of squirts of nacho cheese sauce would suffice. The fried egg was so overcooked it was chalky. The bacon was a single piece of a rasher maybe an inch long that had been cut off and stuck in the center under the egg. Basically, the whole thing was inedible, after a couple of bites I set it aside. The fries, again, not really patatas bravas, were basically warm steak fries served up with what was supposed to be a quartet of sauces – they only served two initially, and then when I asked, added a third – because they were out of the avocado mayo (that's probably a good thing), and didn't think I'd want the "extremely spicy" sriracha sauce – which turned out to be ketchup with sugar added and maybe a couple of drops of the hot sauce in it, certainly not enough to make its presence known. The aioli and the sun-dried tomato purees were fine. Overall, a pass on the food, though the beer was good (La Zervezeria's Brown Ale, which I think is produced here in the city, 100 pesos).
---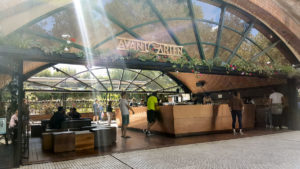 Avant Garten, Av. del Libertador 3883, Arco 10, Palermo – I'd actually planned to check this place out, not the above, but when I arrived, they weren't yet open (past the time they've listed for opening, but they don't actually open until 2pm or later). So I'd gone to Woods Sta. instead. But, given that I didn't end up eating 95% of the food, I thought, I may as well. This one had come to my attention when over at the BurgerFacts blog, a blog that I usually find pretty accurate for finding great burgers, declared this one the best burger of 2017 to date, back in June.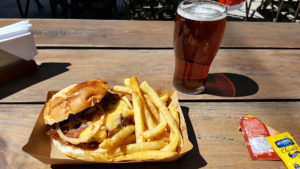 Now, first off, my burger looked nothing like his burger, which was a plump, juicy, medium rare burger loaded with lettuce, tomato, raclette cheese, bacon, pickles, and a thick crispy onion ring.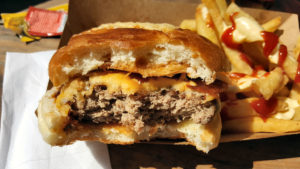 No, my burger, which was called out as ready six minutes after I ordered it, while thick, was so overcooked it was dry and grainy, and it was barely warm – as a guess given how fast it came out, it was a precooked burger that had been thrown on the grill to heat it up, or maybe even reheated in a microwave. The cheese was not raclette, but rather a typical sandwich slice of American cheese. There two half-inch wide shards of crispy bacon, there were two wispy rings of onion that may have been crispy fried at one point, but no longer, one solitary piece of a sweet pickle, and no lettuce, nor tomato. I managed two bites of this one before shoving it aside. The fries were soft and mushy. The only condiments available were little packets of mayo, ketchup, and sweet mustard. A waste of 210 pesos. And nothing like the great looking burger and fries that was apparently on offer a few months back. The "craft beer" selection turned out to be 12 taps, 11 of them devoted to 2 Warsteiners (not craft), 5 Antares (semi-craft), 4 Gambrinus (okay, maybe craft), and 1 "seasonal" beer, presumably the only rotating selection, in this case, Belga's wheat beer, which was decent (90 pesos).