October 17-21 – 2017 – 17-21 de Octubre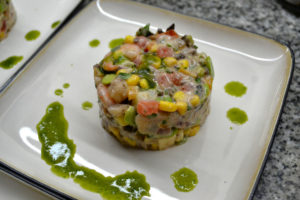 Shrimp "Solterito" Arequipa Style – salad of potato, broad beans, corn, tomato, black olives, red onion, rocoto chili, parsley, oregano, gouda cheese; mayonnaise of egg yolk, concentrated shrimp stock, lemon juice, black vinegar, olive oil; radichetta oil.
Solterito Arequipeño con Camarones – ensalada de papa, habas, maíz, tomate, aceitunas negras, cebolla morada, rocoto, perejíl, orégano, queso gouda; mayonesa de yema, caldo de camarones concentrado, jugo de limón, vinagre negro, aceite de oliva; aceite de radichetta.
Bodega El Esteco "Don David" Extra Brut, Cafayate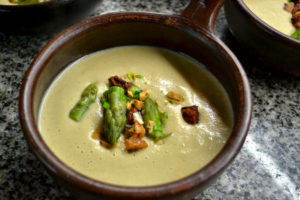 Roasted Asparagus, Bacon, & Cashew Soup – roasted asparagus, onions, and garlic blended with bacon stock, cashews, pommery mustard, lemon juice; sauteed asparagus tips, bacon lardons, cashews, green onions.
Sopa de Esparragós Asados, Panceta, y Cajues – esparragós, cebollas, y ajo asados, puré con caldo de panceta, cajues, mostaza pommery, jugo de limón; saltado de puntos de esparragós, crocantes de panceta, cajues, verdeos.
Tapíz Sauvignon Blanc 2016, Luján de Cuyo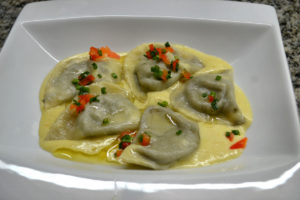 Artichoke Agnolotti, Roasted Onion & Garlic Sauce – semolina agnolotti filled with puree of steamed artichoke hearts, reggianito cheese, limo chili, olive oil; puree of roasted onion, garlic, and rocoto chili with butter, olive oil, vegetable stock, mirin, cumin, coriander, white pepper, salt; brunoise of rocoto chili and chives.
Añoloti de Alcauciles, Salsa de Cebolla y Ajo Asados – añoloti de semolín relleno con puré de corazones de alcauciles al vapor, queso reggianito, ají limo, aceite de oliva; puré de cebolla, ajo, y rocoto asados con manteca, aceite de oliva, caldo de verduras, mirin, cómino, coriandro, pimienta blanca, sal; daditos de rocoto y ciboulette.
Familia Gascón Rosé 2016, Godoy Crúz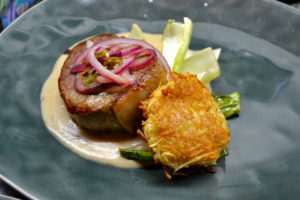 Beef Fillet with XO Bechamel, Yuca Fritter – Pan seared beef fillet cooked medium rare; bechamel sauce blended with homemade XO sauce (slow cooked Chinese sauce of bacon, dried shellfish, chilies, garlic, shallots, wine, molasses, chicken stock, fish sauce, oyster sauce); roasted bok choy with garlic; yuca and cheddar cheese fritter; warm salad of red onion, limo chili, and rice vinegar.
Peceto con Salsa Blanca XO, Crocante de Mandioca – Peceto dorado y cocido al punto; salsa blanca mezclada con salsa XO casera (salsa china cocido lentamente de panceta, mariscos secos, ajíes, ajo, echalotes, vino, melaza, caldo de pollo, salsa de pescado, salsa de ostras); bok choy asado con ajo; fritura de mandioca y queso chedar; ensaladita tíbia de cebolla morada, ají limo, vinagre de arroz.
Pumalek "Testarudo" Lambrusco Grasparossa 2013, Luján de Cuyo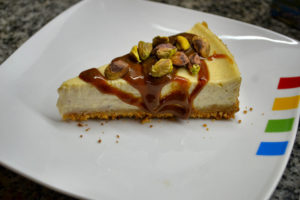 White Chocolate & Pink Peppercorn Cheesecake – cookie crumb base; cheesecake of homemade cream cheese flavored with white chocolate and pink peppercorns; dulce de leche seasoned with Szechuan peppercorn and cayenne; toasted pistachios.
Cheesecake de Chocolate Blanco y Pimienta Rosada – masa de migas de galletitas; cheesecake de queso crema casero saborizado con chocolate blanco y pimienta rosada; dulce de leche sazonado con pimienta sichuan y cayéne; pistachos tostados.
Ruca Malen "Aimé" Moscatel de Alejandria 2016, Mendoza