So, what do we have this time around? Chinese, Pseudo-Taiwanese, and Sushi!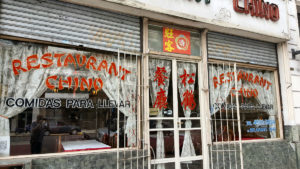 Ma Yuan, Av. Belgrano 3643, Almagro – Little neighborhood spot that seats maybe thirty people. It came highly recommended by a couple of friends who live in the area. Two visits, about a week apart….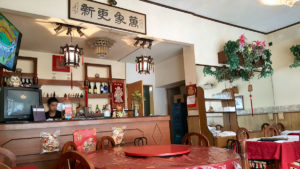 Clean, brightly lit room, cute waiter.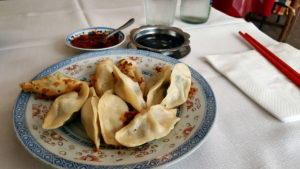 Easily among my favorite Chinese dumplings I've had in the city. Thin, delicate wrappers with a lightly spiced pork filling. Golden crisp bottom like a proper potsticker and then steamed to a perfect al dente. Dipping sauce of soy, vinegar, ginger, and garlic, something few places here bother with, and a killer fresh chili hot sauce.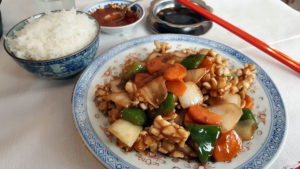 A couple of quibbles on the kung pao calamari – oh, the calamari were gorgeously cut with precision diamond knife work, the vegetables were tender-crisp, the sauce was tasty, though, honestly, had no picante heat whatsoever, despite my asking for it to be extra spicy. But, there was that chili sauce to mix in, which did the trick. The other was that kung pao, traditionally, and according to the menu, ought to have toasted peanuts, and a decent enough number of them to get a little crunch in every bite. This version had maybe 8-10 toasted almond halves scattered about. I wanted my peanuts, and more of them, or even more almonds, and that's setting aside the potential danger of someone with a tree nut allergy who doesn't think twice about ordering a peanut dish.
Overall, liked the place and immediately planned a return visit. I can't find my receipt, but recollection is that the dumplings were 100 pesos and the kung pao was 210.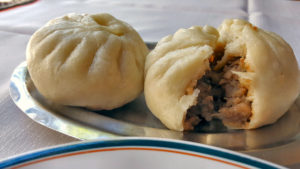 Second time around, decided to give the steamed pork buns a shot – beautifully formed, steamed just right. The filling, a sort of mixed ground pork and vegetable one – a bit different than most of these I've had where it's usually a roasted or barbecued pork, usually with a good hit of Szechuan peppercorns in it and a touch of sweetness. Still, quite good. 85 pesos.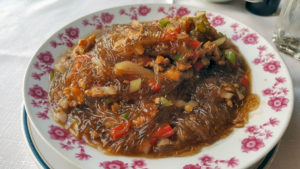 And, a dish I've not seen on any other menu here in BA – goes by the name of Ants climbing a tree – it's "glass noodles" – made of soybean starch, tossed with ground chicken and vegetables. I haven't had this dish in many years, but this was, to my mind, as good as any I've had. 170 pesos.
All in all, highly recommended. I wish we had a Chinese spot of this quality close to home!
---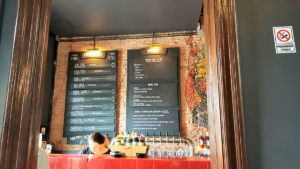 Koi Beer & Dumplings, Ministro Carranza 1591, Palermo – This place has gotten a lot of mixed reviews since it opened early this year (or was it last?). Fairly recently, they started opening for lunch, and I decided to give it a try one day. I mean, dumplings and beer, even with mixed reviews, how long can I resist? While not really an Asian restaurant, to fit the chop suey theme, it is a dumpling place, so, why not?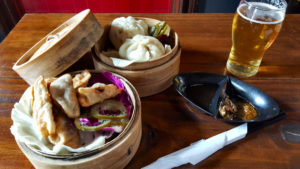 Unfortunately, I should have… resisted. Following my waiter's suggestion I went for the prawn dumplings, which turned out to be deep-fried to the point where it was like trying to bite into week-old stale bread, and with so little filling that I couldn't remotely say what it tasted like, plus the filling appeared to be shredded, very dark, meat of some sort, not prawns. The steamed buns fell short as well, likewise overcooked, but in this case, over-steamed, to the point that the bun just fell apart when trying to pick it up. The filling had the look and texture of that "pink slime" that everyone got upset about a couple of years back when it was discovered that McDonald's used to form "chicken" nuggets. And little to no flavor. The accompanying pickles had been sliced so thin and left in brine so long that their acidity was searing, and there was nothing left of them but the rinds. At 90, and 80, pesos respectively, not remotely worth it. And while the beer selection is decent – I had a fascinating ginger-infused blonde ale from Balameb, a brewery located here in the city, there are plenty of other beer spots around these days.
---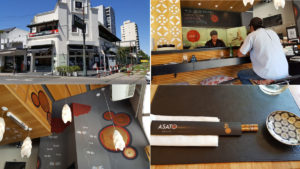 Asato Sushi, Corrientes 584, Olivos – It was the 9th outing of the Roving Ravenous Horde. With four people planned to attend, the day was looking like a great opportunity to order up a bunch of sushi on a platter and share it all around. Unfortunately, two last minute cancellations left me with one amigo coming in from the sticks. Max was actually the person who first called this place to my attention. The place is cross-corner from the Olivos train station, making it quite convenient to get to (and it's on a little strip of restaurants that include the Olivos branch of Carne and Panaderia de Pablo.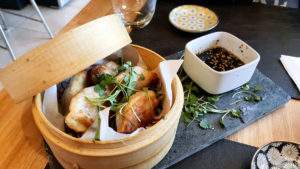 He was running late, so I ordered up a round of gyoza to have something to nibble on. When he arrived, he told me it was kind of a mistake, which I was just finding out – while beautifully formed and perfectly cooked, the insides were some sort of pink, pureed meat – kind of like the inside of a hotdog, or bologna, and with little seasoning. Not pleasant. 85 pesos.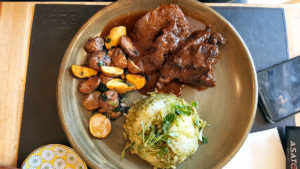 Let's get the non-sushi out of the way with. Max has tried pretty much everything on the sushi menu and decided he wanted to try one of their main courses. They were out of the pork tonkatsu, so he went with the gyoniku, which is sort of strange, since it translates to "fish meat" – this was a brined cut of beef braised with smoked chilies and accompanied by citrus rice and roast potatoes. We could only guess that it had been quickly reheated, as the center of the meat was cold, the rice was dried out – the potatoes were good. Disappointing. Two strikes so far, this is not boding well. Also quite odd that the hot course out of the kitchen arrived a solid five minutes or so before the first of the sushi. 230 pesos.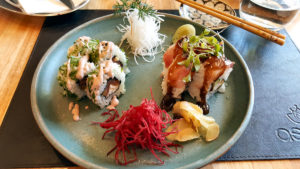 I ordered a bunch of interesting sounding things, since that's what they're known for. The waiter opted to "remember" them rather than write them down…. They seemed to arrive in a weird, random order. At most sushi bars you'd probably get your sashimi and nigiri first, before the more elaborate rolls. But here, a couple of half-rolls, one with smoked salmon, cream cheese (almost every roll on the menu has cream cheese, not a good sign), cashews, arugula, and a sort of spiced sesame cream. Interesting, in a good way, but not a wow. The second was a tempura prawn ceviche roll, one of the few without cream cheese, and quite good, with flavors of basil and citrus. 115 pesos each half-roll.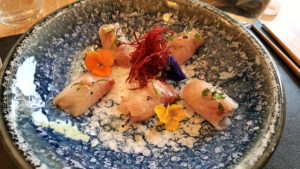 Then, the tiradito arrived, but it's not a tiradito, because the fish (chernia, a type of bass) in it is completely uncured, just cut in strips and rolled up, and there was no evidence of the promised rocoto chili. There was a little dab on each piece of some sort of pink cream, which maybe was supposed to be a crema de rocoto, but if so, all the heat and been washed out of it. 130 pesos.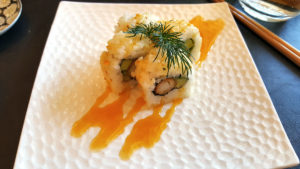 The third half-roll arrived, which was to be a tempura of salmon with avocado and crispy corn (I'm guessing that's what the powder on top was, but that kind of takes away from the crunchiness. Oh well. A bit too sweet for me with a pineapple sauce on it. 115 pesos.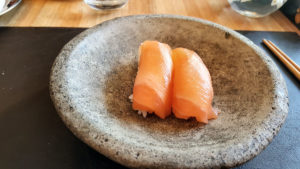 And, two pieces of fog salmon, which turned out to be simply plain salmon nigiri over which they'd placed a small dome filled with smoke. Pretty much, no flavor of smoke, since it was topped with the dome for maybe ten seconds before it was removed. But, decent, if expensive at that point, salmon nigiri.  105 pesos.
I'd also ordered a round of sashimi that was supposed to be coated with pepper, an interesting twist on tataki, but it never arrived. So much for "remembering". But honestly, at that point, while everything was fresh, it was all good sushi, none of it was as exciting as I'd hoped from reading about this place, so I didn't ask for the missing plate.
If I lived in Olivos, this might be a place to regularly grab sushi – it was all good or better – though I'd probably stick with the non-creative stuff and just go for fresh fish and properly prepared rice. I might not order from the kitchen again, though that's only based on sampling two dishes. But I doubt I'd make the trek from here in Recoleta again. I should note that we were "recognized" and given both a 20% discount, and no charge for our bottles of water, so lunch came in at a much lighter price than planned.