La Guitarrita, Cuba 3300, Nuñez – This one has been on my map for awhile, just because it comes recommended by several sources, though none of them personal friends. Then there was an article about the owner, and how he took on resuscitating a failing pizzeria that his parents had started years before (I think it opened in 1963 and he took over about ten or fifteen years ago). Brought it back to my attention and for International Beer & Pizza Day, on October 9th, I made it my destination. Built up an appetite getting there by walking from Recoleta – a little over 11km.
Typical local pizzeria or bodegón looking spot, with way too much soccer memorabilia festooning every square centimeter. Attentive, friendly service. Surprisingly, few people there throughout the lunch hour.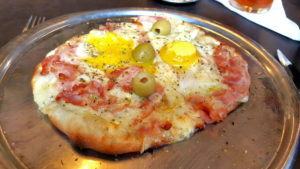 And more surprising because, it's damned good pizza. Much more Neapolitan style than Argentine, with a thin, smoky crust, just enough cheese to top it without going crazy. And, reasonable pricing, with lunch special that give you an individual sized pizza, a soft drink or beer, and an optional dessert or coffee, in various combinations, all falling in the 140-195 peso range. I'd picked out one of the specialty pizzas, so no combo, but 140 pesos for a carbonara pizza, done beautifully with grilled onions, mozzarella, plenty of bacon, and a couple of near perfectly cooked eggs with set whites and runny yolks. A good number of beers on tap, and not the usual suspects, and including a couple from Antares, which, while having grown to a bit of a juggernaut, still maintains the quality of their craft brewer days. I'll definitely be back to try more, or try one of their other locations in Palermo, Las Cañitas, or Olivos.
---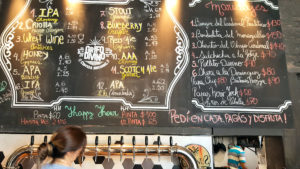 Grifo Divino, Uriarte 1901, Palermo – Continuing in the craft brew scene, a brief visit to this spot in Palermo after lunch one day, just to check it out. A dozen taps, and they offer samples to check out what you might want to drink. A mix of well known craft brews like Grunge, Cheverrey, and Antares, but also a few from ones we weren't familiar with like Ogham, Wesley, and Jawa. Worth a revisit, and to check out the food at some point.
---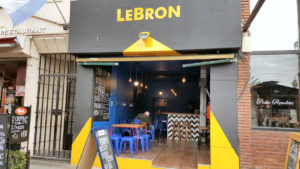 LeBron, Junín 1771, Recoleta – Adding to the onslaught of new openings of craft beer bars, yet another one here in the 'hood. Tiny place, just a few seats, plus an outdoor seating area – it's in the strip of restaurants across from the Recoleta Cemetery. Just opened a few days ago.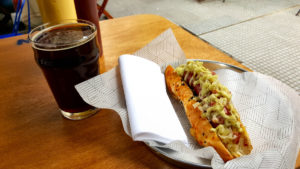 They offer up four beers – all that they make themselves – a blonde ale, a red ale, a honey beer, and a double IPA. Flat 90 pesos/pint for any of them. Disappointingly, no happy hour, but then, they've only been open a few days, that may come once they get everything settled. I decided on the red, which tends to be my favorite – not bad. Not wow, but not bad. Quite good hotdog, packed with sauerkraut and spicy mustard, and on a chili-flecked bun. Only criticism, the bun's about 2-3″ longer than the hotdog – one of the two needs to be changed out.
---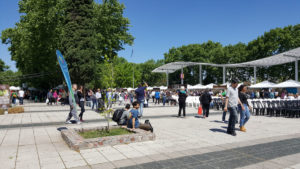 And, let's finish off in the out of doors… at the XI Fiesta del Alcaucíl, or the 11th Artichoke Festival, held annually in La Plata, a little over an hour south of here. Every year I plan to go and then something happens and I don't make it. Almost happened again this year, but I stuck to my guns and headed out late morning for a bus ride followed by a walk to the Plaza Malvinas Argentinas. Here, several dozen stands were open, most of them manned by local restaurants each offering up some sort of take on an artichoke dish (well, most of them, a few weren't, like the ubiquitous shawarma stands that show up at every fair and festival, or the burger stand that acquiesced only in that they offered, for an extra charge, to put a piece of grilled artichoke atop your burger). Also, several booths selling artichokes to take home and experiment with yourself, and a few more selling plants for those who wanted to try growing them at home.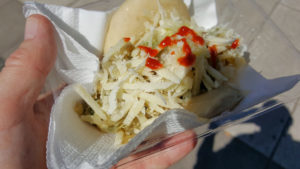 The majority of offerings were things like fried artichokes, or artichoke hearts on a pizza, or the like, so I decided to seek out those doing something that at least sounded a bit different and more creative. First up, a gua-bao, the steamed bun of Taiwanese street food, with sauteed artichokes and onions, and some grated cheese…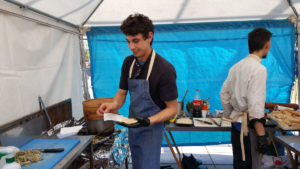 … leading to the most humorous moment of the festival for me. A couple of different sauces available, the young man asked if I wanted it with picante, as he picked up a bottle of sriracha. I said yes. He asked, "one drop or two?" I said, "what?" He asked again, "one drop or two?" I said, "how about a squiggle across the whole thing?" He blanched, he did it, he handed it to me, and said, "you're going to die."
I didn't, and it was pretty good, and not particularly spicy. The saute had little seasoning, but at least the cheese gave it a bit of sweet-saltiness.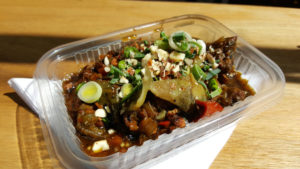 A surprisingly bland braised lamb, artichoke, and tomato dish over quinua, topped with green onions and almonds. The issue here was a complete lack of salt in the dish. A little of that as it cooked, or even at the end, and this could have been a really tasty bit of food.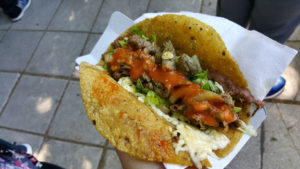 A local Mexican spot was offering up fajita filled tacos – here, with strips of beef and artichoke heart, lettuce, and cheese. The tortilla was bizarrely soggy and really oily – not something that would attract me to head to this restaurant on a future visit to La Plata. No compunction about putting a decent amount of hot sauce on, though the woman insisted that I first taste on a small piece of tortilla. It wasn't that hot. And the fajitas themselves, pretty bland – again, a lack of salt.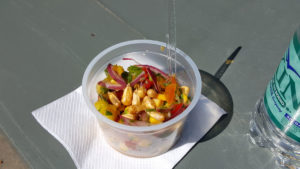 An interesting attempt at an artichoke heart ceviche from a local bistro. Lots of artichoke heart, corn, three colors of bell peppers, red onion, fried corn kernels, and a bit of cilantro. The issue here was, it wasn't ceviche, not really. It was just squirted with lemon juice. No salt. No chili.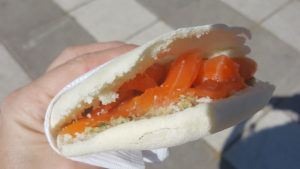 After all this, I was despairing the lack of seasoning in the various dishes. I mean, come on, these are professional chefs, from real, actual restaurants, they've gotta know… some great ideas, just lacking in execution, particularly seasoning.
I still had some tickets left (rather than pay cash at each booth, you bought tickets that came in strips with values of 50, 20, and 10 pesos, and exchanged them for food – presumably, the booth holders then exchange them later for cash). I had just enough for this "gravlax sandwich" being offered by a guy at one of the last stands, not from a restaurant, just his own, home-cured gravlax. What the hell, give it a try. Now, the bread, just a small supermarket pita bread, doughy and bland, but, his gravlax was spectacular, and the artichoke bit was what he called an artichoke guacamole – a paste of well seasoned, flavorful smashed artichoke heart with garlic, lemon, spices and herbs. Best bite of the day. Ya never know.
I mean, not to toot my own horn… yeah, okay, let's toot, but how about something that really showcases the artichoke rather than it just being, in essence, a condiment, like maybe some mini version of our Textures of Artichoke…