The search for great Peruvian food continues. This set of spots puts us over 70 out of a supposed roughly 200 in and around the city.

El Paisita, Av. Jujuy 1023, San Cristobal – A spot just down from the main strip of the restaurant supply district that we've passed a couple of times. Usually going to the area on Mondays, it's closed then, so we've not seen it open. This time we headed out on a Tuesday after calling to make sure they were open. We went with the menú for lunch, 100 pesos, which seems, as of this month, to be the new price cross the board in Peruvian home cooking restaurants. It's almost like they have a phone tree for changing the price everywhere at once.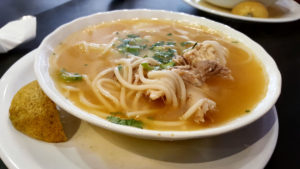 A surprisingly delicious chicken noodle soup, not only packed with a mountain of noodles and a decent amount of chicken, but incredibly flavorful.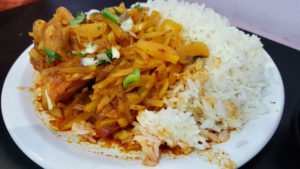 Olloquito – A classic dish of sauteed olluquos, a.k.a. papalisas – flavored with ají panka, garlic, and oregano, and here with strips of chicken. While not as good as the one Henry makes at home (hmmm, that's one for a step by step recipe), it was one of the best we've had out and about.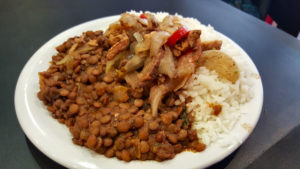 And, perfectly cooked, smoky lentils topped with a stir-fry of beef, pork, and vegetables. Almost as good as the lentejas I make (hmmm, another one).
Overall, good enough we want to go back. Their specialty of the house is a combo plate of ceviche and chicharrón, both favorites – appraisal to come!
---

Sabores del Peru, Carlos Calvo 873, San Telmo – Soloed this one, and also went for the menú.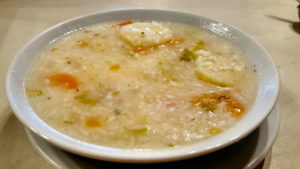 A decent beef and rice soup, with a few potatoes and carrots floating about. Maybe a little too packed with rice, but reasonably tasty.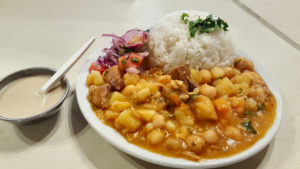 And again a good, if not wow, version of picante de garbanzos, a chickpea stew classically made with oregano, allspice, tomatoes, and lots of cumin. This one seemed a bit light on spices. I'd happily eat it again, but I've had better. (Damn, another one to do a step by step.) Not bad, but I wouldn't rush back.
---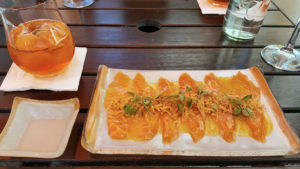 It was BA Food Week the last couple of weeks (I still say they need to add an "s"), and a friend wanted to try out one of the nikkei cooking spots, so we headed to the relatively new Paru Deli Inka Sushi, Cerviño 3812, Palermo, a small branch of Paru Inkas Sushi & Grill out in Belgrano, which I've written up before. This place has a shorter menu, and more of a focus on sushi, but still has some interesting dishes, and, for a change, the Food Week menu actually sounded interesting. We started with a tiradito of salmon in a mildly spicy, sweet passionfruit sauce – a touch sweeter than either of us prefer, but still quite good.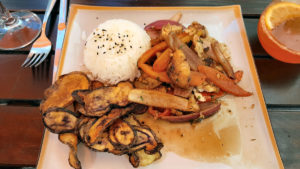 My companion went for the whitefish and vegetable stir-fry, not much of a Peruvian dish, almost more Chinese in style, but not bad. A little heavy on the onions, and maybe just a touch over-cooked.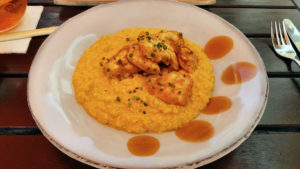 I went for the "quinua risotto" with chicken. The chicken itself, a bit over cooked as well, bordering on dry. But the quinoa was spot on, both in the cooking and spicing. I'd venture to say it was blended into a huancaina sauce with a whole lot of extra cheese. Something I can see experimenting with down the line.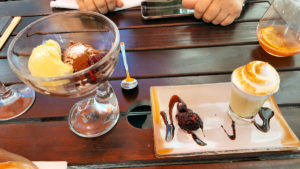 And, the meal included dessert, so we ordered a suspiro limeño, often not a favorite of mine, but this one a smooth, creamy custard topped with a delicate, almost marshmallow-like meringue; and, a dark and white chocolate mousse duo, which was more like very fudgy gelato than like a mousse, but good. Overall, not a bad lunch for 250 pesos, including a cocktail, but their regular prices, like at the original location, are really high, with sushi rolls running around 200 pesos, and main dishes topping 300.
---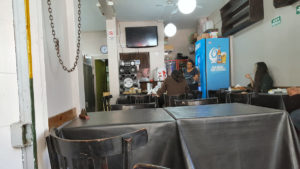 Doña Mary, Lavalle 3087, Once – Brand new spot, taking over from what used to be, if I recall correctly, a neighborhood parrilla, or grill. They're clearly still getting their act together, and service was haphazard at best, with the waitress not sure most of the time which table was waiting for what, and who had ordered what. In the midst of it all, as they were putting together what looked to be half a dozen or more delivery orders, it appeared their delivery person had simply gone out on one delivery and never come back. They were frantically calling friends, I imagine, to come over and help.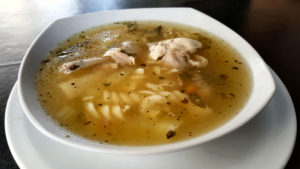 We both went for the daily fixed price menu, which, here is a mere 80 pesos. Most of the Peruvian spots went up to 90 about a year ago, and more recently they've been coming in at 100. So at least while this lasts, it's a bargain. And more so because the food's pretty good. It's basic, but well made. Decent chicken noodle soup to start.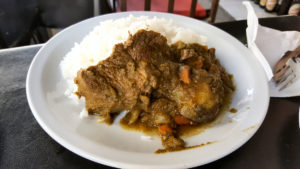 Henry ordered up a seco de carne, one of his favorites, though usually it comes with a mix of rice and beans, so although well flavored, he was a bit disappointed that it was just too much rice.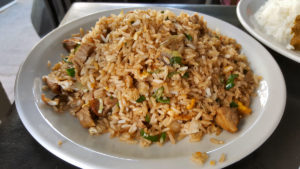 I ordered up an aeropuerto con cerdo, a pork, noodle, and rice dish, that first arrived as stewed chicken on rice (wrong table), and then arrived as a pork fried rice. When questioned, the waitress admitted she'd made a mistake, they didn't have aeropuerto (some day I'd like to know the history of why that dish is called that), and hoped I didn't mind what they actually had. It was a decent fried rice – a little heavy on the rice and light on the rest, but good flavor. Maybe the simplifying of the dishes and the reliance on loading the plates with rice is how they're keeping the price down. Still, not bad.