What do we have this time… craft beer, of course, because that's the new in thing. A little Spanish cooking. A mushroom pizza. And, a fancy schmancy new cocktail bar.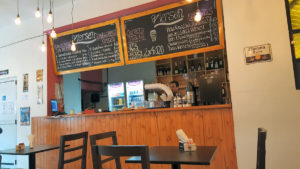 One of the things that was bound to happen with the craft beer craze, as it has with every other craze before it, is the arrival of, let's call them, pretenders. Places where the people behind it don't know a thing about craft beer, either making it or drinking it, or even talking about it. They just make a deal with someone to bring them some kegs of different styles of beer, the cheaper the better, and hope it all works out. Throw in a menu that's all over the map – a few "gourmet" burgers, pizzas, different potato toppings, and whatever else you can think of, and call it a day. And, sorry to say, that seems to be the plot behind Viersen, Av. San Juan 438, San Telmo.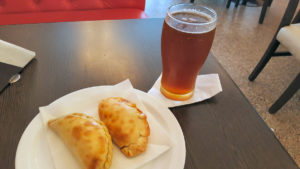 A barely drinkable "strong IPA" (the regular IPA and the "other beer" that he couldn't remember what it was were, may I say, piss-water), 80 pesos. And quite possibly the two blandest empanadas I've ever tried in my life – the beef one consisting of nothing more than browned ground beef with no seasoning, and the chicken one just a mess of flavorless, dry, shredded chicken. Even the masas were weird – some sort of almost cracker like texture, almost chalky. 20 pesos a piece. Pass.
---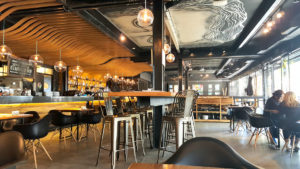 A recently renamed and revamped bar and eatery here in Recoleta, behind the Museo de Bellas Artes, Young 22/70 Bar (formerly Yonko's Bar), at Av. Figueroa Alcorta 2270, this place strikes me as a "see and be seen" sort of spot. The outside tables and counters were all completely occupied on a bright sunny Sunday, and by the time I left, the inside was packed as well. Mostly a lot of drinking and snacking rather than full on eating going on.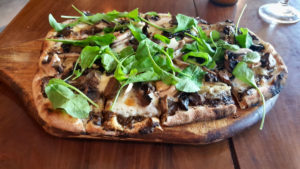 I just wanted a beer and a pizza. Their idea of the craft beer world is apparently Quilmes and Stella Artois on tap, and a selection of bottles from Patagonia Brewing. None of the above qualify for "craft", even if the last started out that way. Ordered up their pizza trufata, a reasonably good mushroom pizza with mushroom cream sauce, mozzarella, and arugula, and a drizzle of truffle oil. Overall could have used more seasoning, and salt and pepper helped it. They just need to season that underlying sauce a bit more and it'd be quite good. A bit pricey for a small pizza at 260 pesos, and beers at 140 (Patagonia in most places around here goes for about 80-100, depending on the spot).
---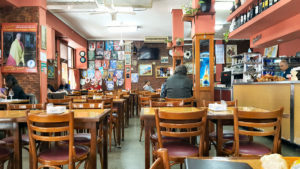 Gijon, Chile 1042, Monserrat – I'd actually planned this as the outing to Pucará, below, with the weekly lunch group. But at last minute a couple of people couldn't make it, and the one person I was meeting had already expressed a desire to go somewhere a bit closer to home. So I put Pucará on the back burner, and went on my own the next day. We picked a spot for lunch that was convenient for both of us and sounded interesting. Sticking somewhat Spanish, in at least a heavily Spanish influenced Argentine bodegón.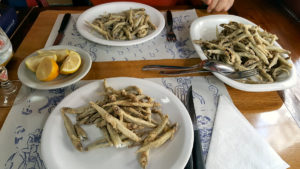 My friend wanted to try the cornalitos fritos, fried smelt, which are a favorite of mine as well. A half portion cost 170 pesos, while a full portion cost only 200, so for the extra less than $2, why not. Well, for one, it's a whole lot of fried smelt. A whole lot. We were bordering on full by the time we finished our way through this platter! And, by the way, they were that good, that we finished every last one of them.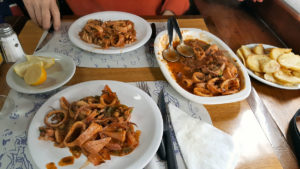 Thankfully, our waiter had talked us out of ordering two main courses, assuring us that not only would the cornalitos be an ample portion, but that any of their main courses were easily shareable, especially after an appetizer. So we went with the cazuela de calamares, or stewed squid, in an onion, tomato, and pepper sauce. Really quite good. perfectly cooked, well seasoned, and we barely made it through half the calamari, and basically didn't even touch the plate of fried potatoes to the side (I tried two small ones, also quite good). And at 300 pesos, or about $17, a bargain.
---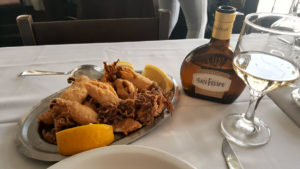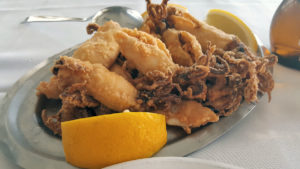 A little Spanish spot in Caballito, Pucará, Senillosa 493, that's gotten quite a few nods in the press and social media as one of the better seafood spots in the city. How I've missed this one over the years, I have no idea. Absolutely spot on, perfectly cooked, crisp-battered and still juicy inside, calamarettes, or baby squid. Interestingly, they leave them whole, tentacles and all, carefully making a slit in the side and removing the quill, though not, even more interestingly, the "guts", which is really old school traditional, and then just popping out the beak from the tentacles. That's a whole lot of prep work for someone. 260 pesos for what was probably a half kilo (14 calamarettes), not a bad deal at all. Oh, and in contrast to the fried calamarettes at Viejo Derby, the week before, these blow those away, good as they were.
---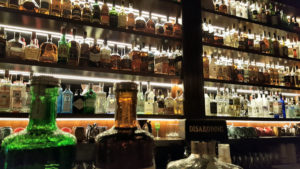 Presidente Bar, Av. Pres. M. Quintana 188, Recoleta. One of a spate of new cocktail bars that's opened recently. This is a Jekyll & Hyde review… First, whichever of those is the good side of things…. Beautiful space. Lovely welcome when I entered from a young lady with a clipboard. Directed to my choice of seats at the bar (I was solo, or could have had a table). Well stocked bar. Interesting creative cocktail list. And, the cocktail I had, which was more a classic, was perfectly made. 160 pesos. Pretty bartenders, well dressed.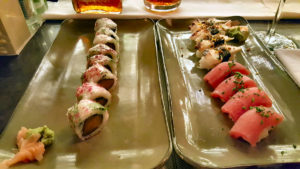 So, too, the sushi that I ordered off the bar menu. A few creative rolls, including their eponymous Presidente roll (with house smoked salmon, dill, and a rice paper wrap impregnated with flower petals. Tasty, and a nice counterpoint to the fresh, properly prepared nigiri of tuna with ginger and chives, and tender octopus with mixed spices. And, while expensive, no more so than any other higher end sushi place here, the nigiri coming in at 160 pesos per four (the only way they're sold, and you can't mix and match), and the roll at 390 pesos for an eight piece roll.
Okay, let's flip to the negative side. I'm going to redact these conversations with three different bartenders over the course of the hour or so I was there… but let's go on a little trip of how you can do absolutely everything wrong in the hospitality world.
I sit at the bar, and I do my appropriate social media check-in. There are four bartenders behind the bar, and a manager at the end of it. Two of the bartenders a young woman (B1) and a young, heavily tattooed man (B2), are joking around, and seem to be getting a kick out of swapping bartender jackets, for some reason, back and forth. One bartender is engaged in a conversation about sports with the manager. Another, the closest to me (B3), is deeply, intensely, engaged with what looks like a chemistry beaker, in which he's dripping various potions and concoctions and liquors, and every 10 seconds or so, tasting it. I think he's making a rather fancy cocktail for someone. He's not, he's just experimenting. No one glances at me, no one offers a greeting. Twelve minutes go by – I know that because the time of my check-in is there on my phone. The woman finally glances up, notices me, and two women at the end of the bar who've also been seated and paid no attention. She comes over….

B1: Do you want something?

Me: I wanted to order a drink and see the menu, but no one has been over to ask me.

B1: Well I'm here now, what do you want?

Me: Perhaps the menu to start, but I'll take a gin and tonic made with that gin I've not tried. Can you tell me anything about it?

She walks away and starts to make the drink, without saying a word.

B2: I'm going to give you a glass of water with ice, so it doesn't look like you're just sitting there alone, not ordering anything.

Me: I ordered a drink already, and was waiting for a menu.

B2: Oh, I thought you were just hanging out.

Gives me a menu and a glass of ice water. B1 returns with my drink, and wordlessly sets in front of me and walks away again. I have no further interaction with her. Now that she's attended to me, she turns her attention to the two women at the end of the bar, who look ready to get up and walk out. I peruse the menu and select a couple of sushi items.

B3: Did you want to order something or are you just going to drink?

Me: I wanted to order X, Y, and Z….

B3: We don't have two of those. Actually, let me go check, maybe we do, maybe we don't.

Walks away, returns in about 15 seconds.

B3: No, we don't.

Me: Fine, I'll have these instead. By the way, I notice the sushi rolls are priced for 6, 9, 12, or 18 pieces, can you mix those at all between different rolls?

B3: That's the old menu. We only have 8 piece rolls, and you can't get a half roll.

Me: Oh, okay, how much are the different 8 piece rolls?

B3: Prices are on the menu.

Me: The prices on the menu are for 6, 9, 12, or 18 pieces… nothing for 8 piece rolls.

B3: We don't do those anymore. 8 piece rolls. Same price as the 9.

Walks away, over to a computer screen, punches in the order, goes back to his experimenting. About 15 minutes go by and B2 delivers my food, once again, not a word said. He, and B4, who I have no interaction with over my time there, are spending their time labeling squeeze bottles with various names, refilling things, stocking shelves, etc. I eat, the food is great. I think, I'll order something else, maybe a non-sushi item. B2 returns, clears my plates, goes back to bottle labeling. B3 finally sighs, pushes his beaker away, and looks around.

B3: You done or you going to order something else?

Me: I saw you had … on the menu…

B3: Don't have it. I think. Let me go check.

Goes to check, comes back. I know this seems ridiculous that I'm continuing, but it's reached the point of where I want to see just how far down the rabbit hold these folk are.

B3: No. It's not on the menu anymore.

Me: Seems like you're out of a bunch of things….

B3: It's an old menu. We changed it a couple of weeks ago. We haven't printed new ones yet.

Me: Oh, so there are things that you have that aren't on this menu?

B3: Yes.

Me: Like?

B3: A bunch of things.

Me: Could you tell me?

B3: No. I'm a bartender, not a waitress.

Me: Could a waitress tell me about them?

B3: No. They handle the tables. We handle the bar.

Okay, at this point, I'm done with the stupidity.

Me: Just the check. Can I put the tip (why???) on it?

B3: No.

Walks away, tells the manager, B2 brings me the check, doesn't say anything dropping it off or picking it up. Manager returns with it for my credit card signature. Doesn't say anything. I get up, put my jacket on, and wander out into the night. No one has asked me if I liked anything, no one thanks me, no one says goodnight. I did leave a tip, because I'm generally incapable of not doing so, it's too ingrained, but it wasn't a big one.
As you might imagine, I have no plans to ever set foot in this place again, even if their sushi is excellent. Oh, and to add insult to injury, I realized they charged a 60 peso cubierto charge (not specified on the menu as required by law) which should include bread, in their case – a note at the top of the menu that every table gets a basket of their housemade bread and spiced butter. Never got that. Maybe because I wasn't at a table.