The things we eat….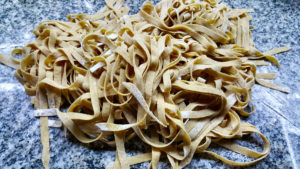 I don't know why, I was thinking about corn-rye bread, and started thinking it might make an interesting pasta flavor profile. I didn't want to go 100% of those, because it would likely be crumbly in pasta form, so, 1/3 cup each of fine cornmeal, fine rye flour, and fine whole wheat flour, plus another cup of pasta flour, and a tablespoon of extra gluten to make sure it came together well. One egg, a little salt, and some water, and shortly, corn-rye fettucine.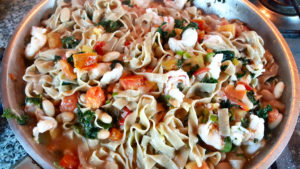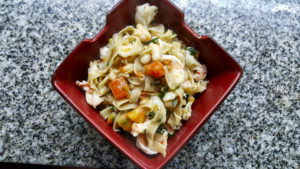 And, tossed with a saute of green onion, garlic, rocoto chili, tomato, kale, white beans, prawns. Finished with a good, peppery extra virgin olive oil, and that was dinner. And lunch. And the combo with the corn-rye flavored fettucine? Golden. Even made a version of it for one week's dinners.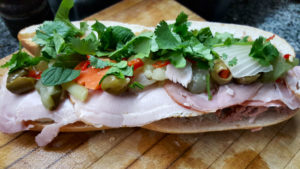 Banh mi, Argentine style – okay, it's not a true banh mi, but I tried to incorporate similar elements – it's a small baguette, slathered with liverwurst in place of pâte, and mayo, then topped with roasted pork loin and mortadella slices, then jardineira – pickled carrots, onions, cauliflower, and olives instead of pickled daikon and carrot shreds, and finally garnished with a splash of fish sauce, some fresh cilantro and slices of limo chilies.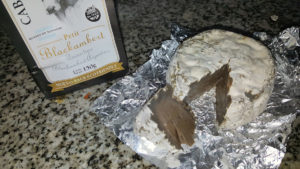 "Blackambert" – whoever thought that coloring and flavoring Camembert with squid ink should be consigned to one of Dante's levels of hell. Period. That might have been the most disgusting cheese I've ever tried.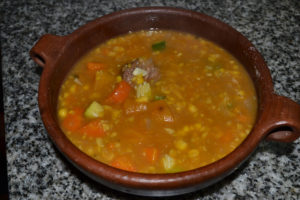 We of course had the various soups and stews I've written up step-by-step recipes for, including this Locro de Chocolo Desgranado…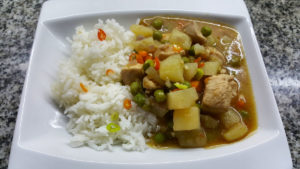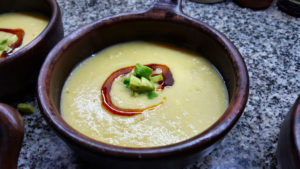 … Locro de Papas… from my new series of posts on different national and regional locros, The L Word. (Also applies to the corn locro above)…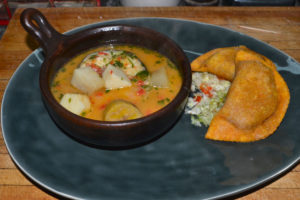 … and returning to The Bread & Soup Project, with an entry from Belize, Serre with Panades.
And let's finish up with some standout wines from the month.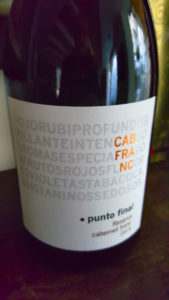 Bodega Renacer "Punto Final" Reserva Cabernet Franc 2014. A new wine, the first vintage of it, from Renacer, this is a 100% Cabernet Franc, blended from grapes in their Perdriel vineyards in Luján de Cuyo, and Vista Flores vineyards in Valle de Uco, both parts of Mendoza, with the vineyards falling around the 1000 meter above sea level range. What I liked particularly about this wine was that it was immediately recognizable as a Cabernet Franc, with black currant, bramble, and green olive notes, in a rich, full bodied wine, decent acidity, and backed up by notes of eucalyptus and chocolate. Long finish.  We paired this with a spicy, herbal, braised pork shoulder and it worked beautifully. 290 pesos/bottle at Almacen Armesto.
Finca Las Moras "Los Intocables" Black Cabernet 2015. Fascinating wine. A blend of several parcels from Las Moras' vineyards in San Juan province, what's different about this 100% Cabernet Sauvignon is that it's aged for a year in older Bourbon barrels, and picks up unique aromas and flavors from the bourbon impregnated in the wood. It's got all the classic cassis fruit of a traditional Cab, with notes of roasted bell pepper, licorice, dark chocolate, and honey. We paired this with a spice rubbed ribeye steak, and mixed bell peppers sauteed with soy and spices. Long finish. 228 pesos/bottle at Supermercado Disco.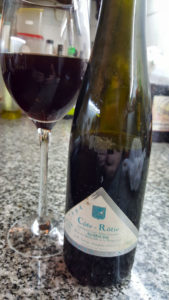 Domaine Jean-Michel Gerin Côte-Rôtie "Champin Junior" 1994. One that I dug out of the cellar, in 500 ml bottle. In surprisingly good shape for a 23 year old small format of wine from that appellation, though it is a single vineyard from Champin le Seignur (I assume the "junior" is simply an indication of being a small bottle). Still solid, bright red fruit, old leather, bacon fat, and a touch of milk chocolate, good structure, maybe a touch high acidity in comparison to the fruit, and it held up well over an hour. Medium length finish. No idea what I paid for this, probably a solid 20 years ago back in NYC.
Tajungapul Tinto de Montaña 2013, Mendoza. This one caught my eye because of the label, plain and simple, and I stopped to look at it. The guy at the gourmet food shop where I saw it knew nothing about it, the owner had selected it and hadn't told him anything. There was little to no information on the label, and a cursory internet search yielded no more than "the winery has not released any information about this wine". But overall, the winery had a few good writeups, and even the wine did to, albeit that the writers hadn't, apparently, a clue what they were drinking. I bought a bottle to try, and really liked it, and did a bit more research, revealing that it's a classic Bordeaux blend, though likely in very different proportions, as the most I could garner was that it was from several vineyards near to a mountain with the same name, Tajungapul, and contained some amounts of Petite Verdot, Cabernet Franc, Merlot, Malbec, and Cabernet Sauvignon.
It's medium bodied, lots of fruit, not too much oak, a fair amount of spice, and I think it stood up well to our spicy tomato and green olive sauced fried chicken with chili-cheese quinua that we served up this week. 300 pesos/bottle at Citadella.