"Old" used to be a word with overtones of "good value." Thus, an old hat was something of a cherished possession; today it is a likely candidate for the Goodwill store, and the expression "old hat" has the sense of something that once was probably newsworthy and even worthwhile but is now passé. That is but one example of many. With a few exceptions, "old" has become something of dubious worth; hence, people tend to avoid the term when speaking of other people. They do not want to be politically incorrect or inadvertently imply the wrong message. Just saying "old" about anything or anyone can get them into trouble.

In certain combinations the term continues to mean the same as it did a hundred years ago. And "old friend" is someone we have known for a long time, someone who makes us feel good. In the eighteenth century, Oliver Goldsmith could still write: "I love everything that's old: old friends, old times, old manners, old books, old wine." As regards friends and wine this perception remains intact, but the rest does not. Old times are more often forgotten than remembered, old-fashioned attitudes are irrelevant, and old books are for a minority in love with the past. Most people look for the new. A house will be hard to sell in the year 2000 if it is said to be old, while a hundred years ago its age might likely have been an attraction. The laptop computer on which this book is being written, having served me for five or six years, is considered old. While still useful to me, it has become quite unsaleable (and therefore less likely to be stolen when I leave it unguarded in a hotel room).

– Rabbi W. Gunther Plaut, The Price and Privilege of Growing Old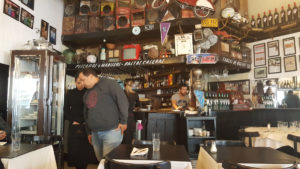 Last week, round #6 of The Roving Ravenous Horde didn't happen, as by dint of circumstance, no one else in the small, but slowly growing circle, was available for the particular day. So, round 6 got a reboot, and a different location (I'll get back to the first one at some point), this week, and a visit to a spot that I've noticed on various visits to La Boca, and which went onto the list when I'd spotted that it had been named, at some point, the best place for calamarettes fritos (fried baby squid) in the city. A trio of us met up at Viejo Derby, Av. Martín García 401 in La Boca, for lunch earlier this week. It's a small spot, packed with a veritable ton of kitschy memorabilia. Friendly, attentive service, and a way we go!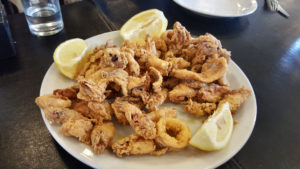 We decided to split an order of the fried squidlets, and indeed, they're pretty damned good. I will say I've had better here in town, but not much better. Crispy, crunchy, not at all greasy. Seasoning left to the guests, and they needed a sprinkling of salt and a squirt of lemon. We happily munched our way through the entire platter.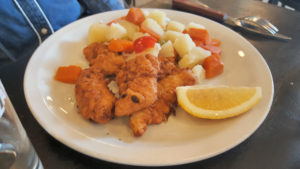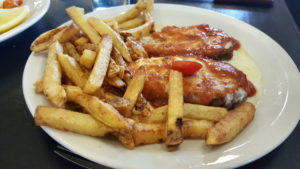 My companions decided to go with the menú del día, the daily fixed price lunch, for which there were half a dozen offerings. Frances went with the merluza a la romana, fried hake – a tad overcooked, and the "mixed vegetables", which were potatoes, carrots, and a few scattered peas, probably would have benefited from simply being a classic local ensalada rusa of the same vegetables tossed in a seasoned mayo. Fred went with the milanesa de berenjena napolitana, a nod to a lighter meal by choosing eggplant over a veal scallop, but still breaded, topped with ham, cheese, and tomato sauce, and quite good, though accompanied by a mound of soggy french fries. Some day, the idea of a crisp exterior french fry will seep its way into consciousness here…..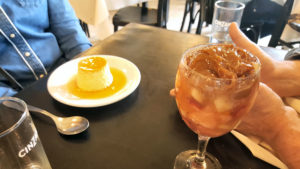 The menú also included a bottle of water and a dessert or coffee (all told for 165 pesos), and the two of them went with a decent, if slightly grainy flan, and a fruit salad with an added (additional cost) dollop of dulce de leche.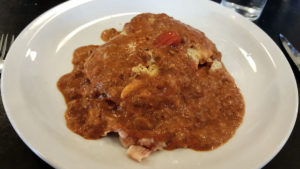 I went off-menú and ordered one of the two house lasagnas (135 pesos), the "regular" versus the vegetable version. An interesting interpretation – bordering on classic, but not quite there, with layers of crepes rather than pasta, sandwiching one layer of seasoned ricotta and one of spinach, and a couple of slices of ham. The whole thing in an acceptable bolognesa sauce.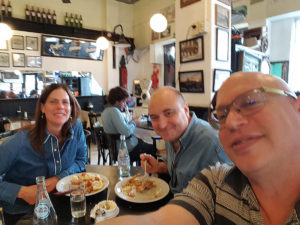 Overall, a fun place, a decent if not wow lunch. "Old Hat" in true form – good value and an understandably cherished local spot. (And yes, I know, I'm not good at the selfie-side camera.)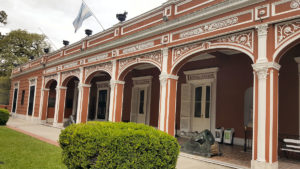 After lunch, Frances and I made our way up the street to the Museo Nacional Historico. Years ago I briefly mentioned this museum talking about a walking tour of the San Telmo area. At the time, it was a series of rooms that were filled with portraits of every president of the nation, as well as quite a few other important historical figures from around the founding years of the country, and many of their personal effects. That entire collection has been moved to the new museum behind the Casa Rosada, the presidential palace.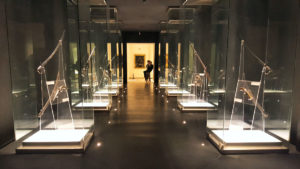 These days, the more or less permanent part of the collection seems to be heavy on weaponry of the past – particularly swords, but also muskets and rifles. There's also a section of the museum dedicated to the various indigenous groups that populated the country before the Spanish arrived. There are several temporary exhibits and one of the guards told us that they change those up roughly every three months.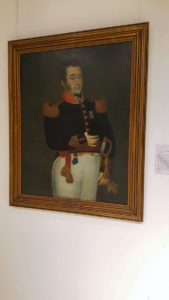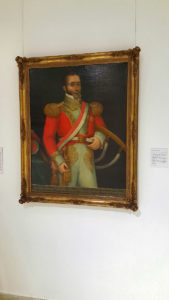 Currently there's an exhibit of the 26 portraits of the founders of the nation by famed painter José Gil de Castro. These two in particular caught my eye, more for the coloration than anything else, both stood out differently from the others in the series.
And then, we walked back to Recoleta from La Boca, meandering through the streets of San Telmo, Centro, and on.
For those of you who aren't "friended" to me on Facebook or perhaps, in some attempt to be a revolutionary, aren't part of Facebook, which is where I've been announcing these lunches, if you're here in town (even just visiting) and want to be invited, let me know by email and I'll make sure you get the invites of upcoming events.