As I've started to put more thought into lunches for the Roving Ravenous Horde, I thought it would be interesting to add in an element of something else cultural to each lunch, as an optional extra. Lunch and a museum, lunch and a gallery, lunch and a park, lunch and…?

A quint of us (all four joining me new to the lunch group) began our afternoon at Raices ("Roots"), Av. Crisólogo Larralde 3995, Saavedra, a place that proudly displays the tagline Cocina Casera con Historia, or Home Cooking with History, or some might say, Home Cooking with Story. The foodie rumor mill had it that this was the place to try all those classic dishes of porteño cooking from years past, with a modern sensibility. How could I pass up putting that one onto our agenda? The space, bright, airy, and very quickly packed with locals. Service, friendly and attentive. let's dive into the food!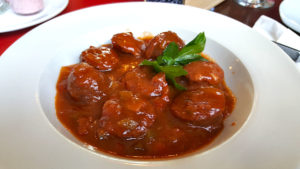 Usually, chorizo a la pomarola is a street food. It's one of those love it or hate it dishes. I have local friends who despise it, adamantly preferring their chorizos simply grilled, thrown on a bun, and topped with a little chimichurri or salsa criolla. And others (and I'm among them), love the lightly browned chorizo which is then finished in a bubbling cauldron of tomatoes, onions, and peppers, and then the whole, sloppy as it may be, nestled in a baguette. Here, as an appetizer, it's sans bread (though there is delicious bread on the table, served up with a beet-infused butter), as bite-sized rounds of grilled sausage slathered with a rich, slightly pepper tomato sauce. It evokes the classic in flavor, if not style. (150 pesos – a little pricey for what amounted to maybe a chorizo and a half.)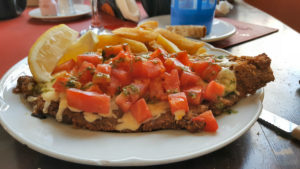 The ubiquitous milanesa napolitana, a dish declared by the government to be one of the emblems of Argentine gastronomy, Traditionally, it's a breaded veal cutlet draped with a slice of lunchmeat ham, some sort of white cheese, a couple of slices of tomato, and a sprinkling of "Italian spice mix", which seems to be pretty much dried oregano, parsley, basil, and some mild chili flakes. The version offered here was sort of a capresse salad atop the cutlet – I didn't notice any ham (then again, maybe Fred ordered the milanesa capresse, which is also on the menu), with a mound of gooey melted mozzarella, lots of chopped fresh tomatoes, and a drizzle of garlicky pesto. Fries and a lemon wedge on the side. It could have used more pesto, but delicious! (195 pesos)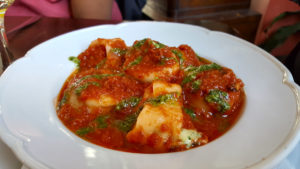 Raquel went with something simple and classic, tied to Argentina's heavy Italian roots, agnolotti capresse, the plump pilows of pasta stuffed with melted mozzarella and pesto, and ladled over with a fresh tomato sauce and more pesto. A satisfying dish, if not one that screamed out creativity. At the very least, both on this dish and the above, the pesto is properly made, with fresh herbs, garlic, and good oil, rather than the dried pesto, browned garlic oil that passes for pesto at too many places here. (199 pesos)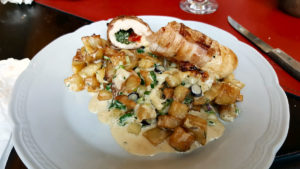 I went for the pamplona de pollo, a dish that more properly probably belongs to the canon of Uruguayan cooking than Argentine, but it's not uncommon here, and, of course, if you go for the long, long ago history, the two countries were one back in the viceroy-ship days. Not particularly reinterpreted, but really well done, with a moist chicken breast wrapped in smoky bacon, and the whole thing filled with arugula (okay, that's a modern twist), roasted peppers, and mozzarella. It was served over a mound, no, a mountain, of beautiful diced, browned potatoes in a creamy, cheesy, green onion sauce – kind of like the best stuffed baked potato, but easier to eat. Too big of a mound for me to remotely finish, and thankfully my companions helped finish them off. (263 pesos)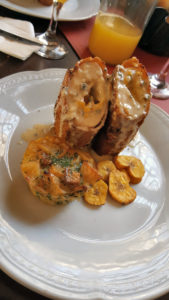 Easily winning the award for the most reinterpreted dish, Raices' take on the Suprema Maryland, a dish that I've written a fair amount about and have come back to time and again. Both Frank and Terry went for this one. Traditionally, a pounded thin breast of chicken, breaded and fried, draped with ham, roasted bell pepper, and topped with creamed corn and a fried banana, and accompanied by shoestring potatoes. Clearly a different approach here, with the chicken breast done up almost like a Chicken Kiev, filled with cheese (the menu said provolone, I thought it tasted like blue cheese) and a modicum of creamed corn, then breaded and deep fried. It was served with a little muffin tin potato rösti, and crisp plantain chips. For me, it was tasty, but missing that real slathering of creamed corn that for me makes the dish, and the plantain chips just don't cover the fried whole banana. (211 pesos)
So overall, love the space, great service, and, really quite good food. Is it as out there and creative as I'd been led to believe? No. But it is creative, and different, and really quite good. It's a little pricey in comparison to more classic bodegones, but then, it's got more going for it. I'd happily eat there again, anytime.
---
Now, I hadn't come up with my after-lunch cultural outing in advance, but I suddenly noticed, looking at a map of the neighborhood, that we were about a ten block walk from the Centro Ana Frank Argentina, Superi 2647, Coghlan – the local museum dedicated to Anne Frank and her famous Diary. It's a place that when it first opened a few years back I'd planned to go, and then at some point forgotten its existence. All four of my lunch companions were game for a walk, and we headed over.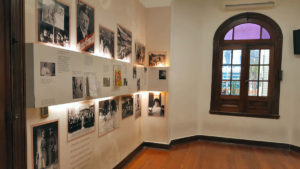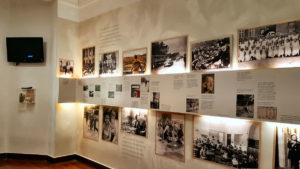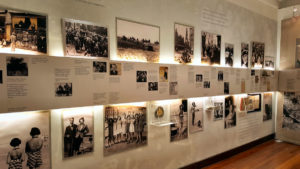 It's a small house that's been converted to a museum. The ground floor mainly consists of two large rooms that trace this history of the rise of the Third Reich, and on through the years of WWII. Interwoven is the story of Anne Frank herself and her family members. Docents are on hand to talk you through the whole exhibit. Although offered an English speaking docent (one of our group didn't speak Spanish), there wasn't one available it turned out, so if you need one, I'd make arrangements in advance, rather than on the spot. After this part, we were taken upstairs, where we watched a thirty minute or so documentary on Anne Frank and her diary – this was offered in English.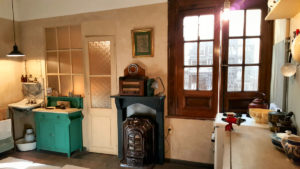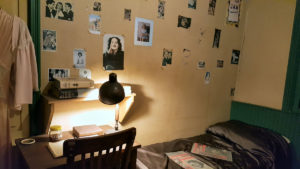 And then, a tour through the annex of the museum, where they've done a semi-recreation of parts of the building in which the Frank family and others hid during the war.
A rather emotional museum visit, I think, for the group, and well worth it educationally, for the 65 peso entrance tag. And, a rather satisfying afternoon out for all of us.