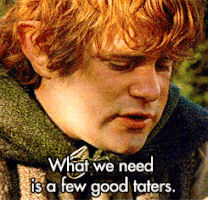 For purposes of this post, I'm referring to Ecuador when I titled this post with Middle Earth in it. But it interestingly led to a whole slew of websites on the subject of spuds in the world of JRR Tolkein. Given that he based the setting on ancient Europe, particularly starting off around ancient England, among the things that apparently (I'm not going to go back and read all the books yet again for references) don't appear in any of the books are New World crops like tomatoes, corn, gourds and pumpkins, and, potatoes. In fact, I gather, his estate made quite a big point of it when Peter Jackson filmed the series, insisting that such crops don't make an appearance anywhere in the film. There was, later on, in the world of fandom, quite something made of the fact that Samwise Gamgee at one point talks about searching for and cooking "taters", leading to both criticisms of that mistake on the part of some, and the speculation by others that he wasn't referring to potatoes, but some other root crop. The internet is a wondrous place when you have time to waste.
Sam: "What we need is a few good taters."

Sméagol: "What's taters? Precious, what's taters? Huh?"

Sam: "Po-ta-toes! Boil them, mash them, stick them in a stew. Lovely big golden chips with a nice piece of fried fish."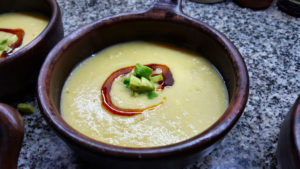 As promised in yesterday's post, I'm continuing with my The L Word series, and explorations of different Locros from around South America. This time, we head up to Ecuador, and the soup we discovered during our brief visit to Quito, Locro de Papas, or Potato Locro.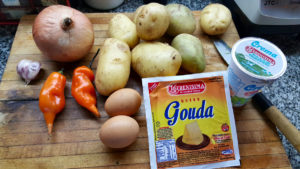 What's in the lineup of ingredients for this one? Garlic, onion, potatoes, Peruvian yellow chilies, eggs, gouda cheese, and cream. Not pictured, some vegetable stock, salt, white pepper, an avocado, and some smoked chili oil, the latter two for garnish.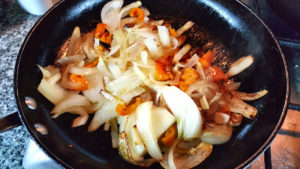 Coarsely chop up the onions, garlic, and chilies. The last, unless you want this to be quite spicy, remove the seeds – I find that leaving them in, which we've tried, makes it spicy enough that you just lose the other flavors of the soup, given how few there are – you want this one to be about the potato. Saute the vegetables in butter until they start to brown and get nicely caramelized. Unceremoniously dump them into a blender, add enough of the vegetable stock to cover, and puree until completely smooth.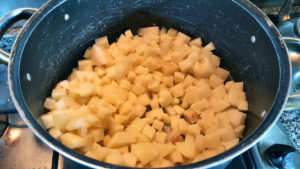 Peel and dice the potato. Put in a pot with some butter and cook for about five minutes, stirring, to just lightly color the surfaces of the potato and start the cooking process.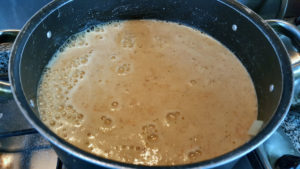 Pour the onion mixture over the potatoes. If needed, add some more vegetable stock to cover the potatoes and submerge them by about an inch. You can always add more if needed – those potatoes are going to slurp up a fair amount of the liquid, plus some will evaporate. Bring to a boil, reduce heat to minimum, and simmer away until the potatoes are completely soft.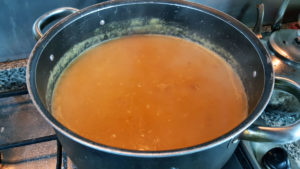 You want to end up with a chunky puree, basically. I find the easiest thing to do is use a handblender (stick blender), and just pulse it a few times in the soup – it just partially purees it. Other approaches – scoop out just part of the soup and puree in a regular blender or food processor and return that to the pot. Or, go completely old school and just use something like a potato masher, or a flat wooden spatula, and crush away.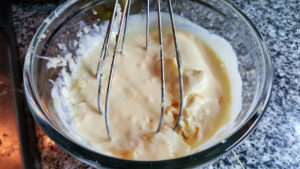 Whisk together the cream, the eggs, and some grated gouda cheese.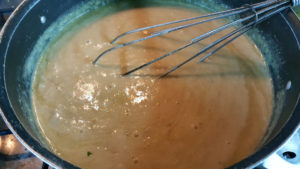 Then whisk that into the pot (off the heat – no reason to cook this any more at this point, plus you don't want the eggs to curdle). Whisk until the cheese has melted and it's all incorporated. Adjust the seasoning – just for color reasons, I tend to use salt and white pepper rather than black, but if you don't have it, the black is fine.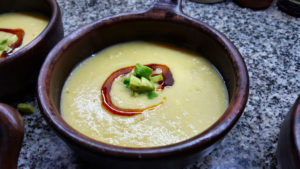 And serve up with some diced avocado and a drizzle of smoked chili oil. And that's my take on Ecuadorian locro de papas, these days, probably my favorite potato soup!