September 6-9 – 2017 – 6-9 de Septiembre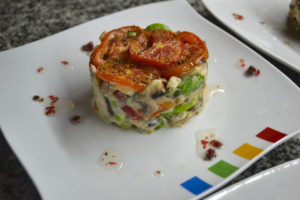 Seasonal Vegetables "a la Tahitienne" – Tian of fresh seasonal vegetables – broad beans, avocado, charred bell pepper (and then peeled), mushrooms, and scallions, tossed in a coconut cream, lime juice, and roasted garlic dressing; herb roasted tomato slices; pink peppercorn oil.
Verduras de la Estación "a la Tahitienne" – Tián de verduras frescas de la estación – habas, palta, morrones soasados (y luego pelados), champiñones, y verdeos, salteado en un aderezo de crema de coco, jugo de lima, y ajo asado; rodajas de tomate asadas con hierbas; aceite de pimienta rosa.
Philippe Caraguel Extra Brut Rosé, Tupungato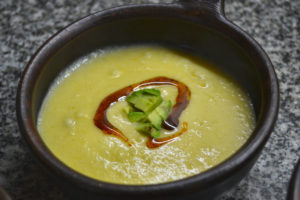 Ecuadorian Potato Locro – semi-pureed soup of caramelized onions, garlic, and yellow chilies; potatoes, cream, eggs, gouda cheese; smoked chili oil, diced avocado. (Step-by-step recipe in upcoming post).
Locro Ecuatoriano de Papas – sopa semi-puré de cebollas, ajo, y ají amarillos acaramelizados; papas, crema de leche, huevos, queso gouda; aceite de ají ahumado, daditos de palta. (Receta paso a paso en un post que viene).
Chacabuco Viognier 2016, San Martín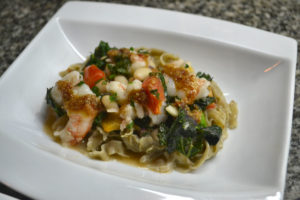 Corn-Rye Fettucine with Prawns, White Beans, Kale – homemade fettucine of cornmeal, rye, and whole wheat flours; saute of prawns with garlic, tomatoes, miso, white beans, kale, parsley, and cilantro; homemade aromatic Chinese hot oil.
Tallarines de Maíz-Cénteno con Langostinos, Alubías, Kale – tallarines caseros de harinas de maíz, cénteno, y trigo integrál; saltado de langostinos con ajo, tomates, miso, alubías, kale, perejíl, y cilantro; aceite picante chino aromático casero.
Santa Julia Syrah Rose 2016, Maipú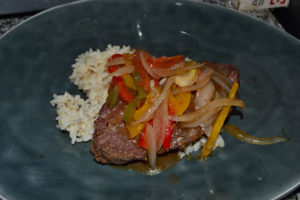 Spiced 56°C Rib-Eye with Julienned Vegetables – Rib-eye steak cooked sous vide at 56°C for 3 hours, then rubbed with salt, pepper, cumin, coriander, yellow chili, and rocoto chili powders, and seared; saute of julienned onions, mixed bell peppers, tomato, and a splash of soy; rice cooked in beef stock.
Ojo de Bife Especiado de 56°C con Juliana de Verduras – Ojo de bife cocido bajo vacio al 56°C durante 3 horas, luego rociado con sal, pimienta, cómino, coriandro, ají amarillo, y rocoto en polvo, soasado; saltado de juliana de cebolla, pimentones varios, tomate, y chapoteo de salsa de soja; arroz cocido en caldo de carne.
Finca Las Moras Black Cabernet "Los Intocables" 2015, Valle de Pedernal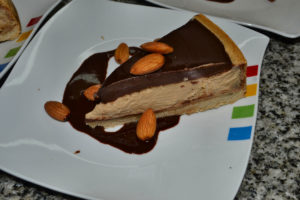 Pumpkin, Coffee, & Chocolate Cheesecake – Espresso cookie crust; pumpkin and brown sugar cream cheese filling; dark chocolate and ginger ganache; toasted almonds; reduction of port, coffee, and dark chocolate.
Cheesecake de Zapallo, Café, y Chocolate – masa de galletita de espreso; relleno de queso crema, zapallo, y azucar negro; ganache de chocolate amargo y jengibre; almendras tostadas; reducción de oporto, café, y chocolate amargo.
Zuccardi Malamado Tinto, Maipú