I just couldn't decide what and where to plan for the Roving Ravenous Horde's fourth outing. Thanks to my friend David up in Boston (of dumpling diving adventure fame) who suggested that we try out something Caribbean. With Hurricanes Irma & Jose in the offing, maybe it was just subliminal messaging that had it on his mind…. away we go!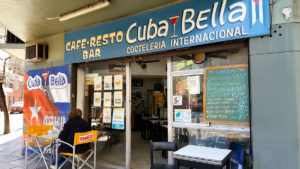 Cuba Bella, Moreno 2099, Balvanera (Once) – One never knows, approaching a hole-in-the-wall, whether it will be a disastrous or wondrous experience. With four or five of us confirmed for the outing, I zipped off a message on Facebook to the restaurant during the night to see if we needed a reservation. We didn't, but, the chef-owner asked, after reading a little about us, would we leave ourselves in his hands and let him cook something traditional for us? But yes, of course! I arrived a few minutes early, he took me on a quick "tour" of the kitchen, where he had a pot of something that smelled absolutely wonderful bubbling away. He grinned, and told me lunch was almost ready.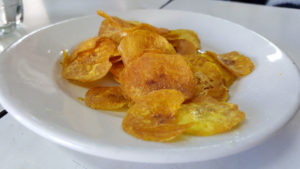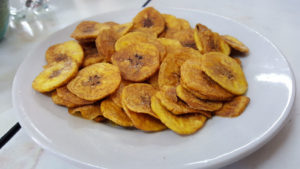 My companions arrived and we settled in…. Two types of fried plantains to snack on while we awaited the main course.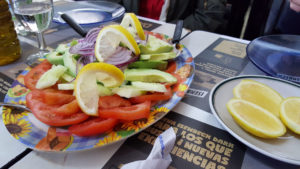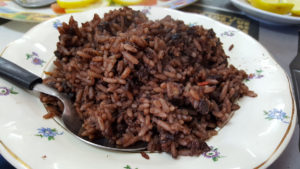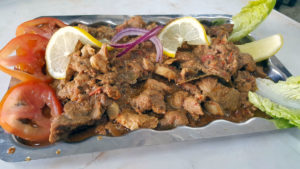 Fricassé de cerdo – So the bubbling pot held well over a kilo of this classic Cuban dish, boldly flavored with garlic, oregano, bay, a touch of mild chili, and wine. Maybe even a hint of orange, though we weren't sure. And served up with a couple of whopping bowls of arroz congris, the classic Cuban rice and black beans stewed together (versus the separated moros y cristianos, that keeps the rice white and beans black, and mixed at last minute). And, a huge salad. We gamely gave it a try and finished off most of it, taking home one small portion that Henry snacked on later.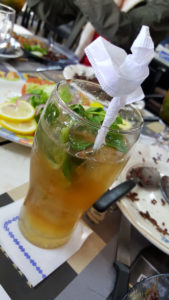 We couldn't not have a round of mojitos now, could we? It was sort of cute – for the boys, we got large, 10-12 oz tumblers of the cocktail, the girls, what sort of amounted to white wine glasses in size (see photo below of the group). Oh, and he left the bottle of rum on the table for top offs….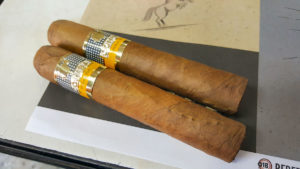 And again, just for the boys, an offer of a couple of Cohibas, on the house. And Cuban coffee all around. We joked with him about the cocktails and cigars and the men vs women, he shrugged, turned to the women, offered that if they wanted, they could have cigars, but he was fairly sure they didn't. He was right. Then again, we don't smoke either, usually. I haven't had a cigar since trying a few during my sommelier course….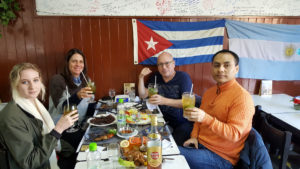 The very satisfied and very full group!
Overall, very happy! Attentive, friendly service, mouthwatering food, and reasonably priced. He charged us for his "Cuban plate" at 150 pesos apiece, plus waters and mojitos – a grand total of just under 1100 pesos before tip for a group of four.