Let's start off with our local craft beer spot craze….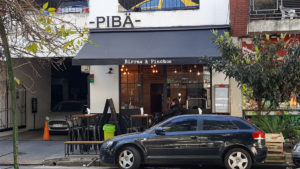 Pibä, Av. Cerviño 3833, Palermo – A new outlet of a spot that's existed in another part of Palermo for a bit now, this is a teeny little spot, with half a dozen seats inside, and fewer than a dozen out. Their raison d'etre is a selection of pinchos, or skewers, served up with beer.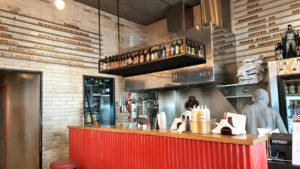 Five beers on tap, two of them their own brand. A dozen or so local and imported beers by the bottle.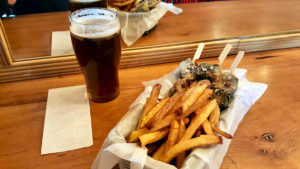 From the pinchos selection, I went with their artichoke hearts in mustard sauce with toasted almonds. There's a combo meal with a pint of beer and a side of fries at 230 pesos, which ain't cheap (and it's more for the "special" skewers). The fries were great, the beer, their own red ale, was good, the artichoke pinchos, three of them, each with three artichoke hearts, were a great idea, and had they been made with fresh artichoke hearts (artichokes are in full season right now!), rather than vinegary, mushy, canned ones, this would have been a great dish. Then again, since artichokes are running around 12-15 pesos apiece in the mercado, they probably couldn't offer nine of them at this price.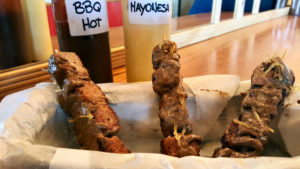 They've gotten several mentions on social media for their molleja pinchos, sweetbreads, and this one, justly deserved. Ordered in a non-combo version since I didn't need more fries, these run 160 pesos (that's the "special" skewer price, the regular ones solo are 130). Had they been in combo, 240. Perfectly cooked cubes of sweetbreads, four of them to a skewer, and interleaved with slices of mushroom, and coated in a mushroom and lemon puree. The two sauces in the background were for the fries – a decent bbq sauce with a bit of a kick and not too much sugar, and mayo.
Apparently, in nice weather, at night, the place is jammed with people who grab a beer and hang out in the park area of the boulevard in front of the place, drinking away. The kind of place that if you lived in the neighborhood, but not too close, you'd love, because you could drop in for a pint, but wouldn't want right on your block because of the noise.
---
You know I've started this little weekly lunch… "club"? Nah, I don't like that, it's a group of folk who like to eat lunch out, and are friends of mine, and a mix of whomever's available each week. Roving ravenous horde? (La horda hambrienta errabunda?)
For outing #3, I'd picked a Basque spot that I've heard good things about, out in Chacarita. Unfortunately, I didn't know that at lunchtime they don't serve any Basque food whatsoever, just a very basic Argentine menú ejecutivo (rice and meatballs, a potato tortilla, something or other with ham and cheese). There were only two of us on this particular venture, and neither of us were enthused by the offering. So, after discussing options, we up and wandered a couple of blocks away to a Peruvian spot that was on my list to check out.
El Encuentro, Av. Corrientes 6099, Villa Crespo – So, every expense spared on decor. This is one of those spots I walk into and think, it's going to be really good or really bad, no in-between. Most of the customers, who came and went quickly, were local Peruvian workers, in to grab the menú ejecutivo for the day, a bowl of soup and a choice of a trio of main courses. I remember they had arroz con pollo, pescado frito, y carne guisado – chicken and rice, fried fish, stewed beef – which might have been delicious, but we decided to pick a few things off the menu. My lunch companion left the choices in my hands after we settled on something with red meat, something with fish, and an appetizer, all to share.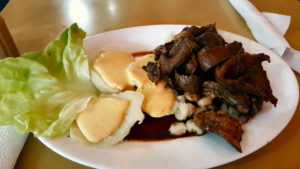 Anticuchos de corazón – tender strips of marinated beef heart, grilled, and served up with mote (hominy corn), and potatoes in huancaina sauce. The meat could have used some more flavor in its marinade, but overall pretty good, and the hot sauce on the table took care of any lacking heat. Pretty good huancaina sauce too.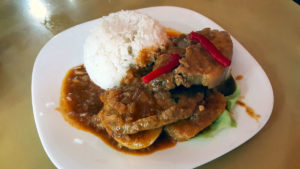 Adobo de cerdo – unlike the usual version of this dish with cubes or small cuts of pork, here we got a trio of small boneless pork chops, that rather than being braised in the sauce, had been browned in a pan, and then smothered with a rather decent version of adobo.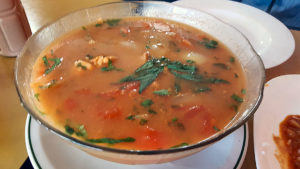 Sudado de filet – while sudado is definitely a brothy sort of dish, it's usually not a big bowl of soup. Now and again, it is. This one goes full tilt that way. There was also a choice between whole fish and fillets, I picked the latter, just because it's easier to deal with, especially when sharing. I have to say, broth-wise, this is one of the better sudados I've had here in Buenos Aires, and lurking beneath the surface were four solid fillets of fish, plus all the usual vegetables. A side of rice came with the dish to either add to the bowl, or ladle the soup atop.
So, bare bones space, service friendly, but likewise bare bones, other than when dropping the menu, taking the order, and serving the food, the waiter was nowhere to be seen. Reasonably priced – the three dishes above plus a couple of bottles of water came in at 410 pesos, or about $23, plus tip.
---
Walking over from the Basque spot, we'd spotted this…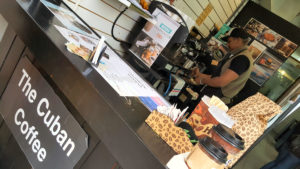 …and how could we pass up The Cuban, Av. Corrientes 6141, for a couple of after lunch cups of Cuban coffee?! Not bad either – essentially very strong double espressos, extra smooth, for a mere 30 pesos apiece. Nowhere to sitdown, and it was drizzly, so we headed into the subte station at the corner (Dorrego stop on the B, for both here, and the Peruvian spot), and drank while we waited for our train back this way.
---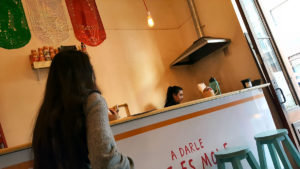 Rinconcito Mexicano, Venezuela 484, Monserrat – I was actually on my way to try another Peruvian spot, in San Telmo, and stumbled across this place. Apparently opened up late in 2016, it's a tiny little space, with two tables for two, and a few bar stools, mostly being a takeout joint. A short and simple menu – tacos and burritos (chicken or beef), quesadillas (plain or with the fixings), posole, and chilaquiles (also chicken or beef). Run by a couple of women from Morelia, bringing their version of Mexican street food to the streets of BA.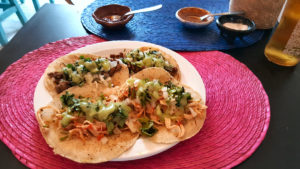 Ordered up a couple of chicken and a couple beef tacos (32 pesos each, or 3 for 90). I'd say that these are probably the most authentic street food style tacos I've yet to have in BA. I could happily eat a half a dozen of those for lunch, any day. The hot sauce on the table was pretty mild, more tomato than anything else, and I asked if there was a real hot sauce around, and they brought me a little dish of chile de árbol sauce (rehydrated chiles de árbol blended with a little tomato) that was fiery and perfect. I don't think they expected me to use the whole dish…. They also sell a bunch of Mexican packaged products, including those chilies, that they bring down from Mexico themselves.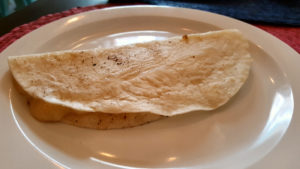 Decided to give the plain quesadilla a try (30 pesos). Salted mozzarella in a tortilla. I mean, it's fine, and I schmeared it with the last bits of the hot sauce. But I think I'd rather order the "with the works" version, albeit it comes with four quesadillas and is really designed to split, though I suppose you could make a solo lunch out of it. Besides, those tacos….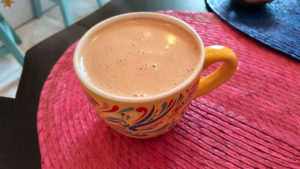 I was going to call it a lunch when I noticed that they had Mexican hot chocolate on the menu (no desserts available). After asking and finding that yes, it's made using the real Mexican bar chocolate with the almonds and cinnamon and vanilla, I went for a cup. Perfect ending! I will definitely be making this a regular spot to stop in for lunch when over in the area.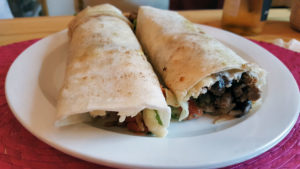 A couple of days later a friend in San Telmo wanted to grab lunch and I thought, what the heck, let's go back and try more of the menu. He went for the tacos, I decided to try, first, the burritos – two beef ones (also, again, available in chicken). Back with chopped, well browned and seasoned beef, flavorful rice and beans, cheese, guacamole, and more. Like the tacos, these are easily the best burritos I've had in BA. I think they were 90 pesos for two.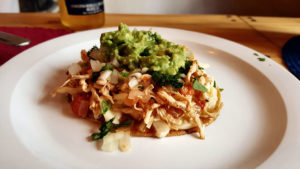 And, what the heck, try the volcán, a crispy taco (minor disappointment that it wasn't the corn tortilla that was promised, but a flour one, like the others), laden with shredded chicken, onions, guacamole, and salsa. A little pricier than the tacos, coming in at 45 pesos, but it's also twice the filling, at least.
All in all, we have a winner for some decent Mexican fare here in town. It's not fancy, it's street food, but it's done right!
---
I was going to go for one more spot that I had lined up for write-up, but this has gone on a little long, so let's stop here, and next time we'll kick off with Cuba Bella, and our fourth, and maybe fifth, outing for the Roving Ravenous Horde! (See, it's already rolling off the tongue.)