August 23-September 2 – 2017 – 23 Agosto-2 Septiembre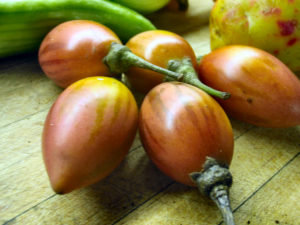 These are tamarillos that I found out in the Liniers markets. Also known as tree tomatoes. They're acidic, sweet, and taste vaguely of tomato crossed with some thing like passionfruit.
Estos son tamarillos que encontré in los mercados de Liniers. También conocido como tomates de arbol. Son ácidos, dulces, y con sabor vagamente de tomate cruzado con algo como maracuyá.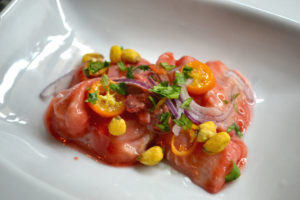 Sole Ceviche with Tamarillo – Sole, cured in a marinade of pureed tamarillos, rocoto chilies, lime juice, and salt; red onion, cilantro, toasted corn, slices of kumquats blanched in salted water, limo chilies.
Ceviche de Lenguado con Tomate de Arbol – Lenguado, curado en un "leche" puré de tomates de arbol, rocotos, jugo de lima, y sal; cebolla morada, cilantro, maíz tostado, rodajas de quinotos blanqueadas en água salada, ají limos.
Bodega El Esteco "Don David" Extra Brut, Cafayate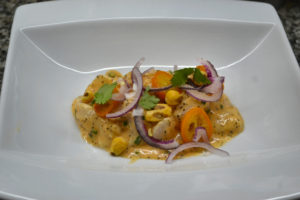 We ran out of tamarillos and couldn't get more, so towards the end of the two weeks we switched to the same dish, but with a mix of tomato and passionfruit in place of them.
Nos quedamos sin tamarillos y no podía conseguir más, así que hacia el final de las dos semanas cambiamos al mismo plato, pero con una mezcla de tomate y maracuyá en lugar de ellos.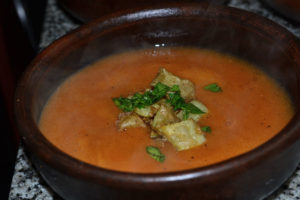 Red Pepper & Potato Soup – Puree of homemade vegetable stock with roasted red peppers and yellow Peruvian chilies, and potato; fried potato skins, parsley.
Sopa de Morrón y Papa – Puré de caldo de verduras casero con morrones y ají amarillos asados, y papas; cascara de papa frita; perejíl.
Catena Zapata "Nicasia Vineyards" Blanc de Blancs 2015, Mendoza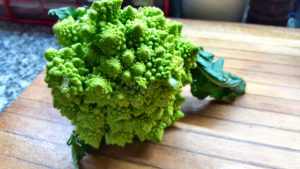 This is romanesco, or roman cauliflower, which I stumbled across in the Mercado del Progreso.
Este es romanesco, o coliflór romano, que encontré en el Mercado del Progreso.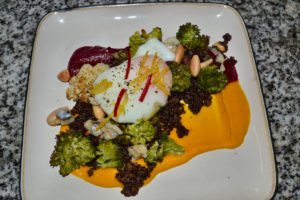 Warm Crucifer Salad, 64°C Egg, Red Quinua – From the bottom up… beet and cumin puree; carrot and coriander puree; toasted red quinua; roasted romanesco, broccoli, and cauliflower; toasted hazelnuts and almonds; white anchovies; fried capers; sous vide egg with salt, pepper, lemon zest, red chili threads.
Ensalada Tíbia de Crucifers, Huevo de 64°C, Quinua Roja – Desde el fondo… puré de remolacha y cómino; puré de zanahoría y coriandro; quinua roja tostada; romanesco, broccoli, y coliflór asados; avellanas y almendras tostadas; boquerones; alcáparras fritas; huevo sous vide con sal, pimienta, ralladura de limón, y hebras de ají rojo.
Carmela Benegas Cabernet Franc Rosado 2016, Luján de Cuyo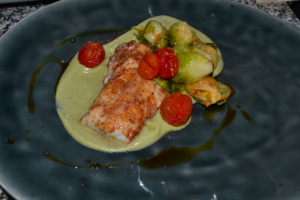 Spice Rubbed Kingklip, Caramelized Brussels Sprouts, Spicy Artichoke Sauce – Broiled kingclip (fish) rubbed with a blend of salt, pepper, cumin, coriander, ginger, smoked paprika, chili; puree of steamed artichoke hearts, green rocoto chilies, olive oil, and lime juice; brussels sprouts caramelized in mustard and tomato paste; roasted cherry tomatoes; reduced Cynar (artichoke liqueur) syrup.
Abadejo Rociado con Especias, Repollitos Acaramelizados; Salsa Picante de Alcachofas – Abadejo asado, rociado con una mezcla de sal, pimienta, cómino, coriandro, jengibre, pimenton ahumado, ají; puré de corazones de alcachofa al vapór, rocotos verdes, aceite de oliva, y jugo de lima; repollitos acaramelizados en mostaza y pasta de tomate; cherys asados; jarabe reducido de Cynar (licór de alcachofa).
Bodega La Rural "Cepa Tradicional Reserva Privada" 2013, Mendoza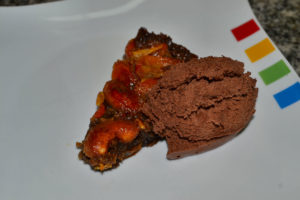 Kumquat & Cashew Tart, Bitter Chocolate Mousse – Chocolate cookie crust; kumquats and cashews in caramel; mousse of bitter chocolate, cream, egg white, Hesperidina (sour orange liqueur).
Tarta de Quinotos y Cajues, Mousse de Chocolate Amargo – masa de galletas de chocolate; quinotos y castañas de cajú en caramelo; mousse de chocolate amargo, crema de leche, clara de huevo, Hesperidina (licor de naranja agría).
Amalaya Dulce Blanco de Corte 2016, Valle de Calchaquí