Why shouldn't Chinatown get into the whole craft beer craze?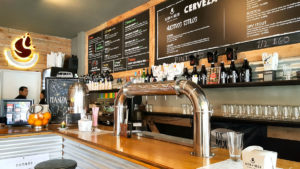 Wok N' Beer, Juramento 1634, Barrio Chino (Belgrano) – Who doesn't know that good beer goes with Chinese food? This spot's capitalizing on the idea, offering up a quint of beers from La Mula, a craft brewery located in San Andrés, just north of the city. To accompany the beer, a selection of stir-fries ("woks") and baos, the ever more popular Taiwanese street food of folded over steamed buns with creative fillings.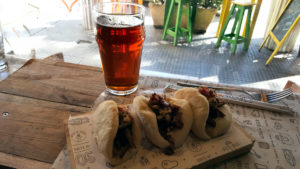 Now, for 100 pesos (80 for the vegetarian ones), you're supposed to get just two baos, but it appeared that the buns weren't ready yet (they seem to be baked in a steam oven, rather than just simply steamed, as they have a slightly tanned crust on them – just enough to be noticeable, but it gives them a different texture and flavor. Anyway, the chef apparently felt that I'd waited too long (it was really only about 15 minutes, but I guess for what's supposed to be a quick street food snack, that is a bit much), and brought three out – pork and sweet potato with sweet chili sauce, cucumbers, a mayonnaise made with toasted corn, and chopped Japanese peanuts.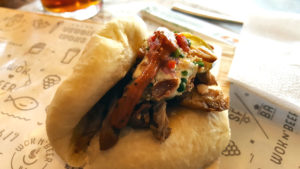 It verged on a little sweet for me, with the double whammy of sweet potato and sweet chili, but a moderately spicy hot sauce available on request fixed that right up. Delicious!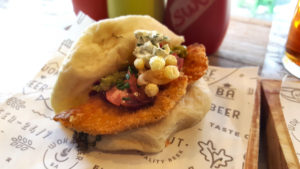 Apparently still feeling bad about the wait, as I edged towards the end of my trio of pork bao, he showed up with a chicken one to try – crispy fried chicken, chinese cabbage sauerkraut, beet and ginger mayo, and radishes. Not listed, but there's also a little quickly fried fresh corn in their. Also quite good – this one worked better with the teriyaki sauce which was also on offer.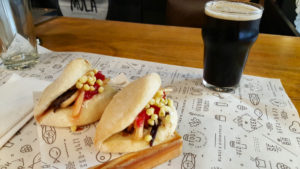 A second visit and a try of the beef bao, with cilantro cream cheese, salsa criolla, and popped quinua. Of the three (and I haven't tried the fried eggplant ones), my least favorite.
Like the place, friendly and attentive service. Good food, good beer, and something a little different in Chinatown!
---
Week #2 of my new lunch outings group, and this time I picked a Korean spot in Floresta that's been on the list for awhile.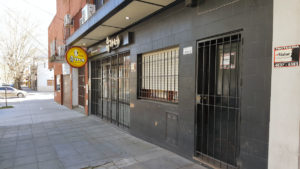 Yugane, Paéz 3063, Floresta – Literally meaning "In Yu's house", this is apparently one of the older Korean BBQ restaurants in town. It's a little fancier than the other places we've been, and, a little pricier (at 380 pesos/person plus beverages). At the same time, the service is better, and much more attentive than any of the other spots we've been (setting aside the occasional flirtatious waiter). Although they were never full, they got close to it, and they'd advised me when I contacted them that they don't take walk-in diners, it's reservation only.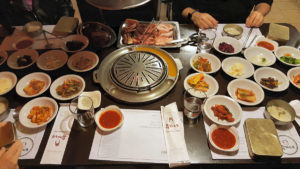 It looks like a whole lot more in the way of ban chan than other spots, but we had a group of five, and they brought two of everything, so it's about the same. High quality, no doubt. Fewer sort of "side dishes" – there were some scallion pancakes, some zucchini jeon (battered and fried), and a soup, and that was about it.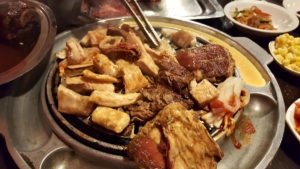 More variety in the meat selection for the grill, with shortribs, hanger steak, pork belly, some gopchang (stir-fried small intestines – something I've not seen anywhere else here on a Korean barbecue), and calamari tentacles. There was also an odd sort of egg mixture in one of the little troughs where the cooking grease runs off, and we were told to mix in the raw, frozen corn off to the side there, and let it cook by virtue of the hot grease dripping into it. Kind of comes out like a weird sweet corn pudding that I don't want to eat again.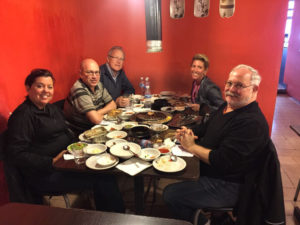 In the aftermath, the group!
Overall, nice space, friendly  and attentive service, and good food. It doesn't supplant my top three for Korean BBQ, but it is good, and might be the only daytime Korean BBQ spot over in the Floresta Koreatown.
---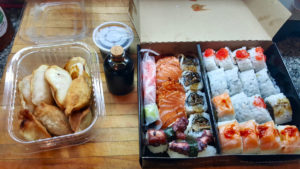 Sushi Best, Segui 3545, Palermo – a new spot, and decided to try a delivery order. Meh. Greasy dumplings – a quartet each of salmon and pork ones, neither particularly well seasoned. The sushi, fresh, but I purposely selected five half rolls that didn't list cream cheese as an ingredient, and four of them came with cream cheese, and while the fish was fresh, the flavors were all kind of dull. A couple of pieces of octopus sushi – first time I've ever seen whole sections of tentacles atop the rice rather than thin, tender slices. These were rubbery and flavorless. Pricey. Had there not been a 30% discount via the online ordering system, this would have run around 800 pesos. Again, meh.
I think, other than the three or four places I've found over the years that actually produce good sushi, I'm giving up on trying – it's too expensive to constantly be this disappointed.
---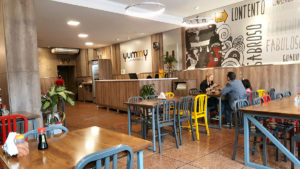 Yummy Fast Asian Food, Montañeses 2122, Belgrano (Barrio Chino) – The lunch counter in the Asia Oriental supermarket is no more, and the family that ran it has opened up a brand spanking new restaurant around the corner and down towards Juramento. A vastly expanded menu from the lunch counter, pretty much a full, typical restaurant menu, with the usual suspects on it.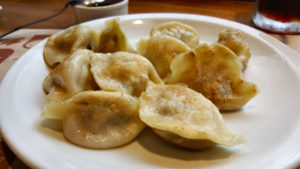 Potstickers – Good, properly cooked. The filling could be a bit more abundant. The menu says it's a portion of four dumplings, but there are actually ten, which is a good thing, since they're charging 100 pesos for the plate. Excellent hot chili oil available on request.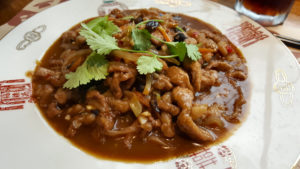 Pork Yu Xiang – A less than successful version of this dish. "No pica nada" as they say here – not remotely spicy, no hint of it, despite being listed as spicy, and me asking for it to be extra so. The hot chili oil helped, but it's not the same as having it cooked into the dish. In fact, this was leaning towards sweet, and most of the pork was really fatty, there were entire strips of nothing but fat. At 230 pesos pretty disappointing.
So hmmm, the space is big, bright, and cafeteria-esque. The food, based on two dishes, is okay, perhaps a tad pricey in comparison to places just a block away on the main strip, but not by much, maybe 10-15% more, but then, everyone's raising prices these days, nearly monthly, so a return visit to another spot along Arribeños and I might find the same increases. But, there are better spots, and this one is kind of out of sight, given it's location.