The dish is believed to be named after Ding Baozhen (1820–1886), a late Qing Dynasty official and governor of Sichuan Province. His title was Gongbao, literally: "Palace Guardian". The name "Kung Pao" is derived from this title. During the Cultural Revolution, the dish's name became politically incorrect because of its association with the imperial system. The dish was renamed "Fast-fried chicken cubes" (Hongbao Jiding) or "chicken cubes with seared chilies" (Hula Jiding) by Maoist radicals until its political rehabilitation in the 1980s under Deng Xiaoping's reforms. – paraphrased from Wikipedia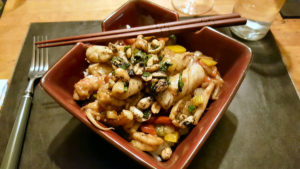 So, as promised, a step-by-step through making my version of Kung Pao Calamari & Prawns….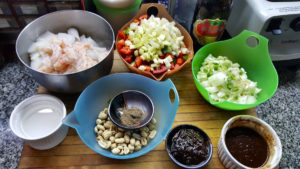 Back row: (left bowl) Six squid "tubes" (cleaned and skinned), scored in a diamond pattern on the inside surface, and cut into eight pieces each, the tentacles from each, also cleaned, and cut into bit sized pieces, and a pound of prawns, shelled and deveined; (middle bowl) one each red, green, and yellow bell peppers, diced, plus three celery stalks diced; (right) one white onion, diced, and the lower (white) parts of a couple of green onions, chopped, 2 cloves of garlic finely chopped and an equal amount of ginger, also finely chopped or grated; bottle of cooking wine at the back – we use a Fujian cooking wine, but any good Chinese cooking wine or even dry sherry is fine.
Front row, left to right: a heaping tablespoon of cornstarch dissolved in water; a half cup of raw peanuts, the green parts of the green onions, chopped, 1/4 tsp salt, and 1/2 tsp ground szechuan peppercorn; hot bean paste (or any other hot chili paste, like a sambal, I just happen to like this one); hoisin sauce (my version, whisk together: 4 Tb soy sauce, 2 Tb smooth peanut butter, 1 Tb brown sugar, 2 tsp rice vinegar, 1 grated clove of garlic, 2 tsp sesame soy sauce, 1 tsp hot sauce (I used sriracha), 1/8 tsp black pepper).
Not shown: peanut oil for cooking; and a 1/4 cup (60ml) of soy sauce with 1/8 tsp of ground white pepper in it.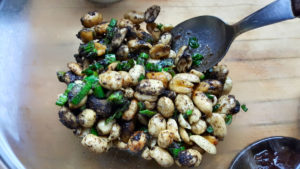 In a small frying pan, put a tablespoon or two of peanut oil and heat until smoking hot. Toss in the peanuts and green onion tops and saute quickly until golden. Remove from heat and toss with the salt and ground szechuan peppercorns. Set aside.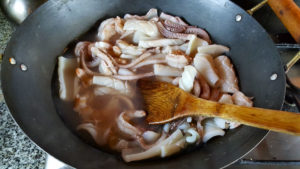 This works best in a wok that you can get fiery hot over a high flame, but you can do it in another type of deep saute pan as well. Heat up enough well salted water to contain all the shellfish and get it up to a rolling boil. Put the shellfish in, move it around, the calamari should curl up and expose the diamond pattern and the prawns should turn pink. Drain them, run them under cold water to stop the cooking. Set aside. You can do this in advance if you want.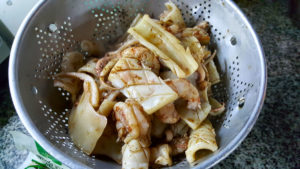 This all goes pretty fast at this point. Return the wok to the fire, get it really hot, pour in the soy sauce and white pepper mix, let it start to bubble, and then quickly toss the seafood into it, making sure all the pieces get well coated. Remove and set aside.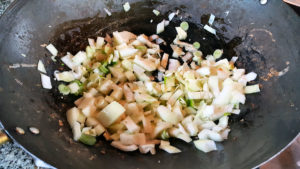 Return the wok to the flame again, add a couple of tablespoons of peanut oil and heat until it's just starting to smoke. Add the onion mixture and saute for about two minutes, until softened.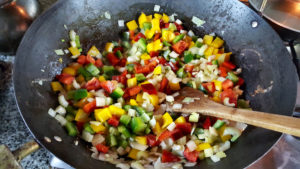 Add the bell peppers and celery and saute for another two minutes.
Add the wine, hot bean paste, and hoisin sauce and cook for 30 seconds.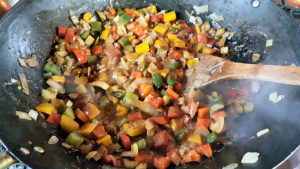 Add the cornstarch slurry and toss until thickened and well coated, another 15 seconds.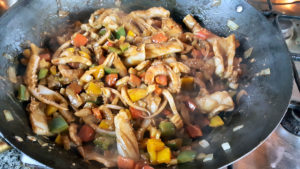 Return the shellfish to the wok and toss to combine well and just reheat through, maybe 30 seconds.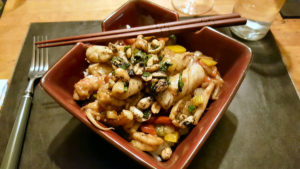 And, back to the finished dish, served over white rice. We serve the peanuts separately and let people add them as they like over the top. It's not traditional, but it's pretty, and some people like more nuts than others.