Time for the monthly round-up of home eats in between the Casa S dinners and eating out….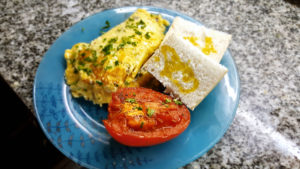 Mushroom omelette – it's been years since I cooked a classic French omelette, and no question, I'm out of practice. Still, it turned out not half bad in form, and perfect in taste, with mixed mushrooms on the inside and a sprinkle of chives atop. Grilled tomato and a baguette with olive oil. Brunch!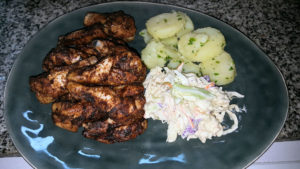 Spicy wings – just a mix of a bunch of spices, quick sauteed wings, some freshly made coleslaw, and parsley & butter potatoes.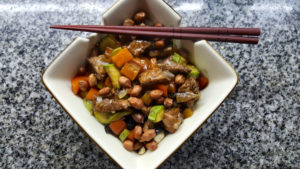 Kung Pao Pork – even better when it's homemade than when we order out – extra spicy!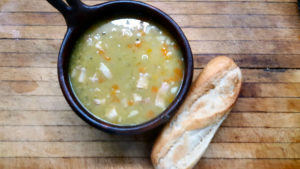 Split Pea Soup – as classic as it gets, and warming on a couple of cold winter days.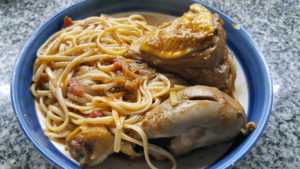 Classic Peruvian "Pollo con Tallarines Rojos", or chicken stewed in a red sauce and tossed with linguini.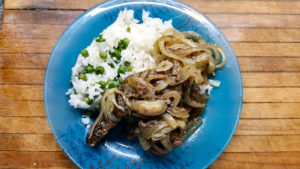 Calves' liver and onions, about as classic as I could make them, served up with rice and peas.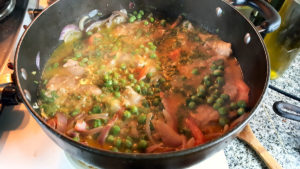 Another Peruvian classic, a big pot of Sudado de Corvina – sea bass poached in a spicy broth with peas, tomatoes, and red onions.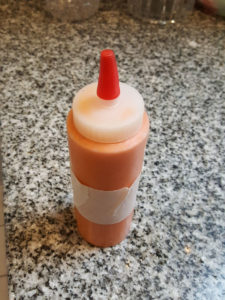 Homemade Sriracha sauce – wow does that have a kick! Followed the linked recipe, just using two local chilies, red rocotos and ají limos.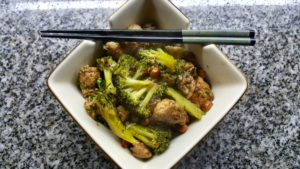 Szechuan peppercorn pork, broccoli & cauliflower – sauteed with garlic, ginger, dried chilies, green onions, and szechuan peppercorns.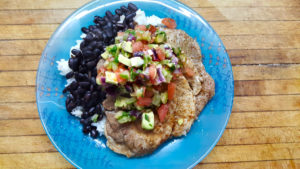 Spice rubbed (cumin, coriander, pepper, smoked chili, salt) pork tenderloin scallops with black beans, rice, and salsa (avocado, tomato, tomatillo, red onion, cilantro)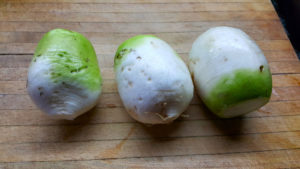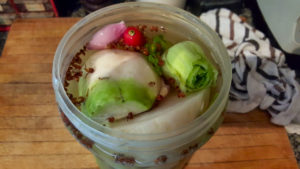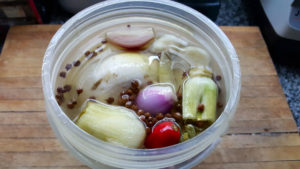 Homemade dongchimi, a type of kimchi made out of smaller daikons (asian radish), our version with a little bok choy, garlic, shallots, chili, szechuan peppercorns, and salt and fermented for a week before use.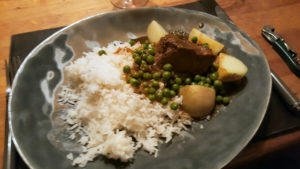 Adobo de Chancho – slow braised pork in beer, spices, herbs, and chilies. We really do eat a fair amount of pork around here, or at least those are the more interesting dishes. Henry's favorite, and I acquiesce….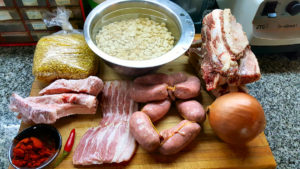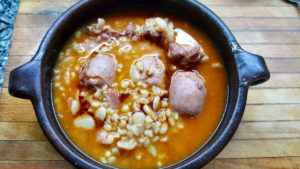 Locro de Trigo – I realize that end of winter is a silly time to start exploring the world of various locros (there are dozens of them from around South America, I'd not realized how many different types there are). But, what the heck. Locro is a name derived from the Quechua "ruqru" or "luqru", which originally was a traditional stew centered around the papa chola, a particular type of potato with bright yellow flesh and a pinkish skin, but over time has come to refer to a wide variety of stews based on potato or corn or wheat or beans.
This particular version is a wheat grain base, with white butter beans, smoked paprika, chili, onion, and a variety of meats – the particular recipe I followed used pork bones, bacon, chorizos, and skirt steak. The onions and bacon, following the recipe I had, were browned before adding into the pot, the rest just went straight in. I think if I did this one again, I'd brown all the meats and bones, just to add a little more intensity to the flavor. We added chili oil to taste at the table. I didn't take step by step photos, so there are just these two, but literally, it was just what I said – brown the onions and bacon, throw them in a pot with the other ingredients (the beans soaked overnight in water), brought it to a boil, turned the heat down low and simmered for about 1½-2 hours until the beans were done and the meat tender.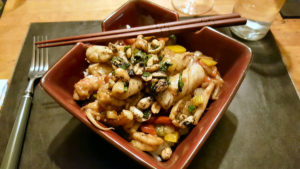 Kung Pao Calamari & Prawns – We do love kung pao here, it's pretty much the only Chinese dish Henry orders when we get take-out, and after the big pot of the pork version we made at the beginning of the month, one night when he had some friends coming over who particularly like seafood, he asked if I'd make a version with shellfish. It's rare that I even see such a dish, though it certainly exists – we've had it at Central restaurant here, and I've seen it now and again back in NYC. So I made a version with calamari and prawns. The photo of it has proved to be one of my more popular ones on my Instagram feed, and, luckily, I took step by step pictures… so within the next couple of days, I'll write-up a post with a how-to!