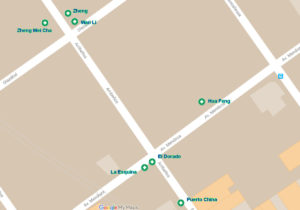 A mere couple of years ago, these places didn't exist. Along with the rise of quick and easy snacks, and a fascination for street food, the Chinese brochette stand has become a rapidly expanding fixture in Barrio Chino. It's a lot of fried food, supplemented by other stuff. It's quick. It ought to be cheap, but isn't really, though may feel like it in comparison to regular Chinese restaurants in the area, until you start to consider things like all the perks of sitting at a table, waiter service, choice of dishes, etc. I decided to basically give each place two shots to impress – I'd pick one item, generally something dumpling-ish, not surprisingly, and let them pick the other. Away we go. These are in the order they were tried, but I've noted my "ranking" of them before each name.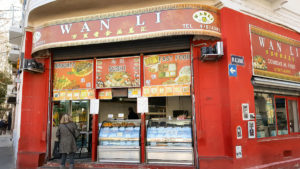 (3) Wan Li, Olazabal 1699 corner of Arribeños – easily the biggest of the various places, and with quite the display of items, ranging from the various fried brochettes, to steamed buns, to sushi rolls, and more. I'm sure there's some more exacting translation of the string of seven Chinese characters (only two of which form "wan li"), but my best interpretation of the way Google translates the various combinations of characters comes down to "Look around at all the food!". A couple of benches in front of the place to have a seat while you munch.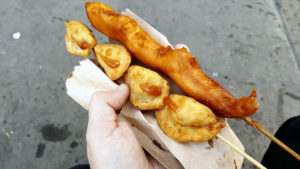 I picked the fried wontons – crispy, crunchy, with a simple pork and vegetable filling (40 pesos). Reasonably tasty, and not at all greasy. The counterman picked the battered and deep-fried prawns (55 pesos). A bit too much batter in relation to the prawn, and basically unseasoned. A trio of sauces available to add to your brochettes – sweet and sour, soy, and chili oil.
---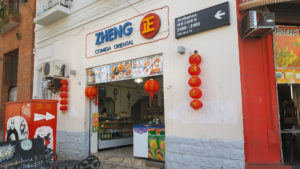 (1) Zheng, Arribeños 2305, literally next door to Wan Li. Small space, festooned with decorations. A small selection of fried brochettes, a few steamed and baked items, and a short menu of rice and noodle dishes. Three small tables in front of the place, with chairs, to sit and eat.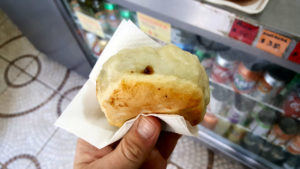 I walked in the door, and "mama" looked me over, looked at the bag of Chinese ingredients I was carrying, and said, "Here, you try this." And she handed me a piping hot baked bun filled with lightly sweetened barbecue pork, cabbage, and spices – excellent! 25 pesos.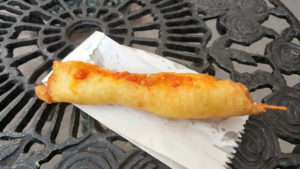 As they didn't have dumplings on display, apparently the bun above being the closest they get, and given that she'd already won my tastebuds over, I let her pick the second one too. She, also, went for the prawn skewer. This one, however, with a light, delicate batter, and the prawns were well seasoned with something that was kind of smoky in flavor – absolutely delicious! 50 pesos.
---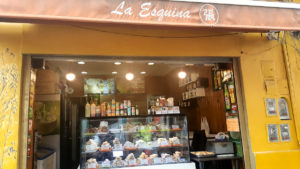 (7) La Esquina, Mendoza 1708, just off the corner of Arribeños – a little stand, a decent selection. Interestingly, given that the above shop is named Zheng, the Chinese character here is Zhang, and means, basically, "opening a new shop". It does not mean "la esquina" or "the corner" as best I can tell.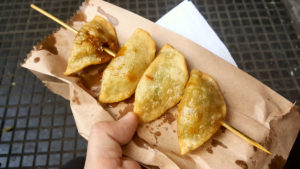 Dumplings Fritos, or fried dumplings (there are actually five, one was still in the bag that I found after). Tiny dumplings. Just absolutely dripping with oil, and ice cold in the middle. The filling little more than a few bits of ground pork. Basically inedible. 50 pesos.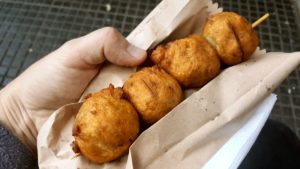 Counter guy hadn't tried the majority of offerings because, it turns out, he's vegetarian. I told him to pick his favorite from those, and he said his every morning breakfast were these fried sweet potato balls. They were fine, just kind of boring – literally just round balls of sweet potato (pared down, not a puree or seasoned or anything), dipped in batter and fried. A little hot sauce made them a touch better, but I wouldn't bother again. 35 pesos.
---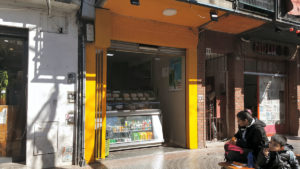 (5) Puerto China, Arribeños 2164, next to Lai-Lai. I think this might be the smallest of all of them, and I think also, with the smallest selection of items (at least of the stand-alone places – both Panda and Pato Barrio Chino have little kiosks at the front of their restaurants that offer just a few selections in addition to their regular menus).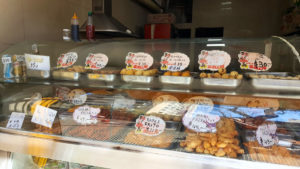 Only about a dozen items are available….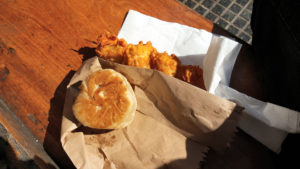 While no actual dumplings, the woman behind the counter was offering up empanadas de cerdo (30 pesos, a little pricey for a single bun) – pork and cabbage stuffed buns, so I picked that as my go to. Her choice for favorite skewer was the chicken. The bun, fairly good, with a juicy, well seasoned filling and a thin, delicate wrapper. It was a little soggy from being microwaved to heat it up , and started to fall apart, but, tasty. The chicken on the other hand – solid chunks of white meat, but so over-cooked they were chalky and dry (45 pesos). Only sauces available were soy and sweet-sour. This one's a pass for me.
---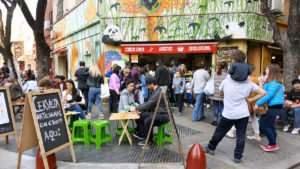 (4) El Dorado, Mendoza 1702, corner of Arribeños. This one gets the crowds, likely for two reasons – it's a corner space in the very center of Barrio Chino, and, they're offering up "artesanal beer" – the only place of all the brochette stands offering anything but soft drinks. They also have setup more seating than just the couple of small benches that the other spots all have, including a few tables (Zheng, above, is the only other one with tables).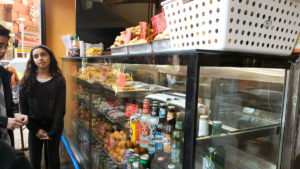 Now, it's not really "artesanal beer" – it's a couple of commercial brands – Quilmes, Isenbeck, Heineken, and Tsingtao, and then bordering into the craft market with a trio from Otro Mundo. Still, as I said, something more than soft drinks.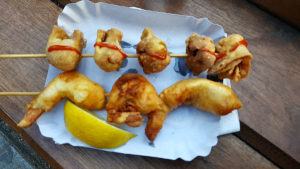 I picked the crispy wontons for my choice, and though lacking a bit in filling (as wontons are wont to be), they were satisfyingly crunchy, and the option of sriracha sauce to drizzle over the top was a nice touch (30 pesos). Same with the lemon wedges to accompany the lovely battered and fried prawns. Quite good, and at 45 pesos, a decent deal.
---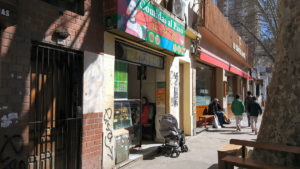 (6) Zheng Wei Cha, Arribeños 2320 – The sign, in Spanish, just says Comidas al Paso, food in passing (more or less), but the Chinese characters translate to "Positive Results". Probably the least friendly of the places, the guy behind the counter seemed disinterested in anything but chatting with the young woman with her baby who were visiting. He's also the only one of all the counter people who refused to pick a personal favorite.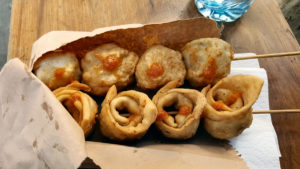 And, the results were also less than positive. The crispy wontons were more oily than crispy and lacking in flavor (30 pesos). And, the fried chicken skewer was, well, I'm not even sure. It may have actually been chicken, it seemed to have been only dipped in hot oil rather than fried, it certainly wasn't crisp (45 pesos). The only saving grace, an absolutely killer housemade fresh chili hot sauce on offer. Still, not one I'd likely go back to.
---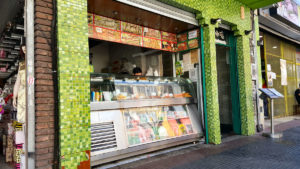 (2) Hua Feng, Mendoza 1669, nestled into the space below Puerto Bambú restaurant. It doesn't actually have any indication of the name anywhere, so I went with the name on the food license, which is, presumably, the owner's name. It may actually just be the kiosk part of the restaurant above. Easily the most friendly service of all the spots, the guy behind the counter actually took time to correct and help me practice my Mandarin for "Your favorite?" which I've been using as necessary to get my second skewer pick ("nee de zhu wai" more or less).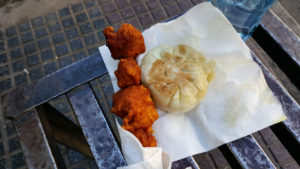 Also, pretty good selections. First, I mostly liked the baked pork bun. The filling was fantastic, the only issue, the dough a little thick on top, resulting in a sort of chewy mass on top, that I ended up peeling off and setting aside. The winning one, however, was the chicken skewer. Now, here, a different approach – there are no sauces out on the counter. Instead, when you order a skewer, he fries it up, and then offers to dip it in a bath of your choice of soy, sweet-sour, or hot sauce. I, of course went with the last of those, and not only did it have a nice kick, but there's something sort of special about the whole thing being bathed in it. Interestingly, no prices noted on any of the items, but given the 75 peso total charge, I'd venture to guess 25 and 50 pesos, respectively, maybe 30 and 45.