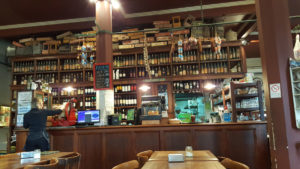 Celta Bar, Sarmiento 1702, San Nicolas  – another of the bar/restaurants that falls both within the city's official Bares Notables listing, but is also a member of the Los Notables restaurant group (that includes Bar de Cao and Bar El Federal, Cafe Margot, and a couple of others). As part of the latter, it has much the same decor, and a virtually identical menu to the others, something I've noted in the past. This one has a slightly more modern air, or maybe it's just that it's a bit better kept up, less dusty feeling, and the tables are relatively new.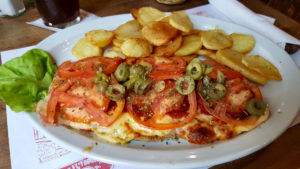 Milanesa Oil Oil – this particular spot came to note during the city's recent "best milanesa" voting competition. It wasn't a well organized thing, it by no means was comprehensive when it came to the search, given that it was an entirely self-selected list of places that wanted to participate and be voted on. Still, thought it would be fun to give some of them a try. Celta offers up a half dozen or so beef milanesas and the same number of chicken ones. I went with the oddly named "Oil Oil" – no idea why. I've got to ask questions like that when I'm in these places. 182 pesos.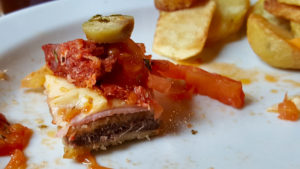 Let's zoom in for the close-up…. So it's a lightly breaded, and properly cooked thin layer of steak, topped with sliced ham, melted cheese, cantimpalo sausage, fresh tomato slices, and olives. It was really good. Only disappointment, I'd asked if there was a possibility to get something instead of the potatoes (which are delicious, but I'm trying to cut back on starchy stuff), and was told no, it comes the way it comes. Come on, a little lettuce and tomato salad on the side wouldn't have killed you, plus, it's sort of standard practice in places here to offer a salad as an option to potatoes. Like the other spots in this group, they offer a trio of beers that have been brewed specially for them, along with a small selection of others by the bottle, plus wine and a full bar.
---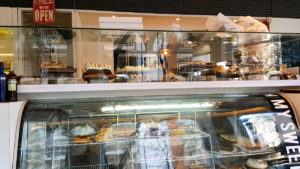 Schuster Catering, Amenabar 3099, Nuñez – there are at least two, maybe three, Schuster spots in Nuñez, all within a few blocks of each other. I assume they're all connected in one way or another. One of them, on Av. Cramer, is specifically Schuster Kosher, and is a kosher deli. This one's not kosher, it's more of a casual cafe and gourmet market. There's a nice dining room to one side, and a few tables in the market area itself, which is where I decided to plop down for a coffee and something sweet.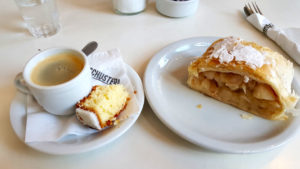 Excellent apple strudel, really, an excellent one. Light and flaky, not to sweet, the filling almost totally apple, not overladen with other flavors. Decent coffee. Friendly service. The two together, a mere 90 pesos. The prices on the gourmet market items felt a little high to me, as I was looking at maybe picking up a couple of things to take home, but then, a lot of what they offer is imported.
---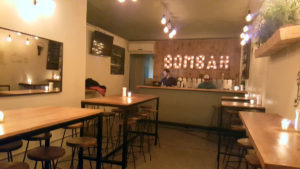 Bombar, Azcuénaga 1222, Recoleta – yet another of the new craft beer bars that have sprung up left and right in all parts of the city. This one a small spot, maybe space for about 30 people. Weird lighting – very yellow-orange.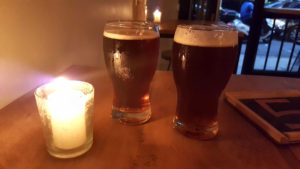 A dozen taps, offering beers from three breweries: Quinta, Bulgaria, and Dos Escudos. Big plus, all beers available in both pint (80 pesos) and half pint (60 pesos), and, for a change from many other spots that offer the latter, half-pints are included in happy hour pricing (respectively 60 and 40 pesos). Friendly service.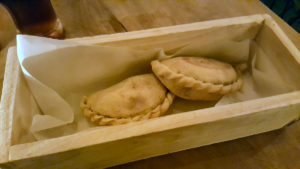 Basic menu – pizzas, empanadas, nachos. Empanadas a little bland, the filling little more than ground beef and hard boiled egg with a hint of salt.
---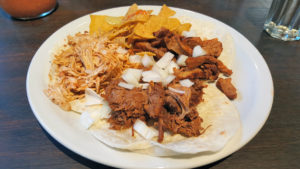 Che Taco Taqueria & Cantina, Estados Unidos 501, San Telmo – a relatively recent spinoff from Che Taco over on Balcarce in the same 'hood, this place seems to focus on being a bar, with tacos, burritos, and a few other foodstuffs available to snack on. Now, I haven't been back to Che in a couple of years, but they've had really quite good tacos and other fare on my few visit. This place, not so much. Wan tortillas that had barely kissed the griddle to warm, dried out fillings, little in the way of seasonings, and the two hot sauces on offer barely topping the level of a decent cocktail sauce in heat. Tried a mixed trio of chicken, beef, and pork (pastor) (145 pesos), none of them were ones I'd want to have again. Perhaps the original location is worth a revisit to see if things have changed their. Even service here wasn't the friendly, helpful style that the original location offered on the times I went – just kind of distracted and disinterested.
---
So, I've launched a new little venture, intended to more or less be weekly, where I pick a place, somewhere in or around the city, somewhere where I might not ordinarily venture to solo, but somewhere I want to try for one reason or another, and post an invite on my Facebook feed for local friends to join. I'm planning to mix up the day, the location, the cuisine, etc., etc., and hopefully turn it into a regular social outing. Sometimes I get tired of eating solo, or, and with no offense to the three or four friends who are regulars, eating only in duo with just one of them. Expanding my social circle, and bringing friends together!  I've had several suggestions for how to get the word out to those who are truly interested in showing up reasonably regularly, and I'm working on a good way to do it.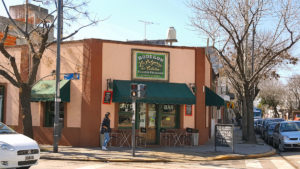 La Pulperia del Cotorro, Pepiri 400, Parque Patricios – This week I offered up the first spot, an old school feeling bodegón (what in other countries would be called a cantina, or neighborhood bar and casual eatery) as it's really not, as the name suggests, a pulperia (something like a general store where you can also grab a drink or a snack) that's known for being a bit quirky and offering some offbeat twists on classic local dishes.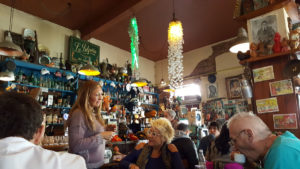 I'd venture to say that the majority of folk at lunchtime (actually, they're only open for lunch except Friday and Saturday dinners, and closed Sundays) are regulars. Both the owner and the waitress seemed to know almost everyone in the room at least by sight.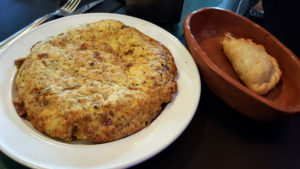 Four people had confirmed attending, and a fifth let me know just shortly before that he could make it. Then two of them cancelled while I was enroute, and another didn't show. Such is life of trying to get busy people together to eat. So the three of us started off sharing a tortilla de papas española with a little chorizo added to it, and tried one of the much touted empanalgas – presumably a combo of empanada and nalga, the latter being a rump steak. The tortilla was good, though cooked a bit firmer than in general we like, and it could have used a touch more seasoning. The empanada, unusual for Buenos Aires, was fried, and had a decent filling of beef, egg, green onion, and peppers. It, too, could have used a little more seasoning. Respectively, 135 and 25 pesos.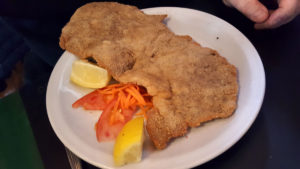 Cotorro is particularly hyped for its milanesas. Of our trio, one decided to go as bare bones as they get – a plain, nekkid milanesa, nothing but breaded meat and some lemon wedges. Now, I've had better, I've had worse. My general feeling was that the meat is pounded too thin, to the point where it ends up a tad over-cooked by the time the breading crisps, and also at that thinness, the meat almost gets lost in comparison to the breading. All of us went for side salads instead of fries (not in the pix). 120 pesos.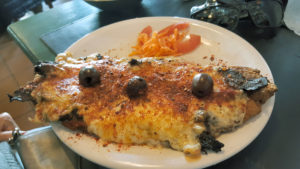 Cotorro himself recommended two of his specialties, this, the endemoniada, sort of loosely translated as "demonized". It's topped with tomato sauce, mozzarella, and what he calls cordera voladora, which, according to the menu, is thinly filleted beef that's been cooked with herbs, soy sauce, and mushrooms. So basically, you've got a second steak on top of the breaded one. I'd say, that in the middle of it, where it was all a bit thicker, it was pretty interesting, but towards the ends, a bit dry. 160 pesos.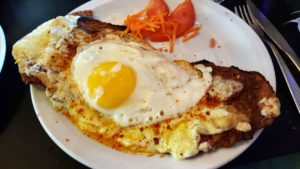 And the other, the nuclear, which was ostensibly smothered in hot sauce (it had a faint blush of something brushed over it that may have had a hint of picante to it), then topped with sliced longaniza sausages, which are a mildly spicy sausage, mozzarella and a fried egg. Again, a bit overdone at the ends, better in the middle, and not particularly spicy. 160 pesos.
So hmm, the round-up for round-one of this adventure. I like the space, it just has a kind of cool vibe to it – classic but quirky. Service at the height of lunch hour is a bit iffy – the only people attending to the room are Cotorro himself, and a young waitress whose job seemed mostly to be to bring the food rather than interact with customers. If you're in a hurry, this ain't the place, or at least not until probably after about 2:00/2:30. The food? As I said, I've had better, I've had worse. Mostly, I think I found everything a bit under-seasoned and a trifle over-cooked. If I found myself nearby, I'd probably stop in again, but I doubt I'd make the trip out there (albeit really easy, given that it's within two blocks of the other end of the H subway train, and only took me 15-20 minutes to get there) just for it.