August 9-12 – 2017 – 9-12 de Agosto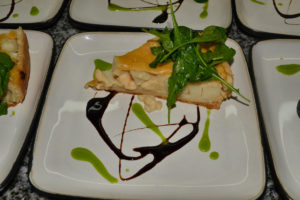 Palm Heart Tart – sour cream crust; filling of palm hearts and bechamel sauce flavored with ancho chili and sheep's milk manchego cheese; chive-arugula oil; reduced balsamic vinegar; arugula.
Tarta de Palmitos – masa de crema ágria; relleno con palmitos y salsa blanca saborizada con ají ancho y queso mancheo de oveja; aceite de ciboulette-rúcula; vinagre balsámico reducido; rúcula.
El Esteco "Don David" Extra Brut, Cafayate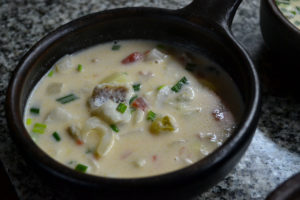 Pollack Chowder – Fish stock and cream; onions, garlic, jalapeños, bacon, potatoes, tomatoes, green onions, pollack, smoked salt and white pepper.
Caldillo de Abadejo – Caldo de pescado y crema de leche; cebollas, ajo, jalapeños, panceta, papas, tomates, verdeos, abadejo, sal ahumado y pimienta blanca.
Catena Zapata "Nicasia Vineyards" Blanc de Blancs 2015, Mendoza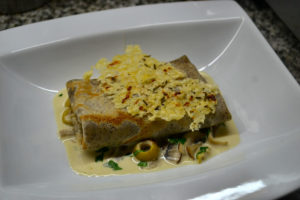 Cheese Crepe, Mushroom & Green Olive Sauce – Buckwheat crepe filled with homemade ricotta and smoked mozzarella; cream sauce with button mushrooms, portobellos, oyster mushrooms, green olives, parsley, garlic, and peperoncino (dried chilies); Romano cheese crisp with lemon zest and rosemary.
Panqueque de Queso, Salsa de Hongos y Aceitunas Verdes – Panqueque de trigo saraceno relleno con ricota casera y mozarela ahumada; salsa crema con champiñones, portobelos, gírgolas, aceitunas verdes, perejíl, ajo, y peperoncino (ajíes secos); crocante de queso Romano con ralladura de limón y romero.
Familia Bressia "Sylvestra" Pinot Noir Rosé 2015, Mendoza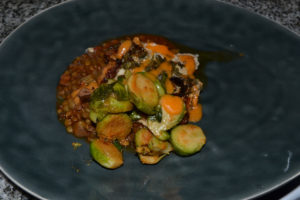 Milk-Braised Pork Flank, Lentils & Caramelized Brussels Sprouts – Pork flank cooked in low heat for five hours in milk, garlic, yellow chilies, mixed herbs, cumin, mustard seed; lentils cooked with aromatic vegetables and bacon; brussels sprouts caramelized in sweet wine, smoked mustard, and tomato paste; emulsified sauce vierge.
Matambrito Braseado en Leche, Lentejas y Repollitos Acaramelizados – Matambrito cocido en horno lento durante cinco horas con leche, ajo, aji mirasol, hierbas mixtas, cómino, semillas de mostaza; lentejas cocido con verduras aromaticas y panceta; repollitos acaramelizados en vino dulce, mostaza ahumada, y pasta de tomate; salsa vierge emulsificada.
La Celia "Pioneer" Cabernet Franc 2014, Valle de Uco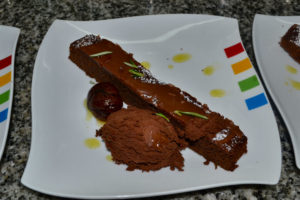 Chestnut & Cocoa Torte, Chocolate Mousse – Flourless torte of chestnut puree, eggs, almond flour, cocoa, rosemary; dusted with icing sugar and drizzled with chocolate glaze; mousse of dark chocolate, cream, green lemon infused olive oil; chestnuts in syrup; rosemary; green lemon infused olive oil.
Torta de Castañas y Cacao, Mousse de Chocolate – Torta sin harina de puré de castañas, huevos, harina de almendras, cacao, romero; espolvoreado con azucar impalpable y rociado con glacé de chocolate; mousse de chocolate amargo, crema de leche, aceite de oliva infusado con limones verdes; castañas en almibár; romero; aceite de oliva infusado con limones verdes.
Familia Zuccardi "Malamado" Malbec, Maipú