A mashup of the last month's kitchen and outdoor play.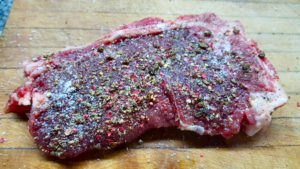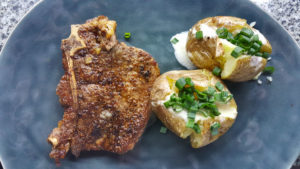 Steak au poivre – a simple thin cut lunch steak seasoned generously with crushed black, white, green, pink peppercorns and allspice, and salt. Pan seared in anchovy butter. Accompanied by baked potatoes topped with horseradish creme fraiche and scallions. So good, and pretty, that a local friend inveigled me to do a repeat, he brought the steaks, I did the cooking, another friend came and brought the wine.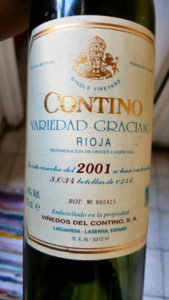 Now that was a lunch!
---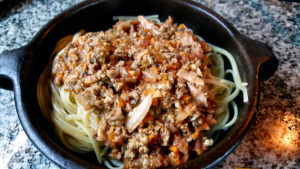 Spaghetti bolognesa – sometimes we just want simple, and I do love my pastas. So, a solid bolognesa sauce over spaghetti – bacon, ground beef, onions, garlic, carrots, celery, mushrooms, chili, tomatoes, spices, wine, milk. Comfort food!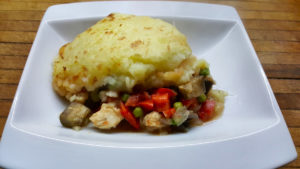 Our take on a sort of pastel de papas, or a pastel norteña, or, more or less, a shepherd's pie, except that being chicken based, no shepherds involved. Chicken, peppers, chilies, onions, garlic, eggplant, zucchini, spices, all stewed together, then topped with horseradish spiked mashed potatoes, broiled.
---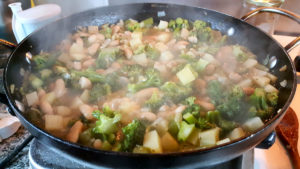 Starting with a saute of onions, garlic, chilies, and green pepper, with a little salt, pepper, thyme, oregano, and cumin. Cooked until soft, then added diced potatoes and chopped broccoli, sauteed a few minutes and added some stock (I had chicken handy, but if you want it all vegetarian, use vegetable stock). Finished off with some pre-cooked white beans and grated white cheddar and pecorino.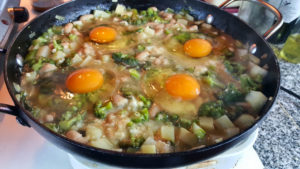 Smoothed out the surface, then pressed some "divots" into it and cracked an egg in each.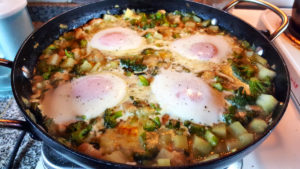 Under the broiler until the eggs just set, then a couple of grinds of sea salt and black pepper, and we have a take-off on a classic Middle Eastern or North African shakshuka!
---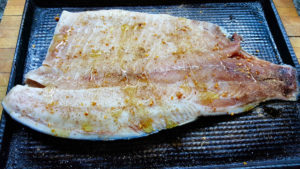 A whole side of pacú, an insectivore piranha from the Rio de la Plata. Brushed with our house grilling spice mixture and some olive oil, then stuck under the broiler.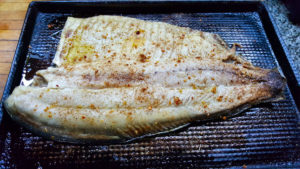 Comes out beautifully, and I could just eat it as is….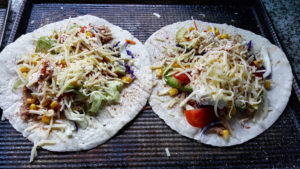 But I was making fish tacos, so some wheat tortillas – the bigger ones for making burritos, topped with mashed red beans, lettuce, tomato, corn, avocado, white and red cabbage, and a mix of grated cheeses. Followed the fish under the broiler.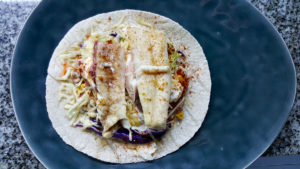 And, topped with a pieces of the broiled pacú and drizzled with chili spiked yogurt. Yum!
---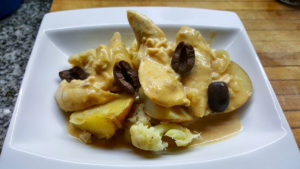 Based on a classic Peruvian ají de gallina, with onion, garlic, and smoked paprika spiked huancaina sauce, served over roasted pink potatoes and steamed cauliflower and garnished with black olives. Trying to lighten the classic dish up a little by leaving out the normal huge mound of rice.
---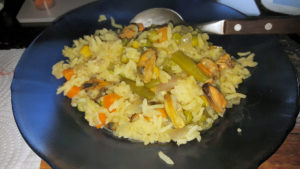 Mussel Paella, or at least a Saffron Rice with Mussels. Basically, rice cooked in shellfish broth with chili, saffron and thyme, and then mixed in a package of frozen mixed vegetables, and a good amount of fresh mussels out of the shell.
---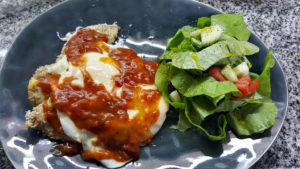 Pork milanesas for brunch one day. Thin slices of pork, dusted in spices, lightly breaded in panko crumbs, then broiled rather than fried, topped with fried eggs, melted cheese, and an arrabiata sauce. Salad on the side. That's our kind of brunch.
---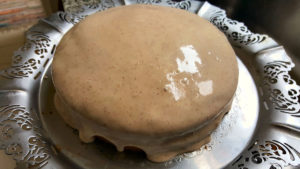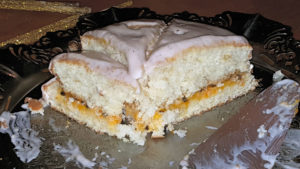 I think Henry does it just to annoy me. A weekend afternoon, his dance group coming over to practice at 2pm, at noon he tells me it's a birthday for one of them and he'd promised that I'd bake a cake for the group. The things we do for our life partners…. I didn't even have time to go to the market, so looked at what was in the house, and then paged the cake section of Joy of Cooking for the rescue for a couple of quick recipes. A yogurt cake in two layers, sandwiching some passionfruit in syrup that we had leftover from the previous night's dinner. And a very fast cream cheese, lemon, and cinnamon frosting when the cake had cooled sufficiently. It was a hit.
---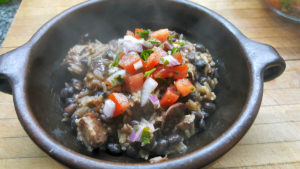 Cazuela de frijoles – based on the black bean stews we've tried in various parts of South America, maybe leaning slightly towards Colombian, but not the same. Black beans spiced with chili, cumin, and ginger, and cooked with onions, garlic, and tomato, and a trio of pork – bacon, fuet de Tandil (a smoked sausage from here in Buenos Aires province), and pork breast. Rather than cooking the rice separately, I threw it right into the stew. Topped with a salsa criolla.