Continuing on in my new return to some of the cultural stuff going on here in BA….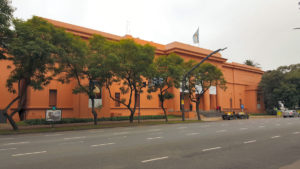 One of the things I really like about BA is the huge number of museums here, and more so, that most of them are free or close to it to enter. Just a few blocks from home is the national fine arts museum, the Museo Nacional de Bellas Artes. Strangely, despite the fact that I go there relatively regularly and just wander the halls or check out the latest special exhibit, I've never written it up. The most I ever did was post a picture of the facade way back when I first came to live here.
So, just in the last month I spent an hour or so going through a special exhibition of the works of Xul Solar, a painter whose old studio/house is now a museum of just his works, and another one that bizarrely, I've never written up. And then this weekend, a couple of hours just wandering through to see a couple of special exhibits, and also picking out some works from the regular collection that particularly caught my eye. Now, most of the museum's permanent collection is European art – much of it sold to the museum or donated, at various points in the last century by families that needed to raise cash, or who have more than they need and want the prestige. So, not surprisingly, you'll see works there by many famed European artists, oft-times, a single painting that just happens to be part of the collection because of how they've obtained them.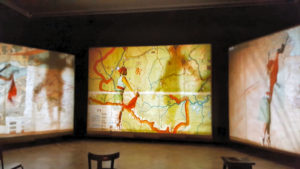 A very odd video installation from South African artist William Kentridge. I have to say, I didn't really get it. Basically three screens of a woman with a machine gun in hand dancing around and singing, against three different map backgrounds with Chinese and Russian writing. There was no real explanation of what it was supposed to be about, other than I suppose violence in Africa and the powers that be behind some of it.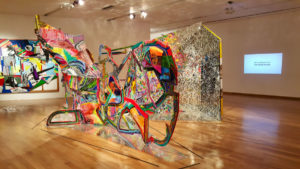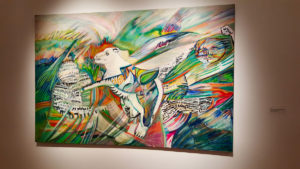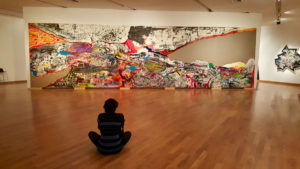 More interesting, even if not my usual taste in art, the wildly colorful and chaotic paintings and sculptures of modern Argentine artist Luis Felipe Noe. Fascinating stuff.
Still, more to my tastes, I guess I'm just a traditionalist….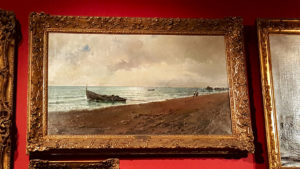 Cielo, mar y tierra (Sky, sea & land) by Baldomero Galofre y Gimenez, 1845-1902, a Catalán painter who was briefly a bit of a rising star in the mid-1800s for his natural feeling oil paintings.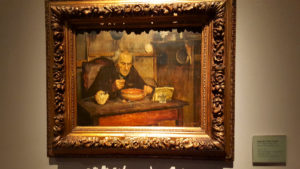 I giusti (roughly, The just, or The righteous) by Augusto César Ferrari, an architect, painter, and photographer born in Italy in 1871, who in mid-career, in his 40s, moved to Argentina, where he lived until his death in 1970. This painting from 1912.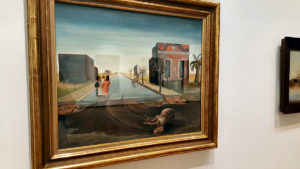 Bocacalle de Sarandí (Intersection in Sarandí – a small suburb south of Buenos Aires), Gertrudis Chale, 1898-1954, born in Vienna, Austria, later moving to La Rioja, Argentina. This work from 1940.
Why did these three stand out? Who knows. Every time I go, something different catches my eye, depending on, I suppose, my state of existence in the moment.