Heading in a different direction, both physically, and the type of Asian food, as now that Saigón, Bolivár 986, San Telmo, is open for lunch, it was time to check it out our lead restaurant for this edition!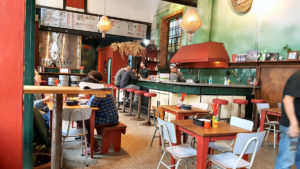 While not particularly busy when I arrived around 12:30 on a Wednesday, by the time I left, the place was basically full, so they seem to be doing well. A whole lot more English heard than Spanish, it's clear it's become a place for expats to hang out. You order at the counter, pay, take your beverage with you, and then they'll shout out your name when your food is ready.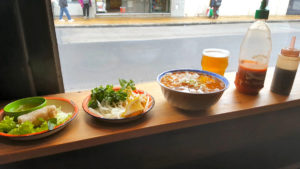 At lunchtime they have a special menu – your choice of one of the four soups on offer (chicken or beef pho, bun bo hue, or a Cambodian prawn), accompanied by a fried spring roll and either a soft drink or a half-pint of one of the more than a dozen on-tap craft beers they offer.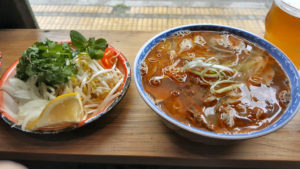 I went, on my first visit, solo, for a bun bo hue, a Vietnamese lemongrass broth stocked with beef and vermicelli noodles and accompanied by mint, cilantro, sliced chilies, beansprouts, slivers of raw onion, and lemon. It has a fairly mild kick in comparison to a real traditional one, but at least noticeable, and with the addition of the chilies (they serve it with jalapeños, I'd probably recommend going with the Peruvian ají limos, as a much closer flavor to the classics), and sriracha sauce, you can get a healthy glow going. Really, really good. 160 pesos.
On to a second visit with Henry and a friend of ours. Henry went for the dish I had on the first visit. I was going to go for their chicken pho, but the broth wasn't ready yet, so I "settled" for the phnom penh soup – a tasty Cambodian prawn and pork broth with rice noodles, prawns, pork, and a moderate amount of spice. This time, on the table, in addition to sriracha, there was a homemade hot sauce that was a mix of chilies and garlic, and really, really good! 160 pesos.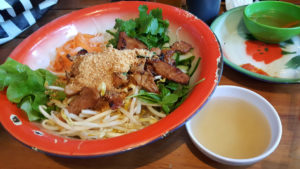 Our friend ordered from one of the non-soup options, one of the bun, or noodle dishes. What's missing from the menu is that these are cold dishes, essentially cold noodle salads, and that wasn't at all what we were expecting, so on that front a bit disappointing. The staff seemed "shocked, shocked, I tell you" that the menu doesn't mention that these dishes are cold, and promised to look into it. Uh huh. This one, the bun thic nuong, contained slightly crisp cold rice noodles with a sweet lemongrass dressing, cilantro, beansprouts, vegetables, and a modicum of slivered pork. 150 pesos.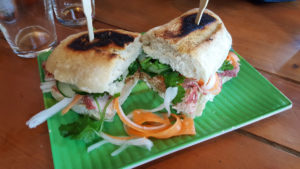 Henry and I were still a bit peckish, so we ordered a banh mi sandwich to split. I'd like to say it was worth the 35 minute wait to receive it, but it wasn't. It's a good sandwich, just not worth that long of a wait. And missing some of what, for me anyway, a banh mi is all about – in particular, paté, or pork belly, or sausage; and a baguette to serve it. Instead, it was a thin slice of slightly sweet barbecued pork, topped with some carrots, sweet pickled cucumber, cilantro, and green onion. And the bread was sort of a ciabatta that had been griddled to the point of being burnt on both top and bottom. While 90 pesos might not normally be bad for a sandwich, this one just didn't make the grade.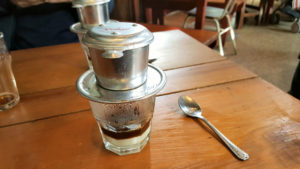 One really nice thing, for those who like it, coffee offered Vietnamese style, slow dripped into sweetened condensed milk. The coffee itself isn't all that, but by the time it's mixed with the milk, it works just fine. You can also get it without the milk, and in both versions hot or cold. 60 pesos.
---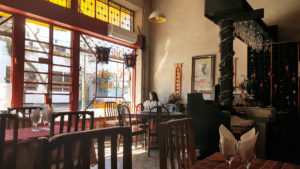 Portal China, Av. Cramer 3492, Nuñez – Recommended as "the best Chinese food in Nuñez", I wasn't sure heading that way whether a) that was true, and more importantly, b) whether that's much of a recommendation in that neighborhood. For the most part, their competition seems to be steam-line pay by weight takeout places. But it's a cute little space, mostly for takeout and delivery, but they have two long tables for six and another round one for the same.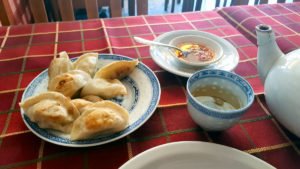 Had to, of course, get in the potstickers. Cooked perfectly – golden brown on one side and steamed beautifully on the other. A trifle bland on the filling, which was very finely ground pork and a hint at most of green onion. Good fresh chili oil as opposed to the usual made with dried chili flakes. 70 pesos.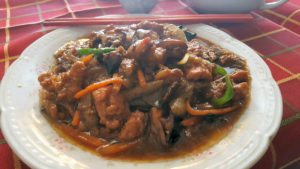 And, a specialty of the house, Eggplant Yu-Xiang, one of my favorites, with eggplant and small bits of pork sauteed in a spicy sauce, generally of ginger, garlic, and hot bean paste. In this case, it seemed to be ginger, garlic, and something fairly sweet, and despite being labeled as a picante dish, there was virtually no spice to it. The hot oil helped, but the dish was just too sweet for my tastes to start, plus very oily. Disappointing. 150 pesos.
Nice ambiance, friendly service. Just okay food, at least based on these two dishes (then again, if you're going to name a dish as a specialty of the house, it ought to represent your best, so it seems a reasonable assessment).
---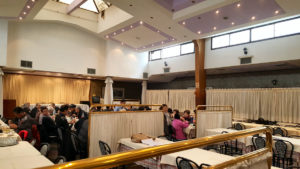 Heundae, Thorne 1471, Floresta – So this one didn't come from any recommended lists, but simply spotting it on Google Maps. There were actually two restaurants listed at the same address, though one of them turned out to not exist – no idea how it got there, as it turns out that Heundae has been in this spot for 30+ years, making it not only one of the first Korean restaurants in Barrio Correa, but probably the longest running one still there.
Talking with the owner, she was recalling the days when they used to be filled to capacity, day and night, every day. Now, she only opens the space for private events, like this party of probably fifty people who booked a celebratory lunch. And when she has a private event, if it doesn't fill the space, she curtains off a section of the whole place (which could easily seat 200 people), and takes walk-in diners. We just happened to hit it lucky on one of our Sunday lunch outings to find it open. If you go, have a back up plan in case they're not open, or, give a call to see if they are.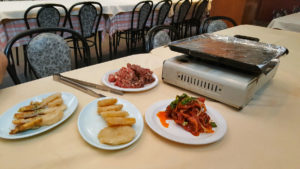 When we arrived, we had to buzz to get in, and the waiter who came to the door proceeded to question us about whether or not we really wanted to come in. He wasn't Korean, and he tried to explain to us that this was "strange food, eaten by those kind of people", and "really, really expensive". He finally decided to open the gate, but immediately took us to the owner, and insisted we talk with her before sitting down. It took all of about 10 seconds of talking to her to find out that it was indeed, Korean barbecue, all you can eat (the waiter had insisted it was not, that it was all you can eat, but not grilled meat – as it turns out, because he was apparently thinking about steak and Argentines and his assumption of our expectations). In short order, he set up the hot plate, brought two kinds of beef, some barbecue pork, and some nibbles for while we started those off.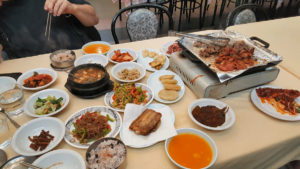 And, over the next 5-10 minutes, the rest of the ban chan showed up. All quite good, and it felt more traditional than some of the places we've been. There were no hotdog segments, or pickled beets, or steamed broccoli. Instead, some well seasoned dishes, including an excellent soup, great kimchi, and one of my favorites, spicy shiso leaves. (I think we've only encountered those one other place so far.) Meat portions are much more reasonable, and brought out for the actual number of people at the table. In the end, we ordered a small plate more of the barbecued pork, and another dish of the shiso leaves.
So, once you run the gauntlet of first, finding it open, and second, getting in the door and to a table, service is friendly, if a bit sporadic – I have to assume that that's simply because the couple of waiters are so tied up with handling the huge party that is the reason for the place even being open. But with regular visits from the owner, checking in on us, we were well taken care of. And, the least expensive of all the places we've been, the whole spread running only 280 pesos per person, including a 1.5 liter bottle of water for the table.
---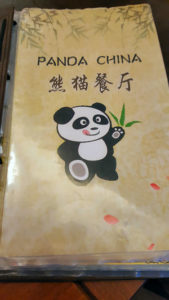 Panda China, Mendoza 1649, Barrio Chino – Okay, the logo is too cutesy for words. The Chinese characters actually say "Panda Restaurant", not "Panda China". Other than the various brochette stands, this is one of the last two or three spots I hadn't gotten to in Chinatown.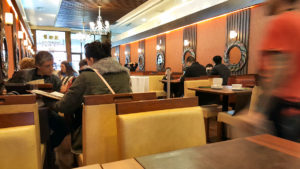 Good sized space. And, a warning. Don't sit towards the back, near to the kitchen. They have a cat. And that cat's litterbox is discretely tucked into the back corner. I first sat back that direction only to realize there was a strong aroma of all the things associated with cats and litterboxes, and finding it under the table. I moved to the front.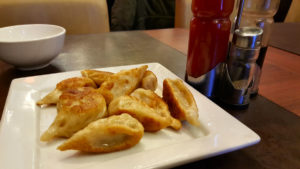 Reasonably good potstickers. The dough browned on both sides, but not quite crisped, and clearly not steamed after, so there's sort of a narrow band of dough in between the two sides that's not quite cooked all the way. Filling is heavy on ginger, and quite good. The red sauce in the cruet, along with the soy sauce, is not hot sauce, it's duck sauce – too sweet. You have to ask for hot sauce. 85 pesos.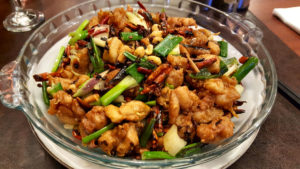 And, the pollo "panda china" picante – is what elsewhere is known as Spicy Szechuan Peppercorn Chicken (which so far I've only found in two other restaurants in town – Shan Dong and Aroma. They don't stint on the spice in this version, so you better like some fiery heat from the dried chilies, and some complete mouth numbness from the peppercorns. For me, that's a plus, for others, it might be a bit overboard. Big plus on this version, which adds to putting it above the other two places, the chicken is all boneless, whereas both other places it's all chopped up bits with little bones sticking out of it. 285 pesos, which at first seems high, but really, this plate was enough for two people, I brought slightly more than half of it home, after eating the dumplings.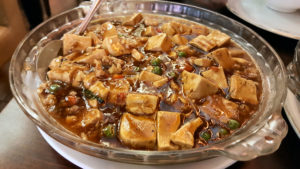 Second visit, with a friend, retried the dish above, plus an order of Ma-Po Tofu – one of the best I've had here in BA – nice and spicy, soft, but not falling apart cubes of tofu, just enough pork to flavor the dish, delicious sauce.
Overall, the ambiance is fine, as long as you avoid the cat's territory at the back. Service is friendly and reasonably attentive. Food, based on two plates, is quite good. Pricing, typical for this quality in the neighborhood.