July 7-8 – 2017 – 7-8 de Julio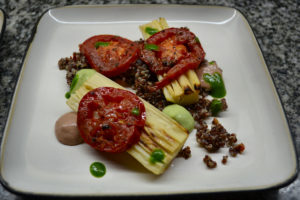 Warm Salad of Roasted Palm Hearts & Tomatoes – red quinua cooked with togaroshi; broiled palm hearts brushed with chili oil; herb roasted tomato slices; guacamole puree; black olive and sun dried tomato puree; cilantro-chive puree.
Ensalada Tibia de Palmitos y Tomates Asados – quinua roja cocida con togaroshi; palmitos asados y cepillado con aceite de ají; rodajas de tomate asadas con hierbas; purés de guacamole, aceituna negra y tomate seco, y cilantro-ciboulette.
Chandon Cuvée Reserva Pinot Noir, Luján de Cuyo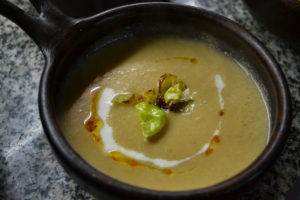 Brussels Sprout Bisque – Pureed soup of brussels sprouts, onion, garlic, potato, smoked merquén chili, vermouth, vegetable broth; salted yogurt, chili oil, chives.
Bisque de Repollitos – Crema de repollitos, cebolla, ajo, papa, merquén, vermut, caldo de verduras; yogúr salado, aceite de ají, ciboulette.
Uxmal "Tilia Vineyards" Sauvignon Blanc 2014, Mendoza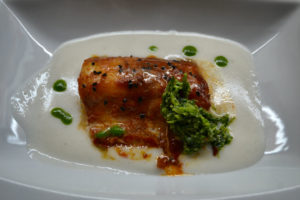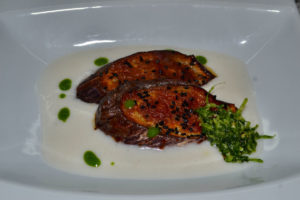 Sandperch Chojang, Rice & Pinenut Cream – Sandperch rubbed in gochujang chili paste, honey, sesame oil, black and white sesame seeds, then broiled; puree of rice and pinenuts; pesto of garlic chives (nira), parsley, Chinese dried chilies, pinenuts, garlic; arugula oil. Vegetarian version with slices of eggplant.
Salmón Blanco Choyang, Crema de Arróz y Piñones – Salmón blanco rociado con pasta de ají gochuyang, míel, aceite de sésamo y semillas de sésamo blanco y negro, luego asado; puré de arróz y piñones; pesto de ciboulette ajo (nira), perejíl, ajies secos chinos, piñones, ajo; aceite de rúcula. Versión vegetariana con rodajas de berenjena.
Etchart Rosé 2016, Cafayate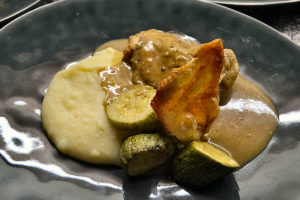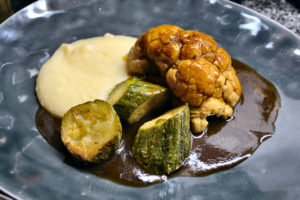 Herb-Chili Stewed Chicken, Popcorn Polenta – chicken thighs slow cooked in mixed herbs, dark beer, aji panka, onions, garlic, and salt; reduction of the pureed cooking liquid; polenta cooked in milk infused with buttered popcorn; zucchini sauteed with coriander; crisp chicken skin. Vegetarian version with cauliflower.
Adobo de Pollo, Polenta de Pochoclo – muslos de pollo cocido lentamente en hierbas, cerveza negra, ají panka, cebolla, ajo, y sal; reducción del puré de liquido de cocinar; polenta cocido en leche infusado con pochoclo mantecado; zucchini saltado con coriandro; piél de pollo crocante. Versión vegetariana con coliflór.
Zuccardi "Textual" Caladoc 2014, Valle de Uco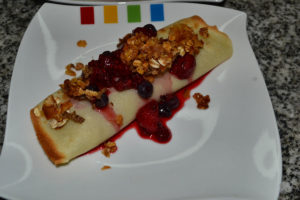 Rice Pudding and Coconut Crepes – Brown rice cooked in water and a pinch of salt, then added coconut milk, sugar, cinnamon, cornstarch and cooked until thick, then vanilla and mashed banana added; wrapped in crepes of rice flour, sugar, coconut milk, egg, vanilla; baked until browned and served hot with berries in coconut liqueur, homemade granola, and caramel syrup.
Panqueque de Crema de Arróz y Coco – Arroz yamani cocido en agua con pizca de sal, luego agregue leche de coco, azucar, canela, fécula de maíz y cocido hasta era espeso, luego agregue vainilla y banana aplsatada; empanado en panquques de harina de arróz, azucar, leche de coco, huevo, vainilla; asado hasta dorado y con guarnición de frutos rojos en licór de coco, granola casera, y jarabe de caramelo.
Putruele "Tardío de Abríl" Chardonnay 2016, Valle de Tulum