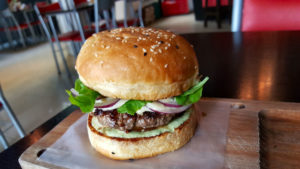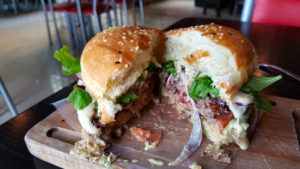 Monkey Burgers, Av. Luis M. Campos 92, Palermo – On a strange little stretch of this avenue, away from pretty much anything else, but this one came highly recommended. Interesting though short selection of burger combo choices, as well as a few other sandwiches and salads. I went with the Gorgo, an all beef patty (coarsely ground (yay!), well seasoned, cooked past the rare to medium rare that I asked for, but still juicy), with a thick slice of tomato, a handful of arugula, red onion, melted gorgonzola cheese, and a creamy cilantro sauce, all on a good sturdy toasted (another yay!) bun that held up. Absolutely delicious. Had it been cooked a bit less it might even make it into one of my top burgers! (I think it was 130 or 140 pesos on its own, with a combo price if you want fries.)
---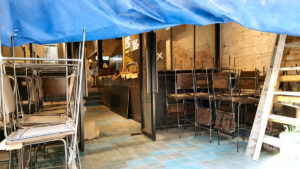 Until the last week in June, this spot, around the corner from us, and formerly a takeout food spot called Bassau, has been papered over, with hidden renovations going on. Then suddenly, the reveal… clearly some sort of beer bar… and also clearly close to opening.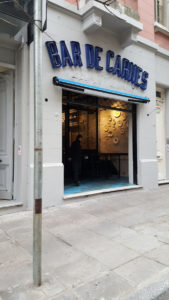 And within a few days, the tarpaulins came down to reveal, Bar de Carnes, Peña 2275, Recoleta and within hours the place was open. It all felt a little rushed. Their Facebook page has little more than some photos on it, their Instagram account doesn't actually exist (or at least not the one they link to), their website has nothing but a landing page.
Now, I want to make one point. I visited on the third day they were open. Things were a little disorganized, you could tell that both the counter staff and the kitchen staff were still feeling their way through how to do things. You order at the counter, pay, they give you a pager, it goes off when it's time to pick up your food (the one negative about that type of system, in a busy place like this already is, is if you're solo, it means leaving your stuff at the table, and at risk, while you go to pick up your food, or taking it all with you and losing your space – neither is ideal in BA).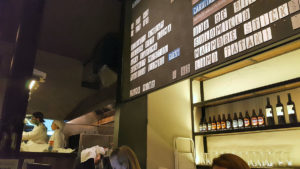 Chic and trendy inside, when it opened just a day or so later. The menu – a couple of steaks, burgers, and sandwiches, all off the grill, a quintet of on tap beers from Bucaré, up in Olivos north of the city, plus the Otro Mundo line of bottled beers.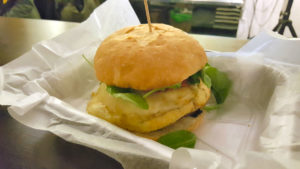 Provoburguer – Although the menu board lists off a bunch of items as noted above, they were working off a laminated paper sheet with a much more limited listing on this early night. Only two burgers (and two steak cuts) were available. This one was topped with a slab of way too much provolone cheese, like an entire provoleta melted over the top, some arugula, and a roasted garlic and sriracha mayo (heavy on the former, light on the latter). Good bun.
When my pager went off after a mere eight minutes, I figured, hey, wow, they actually paid attention to my request for it to be cooked rare. But it was well done – completely, totally cooked, grey all the way through, and verging on dry and crumbly. And it's a near inch-thick patty. I found myself wondering if they were baked in the oven and then just quickly heated up on the griddle. However…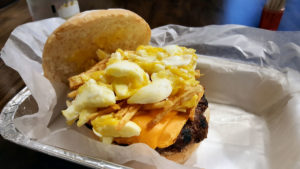 …a return visit after they'd been open a couple of weeks, figuring give them time to get their act together. This time during the day, only a few people there. Tried their huevos y pays burger (eggs and shoestring potatoes). Decided to watch the cooking. Turns out, they don't have a grill, they don't even have a griddle. Instead what they have is a sort of deck oven, with a couple of racks inside, and on the bottom, big chunks of charcoal to give smoke, but the whole thing fired by gas. As such, it's an intensely hot oven, and they literally toss the burger onto the oven rack in this oven that's easily as hot as a pizza oven, and it simply cooks through in a matter of just a few minutes, and doesn't really get any char on it other than a couple of marks where it touches the rack on one side.
This time I spoke direct to the cook and asked for it rare to medium rare, and in six minutes, it was on the pass and ready for pickup. Cooked properly, as I requested. Again, too much cheese, there are like four slices of American cheese on it, and then a small handful of shoestring potatoes (could use more, for a decent crunch), and a couple of eggs that are cooked in a little skillet on the stove – sort of fried almost to done and then broken up as they're pulled out of the pan. I liked this one much better than the first. Burgers run 130-150 pesos, but don't include anything with them – there are a couple of kinds of fries available, all for an extra charge. Not my favorite, but not bad.
---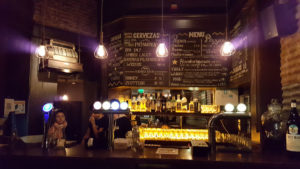 Ruano Beer House, Azcuénaga 1775, Recoleta – Even though it was early, and few people were there, the place was dark, and loud – the music is good, but perhaps could use being turned down a notch or so. Like many of the new craft beer bars, you order at the bar (even though there are menus on every table, there's no waiter service). But it gets weird at that moment, because you naturally pull out your wallet to pay, but even though the cash register is right there, you don't. "We'll get that later." Later turns out to be when the food runner brings your food to your table (I wonder if they do the same if you just get beer and don't order food?) – and stands there requesting payment before giving you your food. And then has to go back to the bar, get change, and come back to you. Also doesn't bring a cash register ticket with him, so has to go get that if you want one. As I said, weird.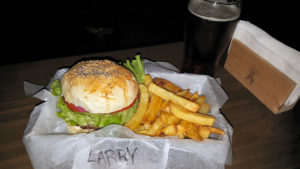 The beer selection is limited to the Cerveza Patagonia line – half a dozen or so on tap. Good beers, but by no means top of the heap, and a bit commercial for really being considered craft beers (really a mass produced big brewery that pretends to craft status). Also, limiting to one line, is that really what a craft beer bar is about? Then again, while they claim to offer beer as a major option, they don't actually lay claim to being a craft beer spot.)  Three regular burgers plus a veggie burger available on the menu (also pizza). I ordered the "Larry" (and yes, the other two are "Curly" and "Moe") – which comes with tomato, lettuce, red onion, pickles, and mayo. Biggest plus, it comes out cooked medium rare as requested. But pretty much no seasoning, not even salt. Too much lettuce. The bun very, very sturdy. I mean sturdy to the point where it was hard to compress it at all – it's like a dense industrial sponge. It does hold up, though makes for kind of dry eating. Fries, decent, again, totally unseasoned (and no condiments or salt on the tables, you have to go ask for them at the… not the bar, but at the cash register). Did I mention weird service?
---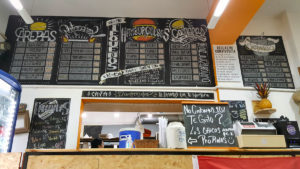 Panachef, Sanchez de Bustamante 1470, Recoleta – Given how much I liked the pulled pork sandwich when I visited this place a couple of years ago, you'd have thought I'd have gone back numerous times. But somehow, I never did. Part of it was that for awhile they weren't open at lunchtime except on weekends, and part of it was that it just sort of slipped my mind. In the interim, they've expanded, at least doubling, if not tripling in size, and they now have things like arepas and patacones all the time instead of just for weekend "brunch". They also offer up a selection of burgers, "Caribbean style":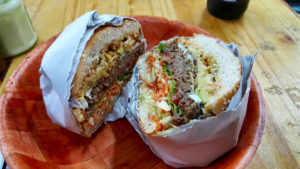 The choices are beef, chorizo patty, or chicken patty, and you can get a single or double or triple of any of those, or a combo of any two (although not listed, I'll be they'll do all three too). I decided on a bit of discretion and just went with a straightforward single beef patty, ordered up rare to medium rare. They assured me that wasn't an issue, though you can see it's easily into medium or beyond territory just based on color. Still, nice and juicy, and really well seasoned with some mix of spices that gives it a great flavor.
All the burgers come with the same toppings – working one's way up from the bottom, a cabbage and carrot coleslaw in housemade mayo, then chopped lettuce and tomato, then the patty, then a perfectly fried egg, then a layer of thick sliced avocado, and then a big handful of shoestring potatoes (papas pays). It's a lot more vegetable than I usually want on a burger, and in truth, rather than those accenting the meat, this comes across as the meat accenting the rest. At the same time, the overall combo is fantastic. The only real negative here is the bun, which is either a cottony supermarket burger roll or an awfully good imitation of one – it doesn't even hold up from the first moment of trying to pick the burger up – presumably why they wrap the burger in paper, so you can keep it all held together, because if you take it out of the paper, it all falls apart instantly. (120 pesos, on up to 180 for the triple.)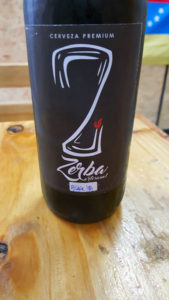 By the liter, the only beers are usual suspects, like Quilmes and Stella Artois. On their "artesanal beer" list are four varieties from Zerba, here in Buenos Aires, in barrio Chacarita, which are offered in either 330 or 660 ml sizes (75 and 140 pesos), but at least on this visit, they didn't have any of the smaller size. First time I've tried the brand, and the Black IPA is excellent, one of the best I've had here in Argentina.
---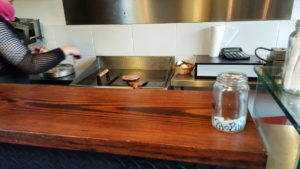 Brooklyn, Juramento 1705, Belgrano – This one shouldn't even be rightly considered part of the burger battles. Just stumbled across it and thought it might be (it's not, I gather) an outpost of Brooklyn Bar in Palermo, which I've heard decent things about the burgers, but not tried. As soon as I saw this patty going on the griddle I knew it was a lost cause. More or less the size of two beer coasters stacked atop each other, it didn't stand a chance at even a skirmish, let alone a battle.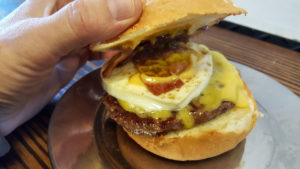 And, not surprisingly, an overcooked, chewy, commercial patty that was probably frozen an hour earlier, topped with a slice of American cheese, a decent cooked egg, and a rasher of bacon cut in half and cooked more or less halfway to crisp. The bun, a dense, sweet, abomination that might have been better sliced and frosted as a breakfast pastry.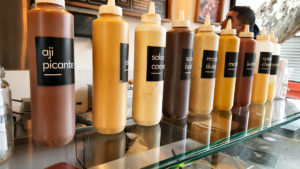 The only remotely interesting part of this is that being both a burger and hot dog spot, they have a selection of sauces for the dogs, that you can also put on the burgers. The mustard and jalapeño sauces weren't half bad. Still didn't make it even halfway through this before trashing it.
---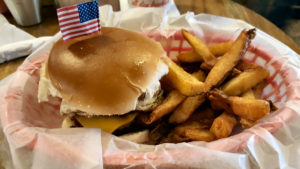 And last, you may remember Jay's, Antonio Beruti 2640, Recoleta, the imitation New York City diner that opened recently. I've visited a few times, and finally tried their burger – I mean, nothing wrong with a decent diner burger. Unfortunately, this isn't it, and is the first thing I've had at Jay's that I didn't particularly like. Two very dense, small patties – heavily seasoned with salt, pepper, and I think, sage – tasting more like a breakfast sausage patty than a burger. Good caramelized onions, cheese, bacon, and a properly gooey fried egg. A bun that fell apart like wet tissue paper within a minute or two. But those patties – just, rubbery, heavy, and weirdly flavored. The fries were great – one of the first places in town I've found with really top notch, properly cooked ones. 155 pesos, but just not worth it. I'll stick with their breakfasts, and/or maybe try something else on the menu next time.