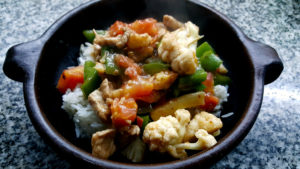 'tis the season and all that (being winter down here in BA). Lots of brassicas, be they cabbages, brussels sprouts, broccoli, or cauliflower. I hadn't planned on a Chinese dish, or more specifically a Hunan dish, for dinner, but wanted something spicy that used up most of a head of cauliflower (càihua) that was in the refrigerator, along with a couple of pork chops. A quick search and up popped a spicy cauliflower stir-fry in which pork, chicken, beef, or tofu could be the added protein. So, why not? The only thing I needed that wasn't in house was a green bell pepper. Two minutes to the corner vegetable shop and I had that in hand.
Hunan ("South Lake"), or xiang style cooking (cuisine of the Xiang River basin, leading to Dongting Lake, presumably the South Lake of note) is characterized by a lot of aromatic and spicy flavors. Not as well known among us western folk as the neighboring Szechuan, or Sichuan, region, but we've all probably had a Hunan dish here and there – though looking over a couple of online lists and my cookbooks, of various "famed" Hunan dishes, I don't know that I've ever tried any of them.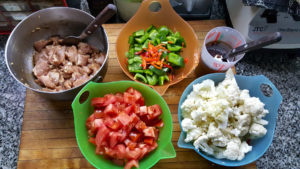 Roughly 300 grams of pork (two pork chops), thinly sliced into bite sized pieces, and marinated in a tablespoon each of cornstarch and soy sauce, plus a finely chopped garlic clove, for about an hour. One large green bell pepper, diced, and a couple of small red hot chilies, finely slivered. Two tomatoes, in large dice. One small head of cauliflower, cut into bite sized florets or halved florets, along with another clove of garlic, finely chopped. And, a mix of half a cup each of water and soy sauce, a tablespoon of cornstarch, and a finely chopped dried Chinese chili.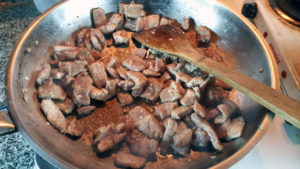 Heat up a saute pan or wok until very hot, add a couple of tablespoons of oil, and saute the pork until lightly browned. Remove from the pan and set aside. Scrape the bits that have stuck to the pan so they're loose – they'll combine into the sauce.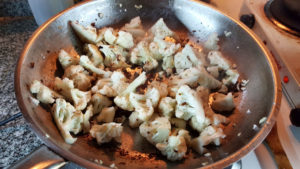 Add another couple of tablespoons of oil to the pan and saute the cauliflower until lightly golden, about 6-7 minutes.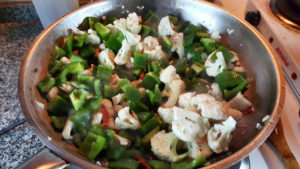 Add the bell pepper and chili and cook for another 2 minutes.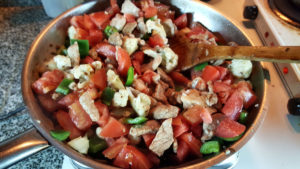 Add the tomatoes and return the pork to the pan. Cook for 2 more minutes.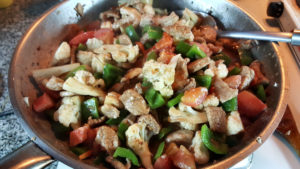 Stir up the sauce mixture (the cornstarch tends to settle to the bottom) and add to the pan. Bring to a boil.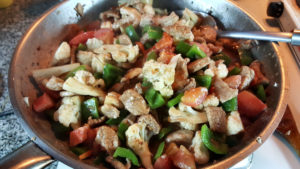 Toss with all the ingredients until they're well coated.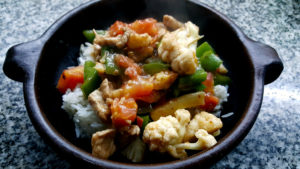 Take off the heat and serve over rice. And there you have it, Hunan style Cauliflower and Pork (or Beef, or Chicken, or Tofu…).