We'll start off this round of Chop Suey in the Floresta Koreatown. Bit by bit, I think I'm putting together the most comprehensive guide to the two Koreatowns… in town (and probably true of Chinatown too). The map of Asian spots and where and what to eat continues to expand!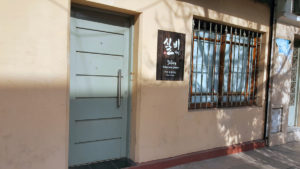 Silvy, Morón 2974, Floresta – I'd poked into this place early on in my dumpling quest. It's not exactly hidden away, there's a sign and all, but it just always looks closed. You have to ring the bell and someone comes to let you in. The last time, I looked at the menu inside, saw that they had no dumplings, just soups and stir-fries, asked about dumplings, and was told, "no". I decided to shelve the place for a future visit.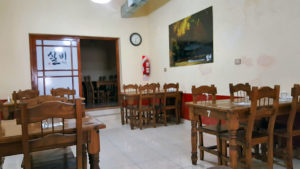 Having a Saturday free meant Steven could join me on a Floresta adventure, and we decided we'd packed ourselves with enough Korean barbecue recently, and headed here. Not exactly a popular spot on a Saturday afternoon. Then again, as I said, it looks like it's closed up from the outside.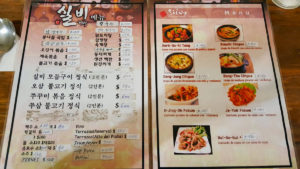 Waitress, who also turned out to be the chef, sorted through the pile of menus and came up with two that were in Spanish (on the right). It shows seven dishes – four soups (kimchi & pork, chicken & potato, fish, bean), and three spicy stir-fries (pork, squid, beef). The stack of menus happened to be on a counter next to our table, and looking over, it was obvious that there was a more extensive menu – I mean, nineteen dishes listed, including four that are marked for two or more people. Called her over and she admitted there were indeed more dishes – some noodle dishes, and some other things – it was a little vague. Cue the Google camera translator. It doesn't do so well with handwritten Korean, but it did pick up… "dumplings". Hmmm…. "Do you have mandu like it says here?" "Yes, in a noodle soup." One dish picked.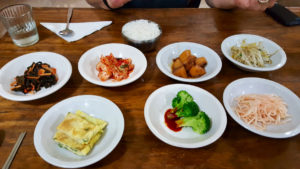 Our ban chan arrived – a smaller selection that at most places, or, really not, a smaller selection that at the big barbecue joints, but about right for the places that serve other stuff. And, all good, and, no waste, as we finished it all over the course of the meal.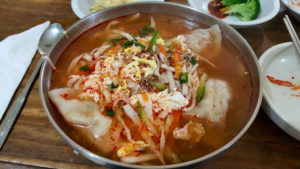 So, indeed, it turns out to be dumplings, mandu, in a noodle soup. Three dumplings and a whole lot of noodles. All good, nice and al dente, and the filling packed with garlic chives and pork. The soup broth a little light on flavor, a sort of basic stock, but a request for gochujang had her beaming, "You know gochujang???" And then she gave me a rapid fire description of how she makes her own. Added a good dollop, and that handled the broth. (160 pesos)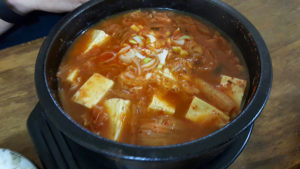 Our other choice, the spicy kimchi and pork soup, which was spicy, and delicious, and packed with both of those ingredients, plus a good amount of tofu, and a side bowl of rice to add to it. We added it all. Another winner. (150 pesos)
We'd considered adding a third dish to our order to share – glad we didn't, these are really generous portions, and for the price, basically $9-10 per plate, a bargain. We'll happily return here in the future.
---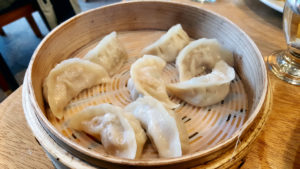 Feng Wei, Av. Juramento 1700, Locale 10, Belgrano – There's what amounts to a little strip mall alongside the Belgrano C train station, where historically you could buy cheap clothing in any of various stores. Recently, a couple of the storefronts that had been vacant for awhile were taken over by restaurants. So of course, they had to get checked out, no? This place is the larger of the two, seating maybe 25-30 people in a weird, T-shaped space that basically means there are three separate dining areas each with just a few tables, in each of the limbs of the T.
If you're not Chinese, you're getting the "white boy" menu – a simple listing of roughly a dozen fried rice, soup, and noodle dishes – very basic. In answer to asking, our waitress told us, that that was the entirety of the menu, it was all there was. We ordered up a couple of dishes (following), and set in to wait. Looking around the room, we noticed that while the other non-Chinese folk all had these types of dishes, that the Chinese folk all had other dishes – much more classic Chinese cooking, and a wide variety.
Then we noticed there was a second stack of menus, thick, multi-page ones (turns out most of the pages are blank, there are actually only three pages), and grabbed one. All in Chinese. Google Translate with the optical reader option to the rescue – wait, there are dumplings, there are all sorts of dishes, and interesting soups and more. Flagging our waitress back down, we asked… her response, "it's all in Chinese, so you can't read it". Again, Google Translate, optical reader – not perfect, but enough to get the idea. We ordered dumplings (which I'd specifically asked about at the beginning and she'd said no). Turned out to be quite good dumplings, nice and juicy, properly cooked.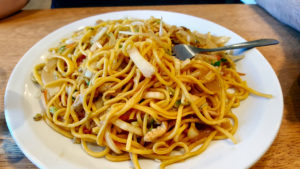 Simple wheat noodle stir-fry with pork and vegetables – good, but nothing special. Perked up a bit by splashes of soy, vinegar, and hot oil.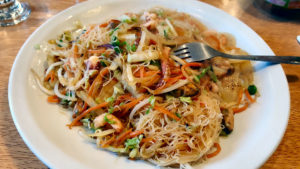 Same with the thin rice noodles with shellfish.
A table near us was eating a big bowl of clam and green onion soup with big, plump clams in it. We're going back for that, and more. There is, interestingly, a price differential – the basic white folk menu dishes all run about 80-90 pesos, whereas the dumplings run those by themselves, and most of the dishes on the Chinese menu run anywhere from 120-200 pesos. But they're obviously more complex dishes and from the looks of things, probably far tastier….
---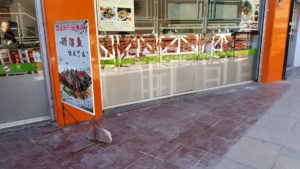 Xin Le Yuan Mei Shi, Av. Juramento 1700, Locale 12, Belgrano – Right next door, the other new spot, smaller, with room for maybe 15-20 people. The long name translates simply as "place for yuan style food", or the food of Yunnan province in Southern China. Known for a spicier style, there are a good number of spicier dishes on the menu, which immediately made me happy. It also seemed to make my waitress happy that I wasn't looking for fried rice or noodles, and she started avidly discussing which dishes were the most interesting, the spiciest, and why she liked each particular one.
Solo visit. The place seems to be a hangout for 20-something Chinese boys (not a bad thing eye candy-wise), and they seemed amused when I asked for chopsticks – a couple of them coming over to watch me – and then giving a little cheer when it turns out I use them as well as I use a fork.
(Side note – Google Maps and some other online spots list this as Li Changming, but that's just the owner's name on the operating license in the window, not the name of the restaurant.)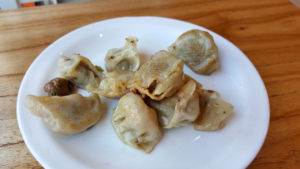 I had to start with dumplings (although they actually arrived about ten minutes after my "main course"). Although broken up a bit, they have great flavor, and something I've not seen before – the little pork meatballs inside have clearly been browned before being put inside the dough, so they have a lovely seared meat flavor, set off by a nice length of green onion coiled inside each wrapper. 80 pesos for ten of them.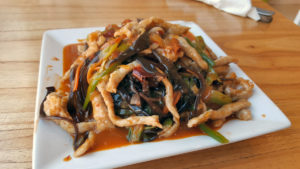 Among the spicy dishes we settled on their version of Yu Xiang pork. Quite different from other versions I've had of this, here, a slightly sweet and sour sauce with a good kick of chilies and a hefty dose of Szechuan peppercorns. Also, mixed in with the usual suspect vegetables of peppers, carrots, and onions, and thin slivers of wood ear mushrooms. Very interesting and absolutely delicious. A little pricier at 195 pesos, but so worth it.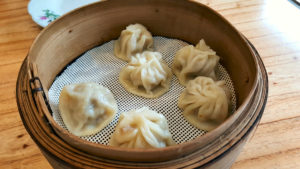 Edit: Second visit – steamed dumplings (not soup dumplings as we'd hoped), absolutely delicious. Great offering of condiments – an actually spicy hot oil, and a garlic, vinegar and soy mix. (80 pesos)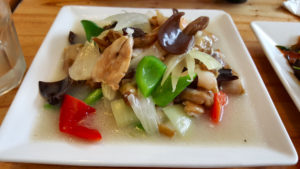 Stir fried slices of clams with celery, wood ears, and peppers. Subtle, with a touch of sweetness, and a great seafood broth. (258 pesos)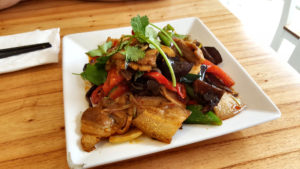 Spicy saute of twice cooked pork bell (boiled first, then stir fried) with wood ears, chilies, onions, and peppers. (195 pesos)